FLAGSHIP PROJECTS
Our main flagship projects
On account of its different business lines, Iberdrola group is currently working on the construction of various projects which have become veritable milestones for their size and commitment to innovation.
Lines of business
RENEWABLE BUSINESS
WHOLESALE AND RETAIL BUSINESS

COMBINED CYCLE
Combined cycle power plants convert the thermal energy derived from a fuel into electricity by means of two thermodynamic cycles: that of a gas turbine — usually natural gas — and that of a steam turbine. This technology allows more electricity to be generated with a reduced environmental impact.

SMART SOLUTIONS
The company offers products and services oriented to improving efficiency and energy saving. These are solutions that enable smart consumption in homes and encourage the purchase of green energy through digital tools.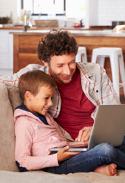 MAIN OPERATIONAL PROJECTS