Iberdrola to mobilise investments of €30 bn to lead the green and digital transition
#economy #employment #green hydrogen #electric mobility
Iberdrola has presented 175 projects to the Next Generation EU programme to mobilise investments of €30 bn in Spain, involving 350 small and medium-size enterprises, institutions, technology partners, startups and the entire value chain. These actions — in the areas of green hydrogen, innovative renewable energy, sustainable mobility, energy storage, smart power grids, heat electrification and component recycling with clean technologies — will contribute to the industrial transformation of the country, focusing on sustainability, green, affordable energy and employment.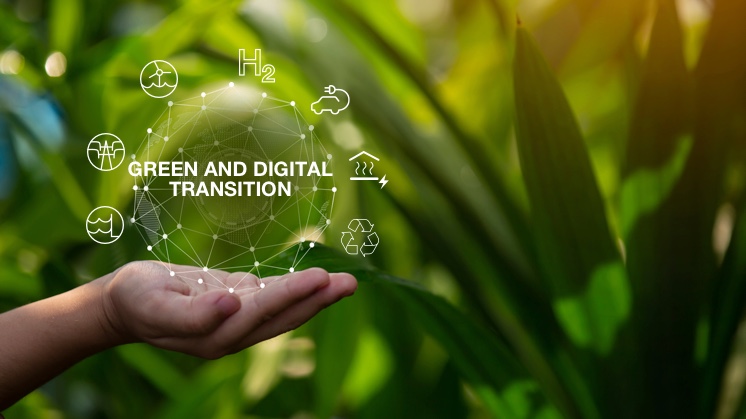 The projects are aligned with the green and digital transition pairing established by the European Union.
The company estimates that its projects will create 45,000 stable, highly qualified jobs per year and will trigger economic growth of more than 1.5 % of GDP. It will also have a positive impact on the competitiveness of the Spanish industrial sector and the balance of payments (between €500 million to €1 bn euros /year), reducing greenhouse gas emissions and helping to improve urban environments and meeting the demographic challenge by including more than €70 bn in projects located in rural areas.
Ignacio Galán, Iberdrola group chairman
We must forge a business and industrial ecosystem that harnesses Spain's potential
The projects, which were aligned with the green and digital transition pairing established by the European Union, will make way for the green recovery in the short term and, in the medium and long-term, a national transformation, oriented towards sectors with a future. They will be led by agents with demand-pull and management capacity and will be implemented using collaborative means, involving SMEs and the business ecosystem as well as all the links in the industrial value chain in all autonomous regions.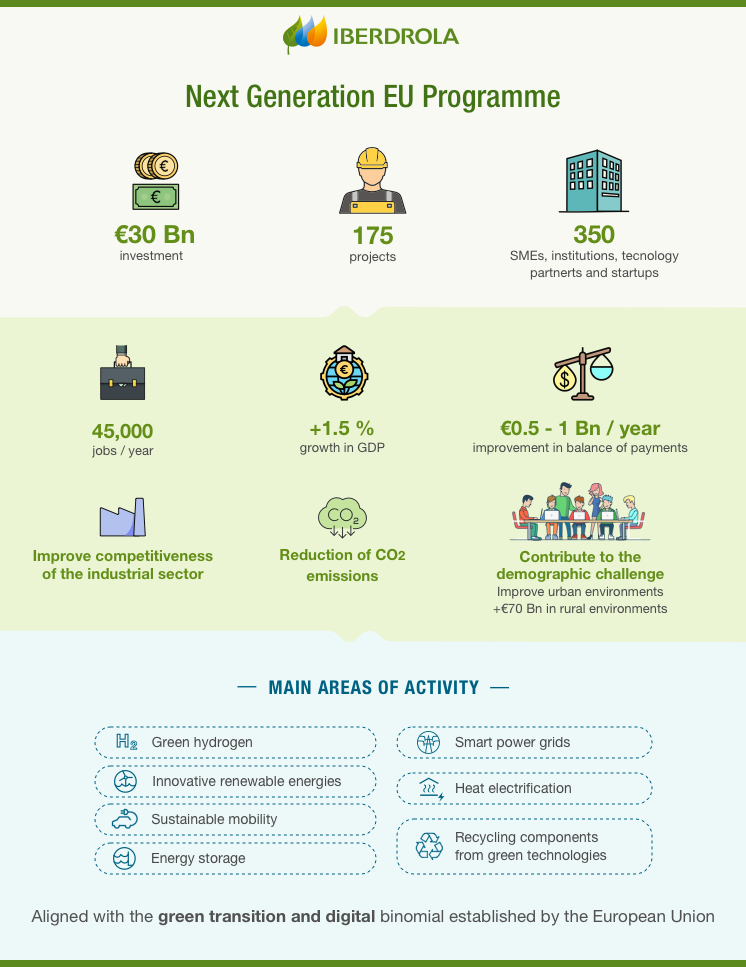 Next Generation EU Programme.
GREEN HYDROGEN TO PROMOTE SUSTAINABLE, EMISSIONS-FREE PRODUCTS
Iberdrola leads 54 renewable hydrogen projects presented to the Next Generation EU programme through the Spanish government's Recovery, Transformation and Resilience Plan, which will mobilise an investment of more than €2.5 bn to install more than 1 gigawatt (GW) of electrolysers in the country. This plan would allow the production of 60,000 tons of green hydrogen per year, equivalent to 25 % of the national goal (4 GW installed by 2030) increasing the amount of hydrogen currently consumed in Spain by more than 25 %, none of which would generate CO2 emissions.
The projects would be set up in 15 autonomous regions and would contribute to the development of the value chain, involving more than 50 companies and creating 5,000 qualified job positions through more than 500 local suppliers. What's more, these investments would be worth more than 4 billion euros, considering the associated renewable capacity needed to generate green energy, a total of 4,000 megawatts (MW) from the wind and sun.
The initiatives presented, focused on technological skills and industrial development, can be divided into four areas for development: fertilizer, mobility, industrial projects and co-generation.
Green hydrogen to promote sustainable, emissions free products.
Ammonium production for 100 % green fertilisers
Four of the green hydrogen projects are carried out by means of an alliance between Iberdrola and Fertiberia, which plan to develop 830 MW of green hydrogen by 2027 at the plants in Puertollano (Ciudad Real) and Palos de la Frontera (Huelva). The initiative represents an investment of 1.8 billion euros and has de purpose of making Iberdrola an industrial leader in the green hydrogen sector and the first to have 100 % ammonia production for totally green fertilisers.
The innovation project started with the construction of the largest green hydrogen complex for industrial use in Europe, located in Puertollano, with 100 MW of photovoltaic power, an ion-lithium battery system (20 MWh) and one of the largest systems for producing hydrogen by electrolysis (20 MW).
Green hydrogen for mobility: heavy urban transport, logistics and ports
More than 20 hydrogen projects involve the mobility area, to improve heavy urban transport and develop a supply network in logistics hubs and port projects. Investments in excess of 425 million euros will be needed to install 115 MW of electrolysers.
Iberdrola is already produciong green hydrogen in a hydrogenation plant in the Zona Franca in Barcelona, which can be used by Transports Metropolitans de Barcelona (TMB) buses powered with this technology and other fleets and industries on the industrial estate.
The company will create a network of green hydrogen corridors that will primarily supply fleets of heavy road transport vehicles. The network will consist of 19 logistics hubs, among them Zaragoza, Murcia and the Valencia region.
The ports of Tenerife and Las Palmas de Gran Canaria will benefit from green hydrogen supply facilities for the fleet of industrial vehicles and for load handling, adapting these areas for future conversion to supply a hydrogen powered maritime fleet.
Decarbonisation of industrial and co-generation processes
Iberdrola's green hydrogen plans include developments that use this technology in several industrial projects with an investment of more than 155 million euros and a power of 70 MW of electrolysis:
Green hydrogen plant on the former site of the Lada coal-fired power station in Asturias, with the objective of reducing greenhouse gas emissions from the local industry.
Industrial projects to replace grey hydrogen obtained from contaminating sources with industrial scale green hydrogen and other energy use initiatives in cogeneration plants nationwide, as well as industrial projects with intensive CO2 emissions proposed on a pilot scale, transforming these facilities into plants with high-level technology.
THE FIRST FLOATING OFFSHORE WIND FARM
Another initiative presented by Iberdrola to the Next Generation EU Programme will be the first floating offshore wind farm on an industrial scale in Spain. The renewable facility would have 300 MW of power with an investment of more than €1 bn, and would become an industrialisation and employment hub in the country: the study, design and engineering could begin this year and until its entry into operation, scheduled for 2026, it would generate more than 2,800 jobs per year and would require the participation of 66 Spanish companies and technology centres, including 52 SMEs. In the short term, for 2021-2022 and before the construction phase gets underway, the initiative could create between 1,000 and 2,000 jobs.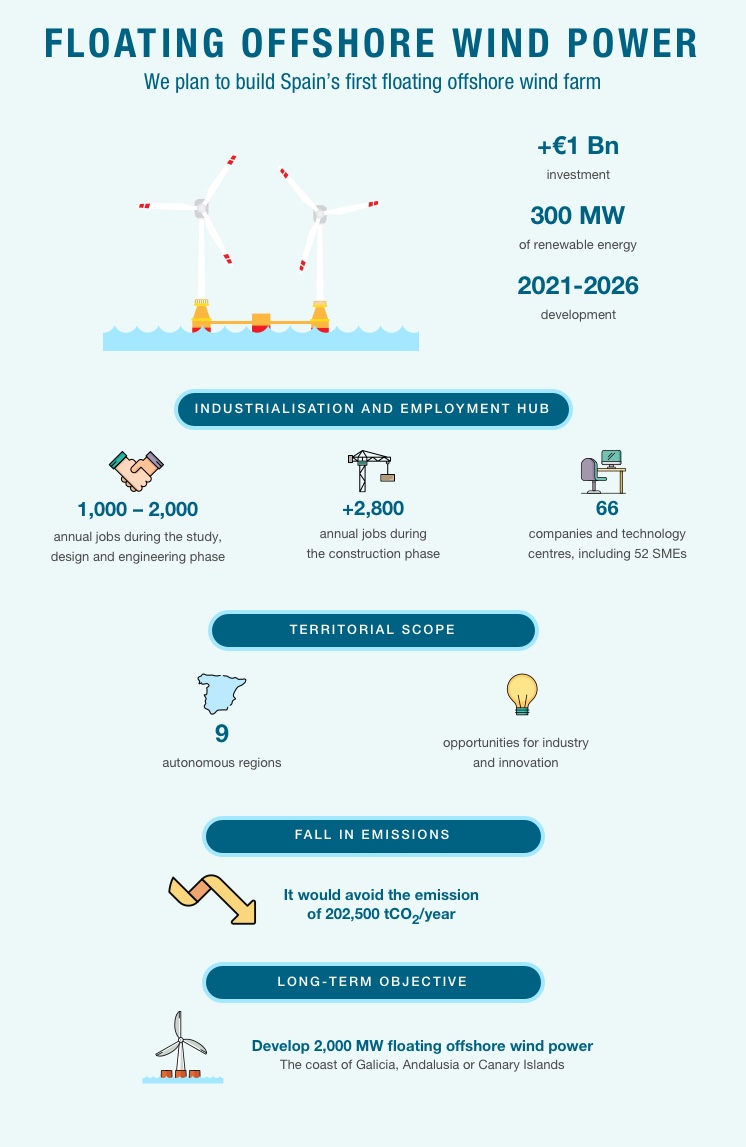 Floating offshore wind power: planning the first floating offshore wind farm in Spain.
This activity would involve nine autonomous communities, therefore contributing to the structuring of the territory and the creation of industrial and innovation opportunities in a growing market with a high export component. The project would also contribute to the fight against climate change, preventing the emission of 202,500 tCO2/year into the atmosphere.
This innovative and pioneering project would spearhead the development of up to 2,000 MW of floating offshore wind that the company has identified and which could be erected off the coast of Galicia, Andalusia or the Canary Islands.
We plan the first floating offshore wind farm in Spain.
ELECTRICAL MOBILITY IN CORRIDORS AND CITIES
When it comes to electric mobility, the company is spearheading 12 proposals in collaboration with suppliers, customers and autonomous regions, which would entail a potential investment of more than €1 bn and have a nationwide impact. As well as accelerating the deployment of charging infrastructure and innovation in corridors, on public and private roads in cities, the company has proposed unique charging initiatives with startups, as well as projects to electrify urban and intercity buses and develop electric charging corridors for heavy road transport.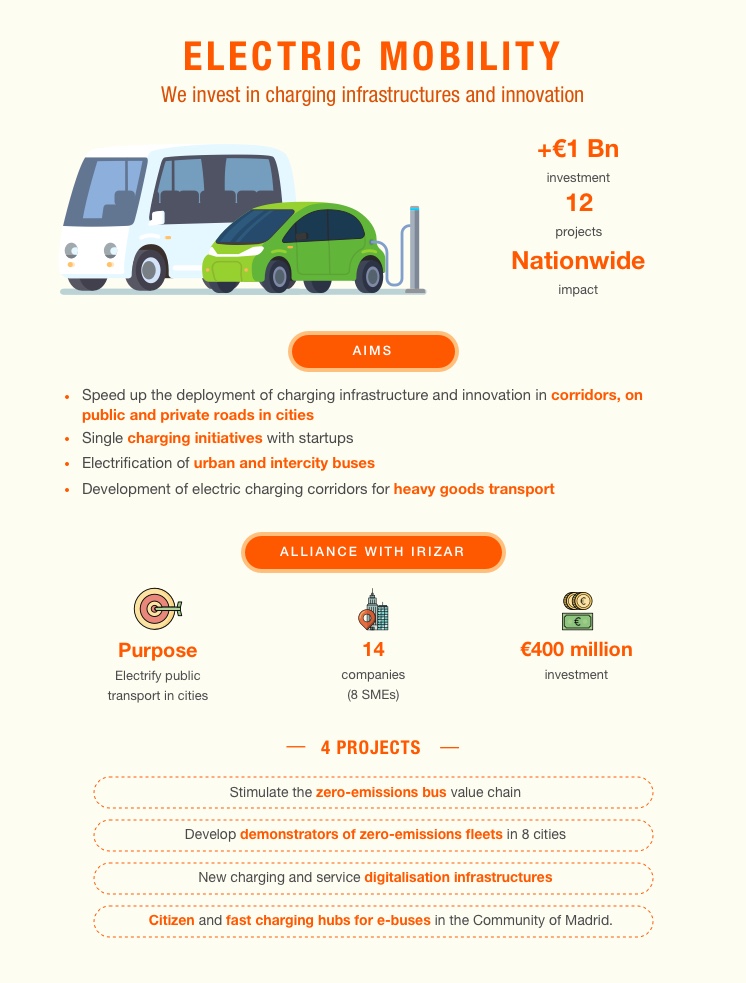 Electrical mobility: investing in charging infrastructures and innovation.
The strategic alliance with Irizar to promote the electrification of public transport fleets in cities is particularly outstanding. Four projects will be developed under this alliance with an associated investment of 400 million euros:
Strategic driver project that encompasses the entire value chain of the zero-emission bus to move towards the decarbonisation of urban and intercity passenger transport.
Development of demonstrators in eight Spanish cities to have zero-emission fleets. The initiative proposes upgrading 377 electric buses and 50 electric trucks and associated charging infrastructure.
Innovative technological developments by creating new charging infrastructures and digitisation of services to boost the value chain, which will contribute to decarbonising both urban and road passenger transport.
Citizen and fast charging hubs for e-buses in several infrastructures in the Community of Madrid. The project tackles the electrification of the main interchanges, intermodal areas and car parks in relevant areas, as well as creating hubs for citizens with charging banks and storage for motorbikes, bicycles, scooters and carsharing.
COMPREHENSIVE INFORMATION ABOUT THE
RECOVERY, TRANSFORMATION AND RESILIENCE PLAN
What is the Spanish Government's Recovery, Transformation and Resilience Plan?
The Recovery, Transformation and Resilience Plan is the instrument that will mobilise 50 % of the resources available to Spain through the Next Generation EU programme over the next three years. Specifically, it will guide the implementation of nearly 72 billion euros between 2021 and 2023, in line with the priorities established by the European recovery funds: green investment accounts for more than 37 % of the Plan's total and digitalisation for nearly 33 %.

The Plan is structured around the four transformations that Pedro Sánchez's government has placed at the heart of its economic policy strategy: ecological transition, digital transformation, gender equality, and social and territorial cohesion. The initiative, which was launched on 7 October 2020, is also inspired by the 2030 Agenda and the UN Sustainable Development Goals.
What are the Calls of Interest of the Programme for the Promotion of Industrial Competitiveness and Sustainability Projects?
In December 2020, the Spanish Ministry of Industry, Trade and Tourism opened a public consultation to identify driver projects capable of modernising the country's industry, with the aim of drawing up a map of potential major initiatives to be financed with European funds in the framework of the Recovery, Transformation and Resilience Plan.
What are the requirements for such projects?
Tractor projects with short- and long-term effects.
Carried out cooperatively, involving all the links in the industrial value chain.
With a marked innovative nature and providing added value in terms of R&D.
Of a regional structuring nature.
Involving SMEs.
With a significant impact on competitiveness.
Contribute to the dual green and digital transition established by the European Union.
What are the objectives of the projects?
Improve sustainability of the process or product.
Decarbonisation of the activity.
Including aspects of circular economy.
Making optimal use of resources.
Digitalisation of the value chain.
Which are the main Calls of Interest?
Nine Calls of Interest have been published, four of which are already closed:
Large scale projects for a fair, inclusive energy transition: renewable hydrogen.
Large-scale projects for addressing the demographic challenge and the fight against depopulation.
Strategic Projects for Economic Recovery and Transformation (PERTE).
Call of interest regarding electrical mobility: charging infrastructure, innovation and electrification of the mobile fleet.


The other five are

still in the pipeline:

Mechanisms for driving local energy communities as a tool for economic recovery from the COVID-19 crisis.
Actions to drive sustainable energy on the islands as an instrument for recovery.
Fostering the circular economy in the business community as an instrument for the recovery.
Flexibility of the energy system, electricity infrastructure and smart networks and deployment of energy storage.
Call of interest regarding renewable energies.