The Women's Universe Tour returns with an attractive face-to-face proposal
The Women's Universe Tour, an initiative of the National Sports Council and the Youth Sports Foundation and Iberdrola, returned in June 2022 after the break due to the COVID-19 pandemic, with a three-day street event that gathered more than 6,000 people.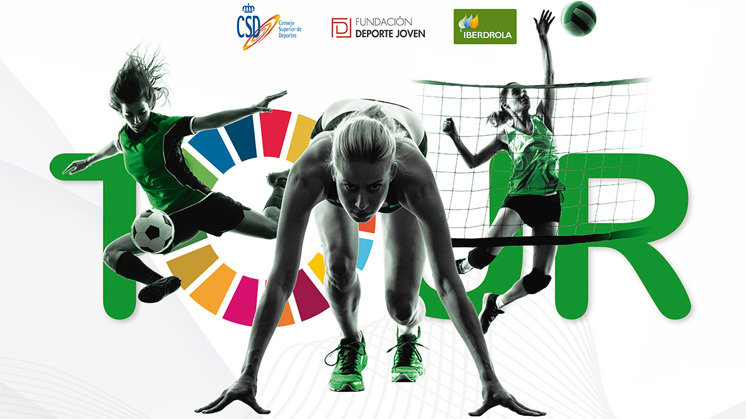 In 2020/2021, the Women's Universe Tour was held on Teledeporte and the digital channels.
The Women's Universe Tour, an initiative of the National Sports Council and the Youth Sports Foundation and Iberdrola, returned in June 2022 after the break due to the COVID-19 pandemic, with a three-day street event that gathered more than 6,000 people.
In this latest edition, held in Zamora, the usual objectives have been maintained: to reduce the gender gap in sport, to project the image of women as an active and fundamental part of this field in Spain and to recognise their efforts and successes.
With the participation of Paula Arcos, international handball player; Bárbara Fuentes, deputy director of Women and Sport of the CSD; Marisol Casado, president of the International Triathlon Federation and Teresa Esteban, international judo referee in the framework of the Forum "The progress and challenges of women in sport", strategies were discussed to promote the development of women's sport as a priority when it comes to promoting the role of women in today's society, while disseminating the great achievements of local sportswomen.
The Universo Mujer Tour (Women's Universe Tour) was born as a travelling sporting event that toured several cities of the Spanish territory. Its aim is to spread ideas relating to effort and self-improvement through the practice and demonstration of different sporting disciplines, and to be a showcase for the successes achieved by Spanish women athletes.
Since July 2016, Iberdrola has been the main promoter of the CSD's Women's Universe programme, becoming the first company to make a firm and global commitment to equality and the empowerment of women through sport. In addition, it delves into the day-to-day life of sportswomen, who give us their thoughts and advice on the main challenges and circumstances that occur in the world of women's sport.
The next edition of the Women's Universe Tour will be held on 1 and 2 October this year, an event held in the San Julián Park in Cuenca, the first time that this event will be held in Castilla-La Mancha.
Due to the COVID-19 crisis, in 2020 the Women's Universe programme of the Spanish National Sports Council and the Young Sports Foundation — of which Iberdrola is the main promoter — decided to adapt its project to a new audiovisual and digital format, while maintaining its usual objectives: to promote the presence of women in the world of sport, to project the image that women have as an active and fundamental part of sport in Spain and to recognise their efforts and successes.
In this series of programmes broadcast by Teledeporte and digital channels we accompany some big names in women's sport — such as Carolina Marín (badminton), Amanda Sampedro (football), Ona Carbonell (synchronised swimming), Ruth Beitia (athletics), Sandra Sánchez (karate), Garazi Sánchez (surf), María Vicente (football and athletics), Salma Paralluelo (athletics), Eva Moral (triathlon) or Teresa Díaz (fencing), among others — as they lead training sessions, address challenges, take part in forums and share experiences of the world of fitness or lifestyle with well-known figures from these disciplines. We also saw demonstrations of parkour, rhythmic gymnastics or boxing and we paid tribute to athletes as beloved as Blanca Fernández Ochoa or Coral Bistuer.
Besides, the Women's Universe Tour also looks at the everyday lives of sportswomen as they offer us their thoughts and advice on the main challenges and circumstances that appear in the world of women's sport.
Youth Boxing, Loida Zabala and the rematch between Sara Hurtado and Sonia Lafuente

We spend the day with Paralympic weightlifter Loida Zabala and explore the world of boxing with four bright young athletes who have discovered their calling in this sport. We also reunite skaters Sara Hurtado and Sonia Lafuente, who have been friends since they were eight years old but have since followed different paths. And, to finish, a "What do we know" about hockey.

The importance of grassroots sport

We learn about grassroots sport with Natalia, Sofía, Adriana and Carla, who train at the Colonial Sport rhythmic gymnastics centre, a pioneering facility in Spain, and Adriana Rissi, a badminton for the deaf player. We also meet national fencing team members Teresa Díaz and María Mariño.

María López, Miriam Martínez, Adiaratou Iglesias and Roxana Popa talk about their experience in Tokyo

The national grass hockey team player María López, adapted shot putter Miriam Martínez, paralympic athlete Adiaratou Iglesias and gymnast Roxana Pop talk about their experiences at the Tokyo 2020 Games, a dream come true, and the commitment and the obstacles they had to overcome to get there.

Eva Moral, Teresa Portela and Susana Rodríguez back from Tokyo

They have hardly had time to rest after their return from Tokyo, and they are already getting ready for their next challenges. Kayaker Teresa Portela and paralympic triathletes Susana Rodríguez and Eva Moral talk about what it is like winning an Olympic medal. Iberdrola also showed its gratitude to the athletes at the Tokyo 2020 Olympics by handing out the Iberdrola Energy in Sport medal.

Carolina Pascual, Eli Pinedo, Miriam Blasco and Virginia Ruano

Today we will interview several veteran Olympic champions who are setting an example for future generations: Carolina Pascual (gymnast), silver medallist at Barcelona '92; Miriam Blasco (judo), first women's Olympic gold medallist Barcelona '92; Eli Pinedo (handball), bronze medallist at London 2012, and Vivi Ruano (tennis), silver medallist at Athens 2004 and Beijing 2008.

Hablamos de paratriatlón, esgrima y preparación para los Juegos (Spanish version)

En una autoentrevista, la paratriatleta Eva Moral nos detalla cómo prepara su participación en los Juegos de Tokio. También nos lo cuentan la jugadora de bádminton Clara Azurmendi y la preparadora física de la Selección Nacional de Hockey Hierba, Esther Morencos. Además, Dana Raposo, del equipo femenino de espada junior, revela curiosidades sobre la esgrima(Spanish version).

Lourdes Mohedano (gimnasia rítmica), Bea Pérez (hockey) e Isabel Fernández (parakárate) (Spanish version)

Hacemos el repaso más especial por la carrera de la gimnasta Lourdes Mohedano, subcampeona en Río 2016. Preparamos la maleta de Tokio con la jugadora de las Redsticks Bea Pérez. Y conocemos la historia de superación de la parakarateka Isabel Fernández (Spanish version).

Surfing with Lucía Martiño and the promotion of women's club rugby

Today we meet surfer Lucía Martiño, who got on her first board aged 11 and went on to make her hobby her livelihood. The Spanish Rugby Federation's "Yo seré leona" (I'll be a lioness) project aims to promote female rugby in clubs. And we attend the reception given by Iberdrola for a delegation of Spanish sportswomen representing our country's teams going to the 2020 Tokyo Olympic and Paralympic Games.

Salma Paralluelo, between football and athletics

Today we are talking to futsal goalkeeper Belén de Uña, learning about the Spanish Triathlon Federation's Woman, Energy and Sport Campus and going on the road with the Guerreras (Warriors) on their path to the Tokyo Olympics. What's more, the Iberdrola Fencing League is back and we celebrate the triumph of the Ritmo club in the Iberdrola team gymnastics league. Last but not least, wel meet footballer and athlete Salma Paralluelo.

María Vicente tells us about how she started, training in football, beach volleyball and karate

Today wel meet Levante UD Women's team coach María Pry and beach volleyball players Liliana Fernández and Elsa Baquerizo, who competed at the London 2012 and Rio 2016 Olympic games. We attend a karate exhibition by the Dojo Shubukan association and world sub-18 heptathlon champion María Vicente tells us how she got involved in athletics.

The leadership of Sandra Sánchez, Carolina Marín, Isabel Rico, Bea Pérez and pointers on volleyball

In today's programme, Isabel Rico (rugby) and Bea Pérez (field hockey) discuss the importance of team leadership, we venture into the world of badminton with Carolina Marín and Clara Azurmendi, we get to know more about karateka Sandra Sánchez in 'The sportswoman's corner' and we finish with a report on the volleyball Queen's Cup tournament, hosted in Las Palmas.

We'll learn a bit more about refereeing, boxing, rhythmic gymnastics, rugby and weightlifting

Today we have a boxing quiz with Laura Fuertes and Jennifer Fernández, members of the National Boxing Team. We meet Alicia Espinosa, the second-youngest ref in the Primera Iberdrola. Teresa Gorospe, Alba Bautista and Salma Solaun give us a magnificent exhibition of rhythmic gymnastics to the beat of flamenco. We also celebrate the eighth European championship with the rugby national team and enjoy a self-interview with Spanish paralympic weightlifting champion Loida Zabala.

We meet Laura Palacio, policewoman and karateka, and the Barcelona '92 Golden Girls of field hockey

In today's programme we spend 24 hours with karateka Laura Palacio, who combines her kumite training with her work in the Civic Participation Brigade of the Tenerife Police Force. We reunite the Barcelona '92 women's field hockey champions and join the Spanish national surfing team on their get-together for the El Salvador world championship, which is crucial for the Games. We also learn about the Spanish Table Tennis Federation's project with promising young female players.

We pay tribute to Blanca Fernández Ochoa and learn how to skateboard, and play rugby and badminton

In this programme, skateboarder Mar Barrera gives a lesson to boxers Mamen Mandueño and Patri Rodríguez, badminton international Bea Corrales interviews herself; and we put Candela Mejías and Lara Pampín from the Spanish Grass Hockey team to the test with a rugby quiz. The programme also pays homage to skier Blanca Fernández Ochoa with help from her sister Lola and journalist Paloma del Río.

Maialen Chourraut, Cristina Cabeza, Irene Ferreras, Triathlon and Valentina Matos

In the third programme of this season, canoeist Maialen Chourraut approaches her fourth Games, Cristina Cabeza and Irene Ferreras (football and handball coaches respectively) discuss the arrival of women on the top benches. We hear about the Spanish Triathlon Federation's Amazonas programme and Spanish champion Valentina Matos gives us a spectacular figure skating exhibition.

Theresa Zabell, Alejandra Quereda and Sara Revuelta

Today we pay tribute to the only Spanish sportswoman with two Olympic golds: Theresa Zabell (sailing). We have fun with the Ninja Warrior challenge from the Erbina sisters (rugby), and we do a quiz with Jimena Serrano and Elena Álvarez, players in the Iberdrola Ice Hockey league. Plus, the national rhythmic gymnastics coach and Olympic runner-up in Rio 2016 Alejandra Quereda interviews herself; and Sara Revuelta, captain of the national wheelchair basketball team, gives us a life lesson.

Women at the top

In 2021, the tour returns with a programme dedicated to women who have triumphed in their respective sports disciplines and who currently hold positions of responsibility. This is the case, for example, for Marisol Casado, who is the head of the International Triathlon Federation; Lola Romero, the director of the Atlético de Madrid women's team; or Carlota Castrejana, the general secretary at the Royal Spanish Athletics Federation. We will also get to find out about the Free Rugby project by the national rugby team player Patricia García.

Garazi Sánchez, Teresa Perales, Spanish boxing and parkour team

Surfer Garazi Sánchez and Paralympic swimmer Teresa Perales talk about the enormous opportunities offered by sport; we spend 24 hours with a group of boxers from the Spanish national boxing team; and Jennifer Pareja (water polo) interviews herself about transitioning from the pool to the office. We also have fun with Garazi Sánchez's challenge to the Calvo sisters (taekwondo) and attend a parkour exhibition.

Ruth Beitia, Sara Hurtado, María López, Coral Bistuer and María Xiao

In the second programme we talk to Sara Hurtado (Olympic ice skater) and María López (Spanish field hockey team) about how the lockdown affected them. The Olympic athlete Ruth Beitia reviews her career with us and tells us about her new role as a teacher and in the Spanish Athletics Federation. We also sneak into the finals of the Queen's Handball Cup, pay tribute to Coral Bistuer (taekwondo) and meet María Xiao (table tennis).

Ona Carbonell, Teresa Portela, Mariola Rus, Patricia García and Bimba Delgado

In the first programme of the second season, we talk about balancing a life in sports with motherhood with Teresa Portela (canoeist), Mariola Rus (rugby) and Ona Carbonell (synchronised swimming). We go to the Ciudad del Fútbol in Las Rozas to see how the women from the Spanish national football team are preparing for the European Championship. And we meet Patricia García and Bimba Delgado, the first two Spanish women to play Premiership Rugby in England.

Eva Calvo, Desirée Vila, Miriam Casillas and Cristina Korniychuck

Eva Calvo (paratriathlon) and Desirée Vila (adapted athletics) talk about the Paralympic Games in the third edition of the tour in its digital version. Miriam Casillas (Olympic triathlete) talks about how to avoid injuries through preparation, nutrition and rest. And Cristina Korniychuck offers us an exhibition of rhythmic gymnastics.

Carolina Marín, Amanda Sampedro, Silvia Arderius and Loida Zabala

Olympic badminton champion Carolina Marín, footballer Amanda Sampedro, captain of Atletico Madrid and the team, and Silvia Arderius, runner-up in the World Handball Championship, talk about how they have dealt with the lockdown, injuries and their upcoming challenges, especially the Tokyo Olympic Games. We look at the No Plastics Team initiative by Spanish surfers, we participate in a culinary challenge with the chef Bosquet and the Paralympic weightlifter Loida Zabala remembers how she was told she was crazy when she started training.

Sandra Sánchez, Sara Hurtado and Teresa Díaz

On Saturday 20 June the first programme of the Women's Universe Tour was broadcast in its digital version, with the participation of stars such as Sandra Sánchez (karate), Sara Hurtado (ice skating) and Teresa Díaz (fencing), who offered masterclasses, dances and a number of surprises.
The Women's Universe Tour is being broadcast on its usual digital and Teledeporte channels in three-chapters seasons, which pay attention to different women's competitions of the 16 federations promoted by Iberdrola: football, badminton, handball, volleyball, rugby, triathlon, canoeing, gymnastics, fencing, hockey, karate, surfing, table tennis, athletics, boxing and ice sports.
The show has been awarded by the 2020 As Sports Awards, in which the jury highlighted the contribution of the Tour Universo Mujer initiative to promoting the presence of women in the sports field and enhancing the efforts and successes of the athletes.
In its in-person version, the tour visited different Spanish towns, where races, sports sessions, exhibitions, talks, etc. were held. In addition, the 16 national federations involved had information booths.
OTHER STOPS ON THE TOUR IN 2020
Pontevedra (6, 7 and 8 March 2020)
Pontevedra became the 17th stop on the tour, coinciding with International Women's Day.
On Friday 6 March, the main representatives of women's sport at both national and regional level discussed women's sport today at the Women's Universe Forum.
On Saturday 7 March, Pontevedra's Plaza de España played host to a series of activities for all participants to enjoy. The activities were ran by the 16 Spanish federations promoted by Iberdrola through the Women's Universe program. Each one had its own information booth and a 3000 square metre activity area, where participants could try out the different disciplines completely free of charge, as well as enjoying displays relating to local clubs and athletes. Meanwhile, the free fitness marathon offered outdoor group classes in zumba, aerobics, dance, spinning, etc. courtesy of local schools and gyms.
The Pontevedra Fit for Equality Race was held on Sunday 8th March. It took the form of a charity race for all, the proceeds of which were donated in full to the charity Fademur Galicia.
10,000 ASSISTANTS IN EACH STOP
The tour visited 16 Spanish cities in 2017, 2018 and 2019 (Castellón, Palma de Mallorca, Bilbao, Málaga, Burgos, Valladolid, Valencia, Murcia, Sevilla, Santander, Zaragoza, Gijón, Oviedo, Granada, Cáceres and Huelva) and attracted an average of 10,000 people at each stop. Much of this success was down to the help of the town councils, the Young Sports Foundation and the National Sports Council (CSD) as well as the Spanish sports federations appointed to the 'Women's Universe' program.
Iberdrola has been the main driving force behind this Women's Universe program since July 2016. This is the first company in Spain to make a global commitment to promoting women's participation in every aspect of sport.