ELECTRIC CAR CHARGING POINTS IN SPAIN
Thanks to Iberdrola, drivers will be able to travel across Spain in an electric vehicle
#cars #environmental sustainability #transport
Iberdrola plans to install electric vehicle charging stations in the main motorways and traffic corridors of Spain, as well as in the public access spaces of the main cities. The plan, which includes the start-up of at least one rapid recharge station every 50 km, will allow travel throughout the country with autonomy.
Carousel of images and videos
The Iberdrola group Smart Mobility Plan signals a significant step forward in developing and deploying electric vehicles in Spain.

DRIVE ALL THE WAY ACROSS SPAIN
IN AN ELECTRIC VEHICLE WITH THE SMART MOBILITY PLAN
IN AN ELECTRIC VEHICLE WITH THE
SMART MOBILITY PLAN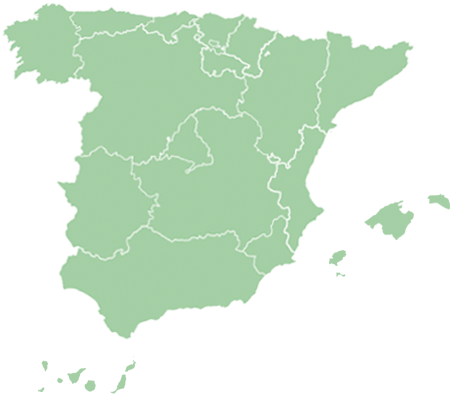 Nationwide coverage
One station every 50 km

Main routes
6 radial roads & 3 corridors

Charging speeds
Fast: 20-30 minutes
Super-fast: 5-10 minutes

Recharging power points
2-7 vehicles per station

Geolocation
Book and pay on your
mobile




SEE INFOGRAPHIC: Drive all the way across Spain in an electric vehicle with the Smart Mobility Plan [PDF]
We tell all about the Smart Mobility Plan
Nationwide coverage
Iberdrola will install at least one station every 50 km on the main roadways. The network will cover all six radial roads stemming from Madrid — North Motorway (A1), Northeast Motorway (A2), East Motorway (A3), South Motorway (A4), Southwest Motorway (A5) and Northwest Motorway (A6) — as well as Spain's three main traffic corridors — Mediterranean, Cantabrian and Silver Route — and will cover all the provincial capitals and major cities across the Spanish geography.
Fast, super-fast and ultra-fast charging stations
The charging stations will have 50 kW (fast), 150 kW (super-fast) and 350 kW (ultra-fast) of power to charge most of the battery in approximately 20 to 30 minutes, or just 5 to 10 minutes at ultra-fast recharging stations, depending on the vehicle. Furthermore, each station will be able to charge between 2 and 7 vehicles at a time, bringing the number of fast charging points to 400 throughout the network. The plan foresees to install ultra-rapid stations every 200 metres, super-rapid every 100 kilometres and rapid, every 50 kilometres.
100 % green energy
The electricity supplied at these charging points will be 100 % green and certified with a renewable origin guarantee (GoO), ensuring that this energy comes from clean generation sources. To achieve its goal, Iberdrola has reached agreements and is in talks with partners — mainly hotels, restaurant chains and service stations — to deploy that network, which will prioritise locations close to the road that offer a wide variety of services.
Easy process from the mobile phone
Users will be able to charge their vehicles, regardless of whether or not they are Iberdrola customers, by using the app for mobile devices developed by the company under its Smart Mobility Plan. Thanks to Iberdrola's Public Charging App, electric vehicle drivers will be able to conveniently geolocate, book and pay for their recharge on their mobile phones. To do this, the first mapping verifying the operational public electric recharging infrastructure in Spain has been completed. A team from Iberdrola Smart Mobility checked in situ the existence and functioning of charging stations, as well as their technical specifications. So far, this map includes over 3,600 electric vehicle charging points on the public highway at 1,200 locations throughout the country. In addition, users will be able to report new charging points that, after confirmation by Iberdrola, will be updated on the app.
A reality in 2020
By mid 2020, Iberdrola has installed 5,500 electric charging points nationwide — of which around 600 are rapid charging points on roads and motorways — and has more than 1,800 rapid, super-rapid and ultra-rapid charging points on public roads in different stages of development.
Besides, it has reached more than 30 agreements to roll out infrastructures with the main players in the mobility field. But the group's ultimate goal is even more ambitious: over the next four years, Iberdrola plans to see 150,000 electric vehicle charging points set up in Spain.
Hide information
A PLAN SUPPORTED BY PUBLIC INSTITUTIONS
Electric vehicle users who recharge at Iberdrola stations do so with 100 % clean energy, backed by Guarantee of Renewable Origin (GoO) certification. They can also rely on the green certification from G-Advisory, which has given its second party opinion.
In September 2020, it signed a green loan with the Official Credit Institute (ICO) for 59.4 million to install 2,500 charging points on public roads in Spain and Portugal.
Iberdrola's mobility electrification plan also has the support of the European Commission, through a €13 m grant, awarded to the company within the framework of the CEF Transport Blending Facilities invitation from the Innovation and Networks Executive Agency (INEA), which will contribute towards financing the installation of 2,339 rapid, super-rapid and ultra-rapid charging stations in Spain and Portugal in the run up to 2023. These new charging stations will be sited on high-volume traffic routes in both countries and at points close to the trans-European transport networks (TEN-T).
MORE THAN 40 INFRASTRUCTURE DEPLOYMENT AGREEMENTS
The implementation of Iberdrola's Smart Mobility Plan aims to keep up with the pace of electric vehicle deployment in Spain. As a result, more than 40 infrastructure deployment agreements have been signed with the main mobility players, from administrations to institutions, companies, service stations, dealers and electric vehicle manufacturers.
For example, the company has reached a collaboration agreement with the Valencian Federation of Municipalities and Provinces to jointly carry out activities to promote the provision of energy solutions, such as self-consumption and electric mobility. In this same community, it signed an agreement with the Association of Electrical, Telecommunications and Renewable Energy Installers of Valencia (ASELEC) establishing the application of preferential conditions to over 800 companies that form part of the association for the development and implementation of charging points for electric vehicles.
In Valladolid, for the next ten years it will manage the city's electric vehicle charging infrastructure. The tender calls for maintaining and improving existing charging points and expanding or installing more charging points in the near future, while also promoting the incorporation of any technologies that may arise in the future.
In the Murcia region, it has reached an agreement with the Regional Federation of Metal Companies through which it will apply preferential conditions for the development and implementation of charging points for electric vehicles to the companies belonging to the Federation.
Other important agreements include the alliance with SEAT and Volkswagen Group Spain Distribution to promote electric mobility in Spain, the first sustainable car park in Spain (IFEMA trade fair facilities), or the agreement achieved with ZITY, for which Iberdrola will continue to supply 100 % renewable energy in the charging of the entire fleet of the electric car rental company, whose cars also incorporate Iberdrola's brand image in the inside.
It has also reached an agreement with the Madrid Municipal Transport Company (EMT), through which it will advise and facilitate the electrification of the city bus network and will collaborate in the study of alternatives for electricity supply to the EMT facilities, from which urban buses operate.
In addition, the roll-out has begun of the biggest network of rapid charging stations for electric vehicles on the major highways and traffic corridors in Spain. Also, a super-rapid charging corridor that joins the centre and the south of the peninsula has opened, and it is installing charging points at various points within Spain, in locations in the Comunidad Valenciana (for example in Ondara, Benidorm and Llíria), País Vasco (Irún, San Sebastián and Bilbao), Castilla y León (Burgos, Salamanca and Valladolid), Murcia, etc.
It has also reached agreements with almost all electric vehicle manufacturers, associations and dealerships —Mazda, Mercedes Benz, Aevab, Mundomóvil, Grupo Marcos Automoción, AMDA, Grupo Huertas, Montalt—; it is rolling out an ambitious points plan for fast and super-fast vehicle charging at service stations operated by brands like Complejo Leo — in one of the main corridors of the Peninsula, linking the centre and the south —, AVIA, Wallbox, Ballenoil and Valcarcel; collaborating with sustainable mobility plans with companies like Ikea, McDonald's, Telefonica, Bodegas Matarromera, REE, Auchán, etc., and investing in electric mobility infrastructures in shopping centres, restaurant chains and hotels.
Iberdrola has become the first Spanish company to join the The Climate Group EV100 Initiative, undertaking to have a fleet of more than 3,500 completely electric vehicles in Spain and the UK by 2030.
10 reasons to drive an electric car
No registration tax
75% less car tax
A minimum 12-year lifespan and less breakdowns
Access to restricted areas to individuals
Up to 400 km battery life
There are more charging points all the time
Free parking or discounts in the majority of parking areas
Driving an environmentally-friendly vehicle
Just €0.50 per 100 km, as opposed to €11.20 for gasoline powered cars
Driving a quiet car
Hide information
10 reasons to drive an electric car.
SEE INFOGRAPHIC: 10 reasons to drive an electric car [PDF]
Advantages of electric vehicles [PDF]