We promote training, professional development and internal mobility
Mobility programs, training and professional development plans and cultural exchange are the cornerstones of our model.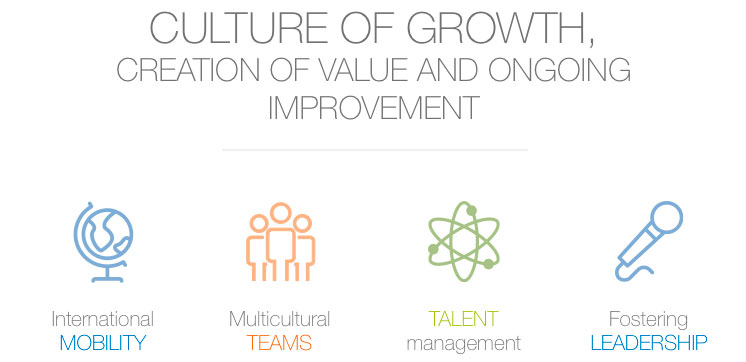 See more information
CULTURE OF GROWTH, CREATION OF VALUE AND ONGOING IMPROVEMENT
International mobility
Multicultural teams
Talent management
Fostering leadership
Hide information
In Iberdrola group we understand training and development as key factors for the success of the organisation and the personal and professional satisfaction of our employees. We design specific policies and programs to endow our employees with the necessary qualifications to carry out their functions and encourage a culture of growth, value creation and ongoing improvement that allows them to take on new responsibilities in the future.
Also, to spread and share the knowledge existing in the group, we promote continuing learning and cultural exchanges. With our global mobility programs, we seek to identify and place the human capital where it can contribute the most value, guaranteeing a good professional, personal and family experience. Through our unique Careers Site

External link, opens in new window., our workers can view and request internal job vacancies in any country that fits their profile.
A UNIQUE EXPERIENCE: CAMPINAS, MADRID AND PORTLAND
Silmar Crepaldi, from Iberdrola's Purchasing Department, has travelled around three countries in less than three years. This young electrical engineer participated in a grant programme sponsored by the group in Elektro, in his native Brazil. His international journey began in Spain, but he didn't take long to leap at a new job opportunity in the United States thanks to the e-GO application, which is part of the human resources system. Find out about his story here:
PROFESSIONAL DEVELOPMENT INITIATIVES IN THE IBERDROLA GROUP
Here are some of the most important initiatives, projects and actions in the area of professional development:
Promotion of

international mobility

and work in multicultural teams.
Review of the programs and initiatives in the

Management School

and launch of the mobile version of

e-leaders

, a virtual environment for managers.
Implementation of a

comprehensive model of training and professional development

in all countries.
Global process for identifying professionals with potential for

executive development.

Campaign to foster gender equality in the

selection processes.

Consolidation of the

model of talent management and leadership development

at the international level.

International

training

quality certification.

Definition and implementation of the

global development roadmap

for the Iberdrola group.
Global organisation of

management talent.

New programs launched at the

School of Management.

Extension of global

internal vacancy

postings.
Open innovation and partnerships