GREEN BONDS
What are green bonds and what are they for?
#environmental sustainability #business #investment
Green bonds are a type of debt issued by public or private institutions. Unlike other credit instruments, the funds obtained are specifically destined for the funding or refunding of green projects, i.e. projects that are sustainable and socially responsible in areas as diverse as renewable energy, energy efficiency, clean transportation or responsible waste management.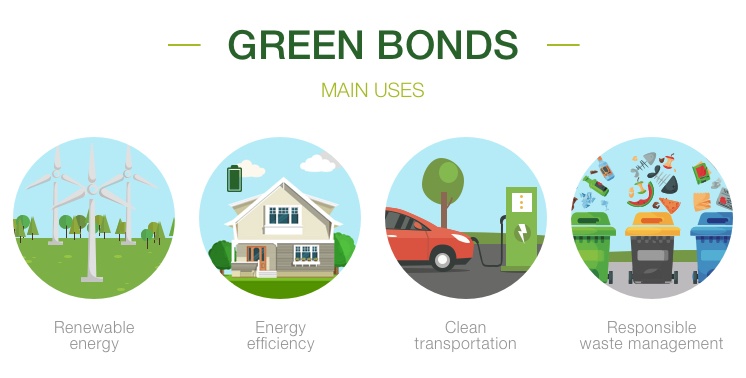 Main uses of the funds from a green bond.
On 5 July 2007, the European Investment Bank (EIB) launched a very special issue for the first time: green bonds. But what are green bonds and why they are so relevant? They can be distinguished by their goal: to fund projects that contribute to achieving the Sustainable Development Goals — number 7 (affordable and non-contaminating energy) and number 13 (Climate action) —.
The investors are clear: the issue of green bonds broke records in 2017 thanks to a total of 131,000 million dollars.
Iberdrola has its own issue brand, inspired by the criteria established by the International Capital Market Association (ICMA): the Green Bond Principles [PDF]. The core ideas are:
The

funds will be used

for green projects with clear sustainability benefits.
The issuer of a green bond must transparently notify the investors of the

environmental sustainability goals,

allowing for them to be assessed and externally reviewed.
The

funds management

will be appropriately and transparently controlled by the issuer, which will allow an auditor to perform a complementary review.
The issuer of green bonds will periodically update the

information about how the funds are used and the sustainability benefits obtained.
IBERDROLA, A BENCHMARK FOR GREEN BONDS
Iberdrola is an international benchmark in this type of financing: we are the largest private issuer of green bonds in the world in the last two years. We thus have more than 8,000 million euros of green financing via capital markets issued since April 2014, when we were the first Spanish company to pin down a placement of green bonds.
Additionally, in 2016 we signed the first green load in the world for an utility company with BBVA. The last such issue of green bonds that we carried out took place on June 2018, with a sustainable investment of 750 million euros to finance the East Anglia ONE project in the United Kingdom. With this, there are now seven senior public issues that we have successfully carried out.
At the beginning of 2018, we signed the largest sustainable credit in the world for an amount of 5,300 million euros; in Mexico, the first corporate green loan in Latin America; and in Avangrid, its first sustainable loan.
Installation of Andalusia II substation in East Anglia ONE.
Information about Iberdrola's green bonds