GREEN BONDS
What are green bonds and what are they for?
#environmental sustainability #business #investment
Green bonds are a type of debt issued by public or private institutions which undertake to use the funds for environmental purposes, unlike other credit instruments. This means that the funds obtained are specifically destined for the funding or refunding of green projects, i.e. projects that are sustainable and socially responsible in areas as diverse as renewable energy, energy efficiency, clean transportation or responsible waste management.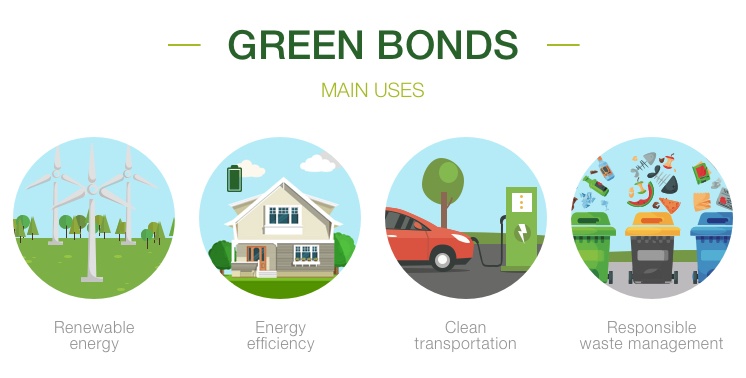 Main uses of the funds from a green bond.
On 5 July 2007, the European Investment Bank (EIB) launched a very special issue for the first time: green bonds. But what are green bonds and why they are so relevant? They can be distinguished by their goal: to fund projects that contribute to achieving the Sustainable Development Goals — number 7 (affordable and non-contaminating energy) and number 13 (Climate action) —.
Iberdrola has its own issue brand, inspired by the criteria established by the International Capital Market Association (ICMA): the Green Bond Principles [PDF]. The core ideas are:
The

funds will be used

for green projects that will have

a beneficial effect on the environment.

The issuer of a green bond must transparently notify the investors of the

environmental sustainability goals,

allowing for them to be assessed and externally reviewed.
The

funds management

will be appropriately and transparently controlled by the issuer, which will allow an auditor to perform a complementary review.
The issuer of green bonds will periodically update the

information about how the funds are used and the environmental benefits obtained.

In the latest update to its framework for green funding, Iberdrola added its

alignment with the principles of the EU taxonomy

and the European Union's standards for the issuing of green bonds.
IBERDROLA, A BENCHMARK FOR GREEN BONDS
In 2014, Iberdrola became the first Spanish company to issue a green bond. The group is an international model for this type of financing, having received awards from GlobalCapital magazine in 2016, 2017 and 2018 for being the foremost corporate issuer of green bonds Sustainable and Responsible Capital Markets Awards.
Iberdrola continues to be the world's leading business group in the issuing of green bonds, having issued €11.4 billion through capital markets in a total of 17 operations since April 2014.
In 2020, Iberdrola was the first Spanish company to reopen the bonds market during the coronavirus pandemic, which it did with a transaction for a value of 750 million euros with a maturity of more than five years (June 2025). In line with the group's strategy, the funds obtained will go to financing and refinancing, whether totally or partially, renewable investments in Mexico and the United Kingdom, mostly onshore wind farms. By developing and commissioning these facilities, the company aims to contribute to economic recovery and protect jobs amid the difficult situation we are experiencing.
Ignacio Galán, chairman of Iberdrola group
As the main issuer of green bonds and provider of renewable energy, Iberdrola supports sustainable finance as a way of speeding up energy transition, along with any other initiative that seeks to tackle climate change
It also became the first Spanish issuer to join the Nasdaq sustainable bond network: Nasdaq Sustainable Bond Network (NSBN). This network, which brings together a number of issuers, provides standardised information on their financial frameworks and the principles they apply (GBP of ICMA, for example), as well as data on the impacts that each has on Sustainable Development Goals.
Along with financing on capital markets came financing from banks. In 2016, we took out the world's first green loan to be issued to a utility, courtesy of BBVA. And in April 2018, we signed the first green loan in Latin America, when Iberdrola Mexico, a wholly owned subsidiary of Iberdrola, signed a green bank loan with a series of international financial institutions for 400 million US dollars, which helped to refinance some of the company's renewable assets in that country.
Iberdrola has also carried out green financing operations with supranational bodies. In 2019, it signed a €400 million green loan with the Instituto de Crédito Oficial, the first granted by this institution. In 2020, a green financing agreement was signed with the European Investment Bank (EIB) and the Instituto de Crédito Oficial (ICO), under which the former will contribute €600 million and the latter €200 million, through green loans to finance the construction of more than 20 projects with a total capacity of over 2,000 MW.
Since its first green operation, Iberdrola has successfully completed a total of 11 public issues of green bonds as a corporation, which include, in addition to the Mexico loan, other green bonds issued by subsidiaries such as Avangrid* (the Iberdrola subsidiary in the United States) — which, in November 2017, issued its first green bond, for 600 million US dollars, and in May 2019 issued another green bond, this time for 750 million US dollars, plus another 750 million in April 2020 — and Neoenergia** (our Brazilian subsidiary), which in June 2019 issued its first green infrastructure debentures, with a nominal value of more than 1.2 billion Brazilian reales.
The funds obtained through these operations have been devoted to financing or refinancing investments in projects which fulfilled environmental and sustainable development criteria, validated both by Iberdrola and, subsequently, by VigeoEris (an independent entity). These projects are basically framed within the field of renewable energies.
Installation of Andalusia II substation in East Anglia ONE.
Iberdrola has benefited from VigeoEiris as an independent expert when validating the green nature of its funding instruments. VigeoEiris issues its assessment on the issuer, not only with regard to management of the chosen projects, but also to the general environmental and sustainable development commitments which it exercises in the normal running of its activities.

Information about Iberdrola's green bonds
Energy transition
*Avangrid, Inc. is 81,50% owned by Iberdrola, S. A.
**Neoenergia, S.A. is 50% + 1 share indirectly owned by Iberdrola, S.A.