TREES PROGRAMME
We promote the planting of 20 million trees by 2030, which will occupy an area equivalent to 25,000 football fields
#nature #environmental sustainability #climate change
Iberdrola is launching the Trees programme to promote the planting of 20 million trees in this decade, in line with the main international biodiversity commitments. The plan's first goal is to have planted 2.5 million trees by 2022, and 8 million by 2025. Between them, they will capture approximately 6 million tonnes of CO2 over 30 years.
Carousel of images and videos
BRANCHES OF THE TREES PROGRAMME
The Trees programme will branch into three main courses of action:
Branch 1: Preserving natural heritage
The aim is to mitigate and offset the habitats affected by the occupation of new infrastructures.
So far, the company has identified opportunities to plant 4.8 million trees between 2020 and 2030.
Work will also be done to identify additional actions linked to new investments.
Branch 2: Replenishing and creating natural value
The intention is to correct forest loss by carrying out projects and initiatives to plant trees on land belonging to Iberdrola and on third-party properties. This branch includes:
Projects carried out by the group's foundations, such as the Forest Defence plan by Fundación Iberdrola España, which involves planting over 80,000 trees in the Spanish army's shooting ranges and military practice grounds.
Operating tree planting projects on Iberdrola land.
Collaborating in reforestation projects with other organisations and Stakeholders.
Branch 3: Social value: research and awareness
The goal is to foster shared knowledge by encouraging research projects with Stakeholders and carrying out awareness raising initiatives.
Continuation of Iberdrola's International Corporate Volunteering Programme, by means of which more than 2,500 trees have been planted in the last two years.
Several research projects will be implemented in collaboration with Stakeholders.
Organising awareness raising initiatives. The company will be exploring other initiatives with NGOs, customers, etc.
The programme will include a monitoring plan to follow up and report on all these actions.
Iberdrola's Trees programme.
SEE INFOGRAPHIC: Iberdrola's Trees programme [PDF]
IN LINE WITH THE MAJOR INTERNATIONAL STRATEGIES
SDG 15: Life on Land
Iberdrola's Trees programme is very much aligned with the Sustainable Development Goals (SDGs) on the United Nations 2030 Agenda, especially SDG 15, which involves promoting the implementation of sustainable management of all types of forests, halting deforestation, restoring degraded forests and substantially increasing afforestation and reforestation globally by 2020.
EU Biodiversity Strategy for 2030
The plan also ties in with the European Union's 2030 Biodiversity Strategy, which seeks to plant 3 billion new trees in the next decade according to fully eco-friendly principles.
UN Decade on Ecosystem Restoration
This project is equally relevant to the United Nations Decade on Ecosystem Restoration (2021-2030), which highlights the need to replenish forests, soils and wetlands and create green areas in cities so as to mitigate the effects of climate change and achieve the target set to reduce emissions by 2030.
IBERDROLA FOR REFORESTATION
This initiative stems from the company's commitment to promoting biodiversity and preserving healthy ecosystems as key elements to attain sustainable growth. As an international role model in the battle against climate change and a global leader in renewable energies, Iberdrola has set itself the goal of achieving net zero biodiversity loss by 2030. To do so, it has undertaken over 1450 biodiversity protection actions between 2018 and 2019 (according to the 2018-2019 Biodiversity Report [PDF]).
The following initiatives to restore and compensate habitats and species are worthy of particular note: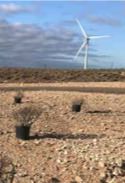 Spain
Iberdrola has reforested 438 hectares of land on its own property, as well as having planted 7,430 trees and bushes on 17 hectares elsewhere to compensate for its infrastructure projects. It also reforested 49.5 hectares under the Forest Defence programme from 2018 to 2019.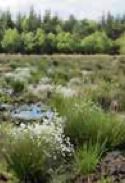 United Kingdom
In 2018-2019 alone the group's UK subsidiary ScottishPower planted over 400,000 trees on wind farm sites, which will eventually rise to a staggering one million trees and thousands of bushes, shrubs and wetland vegetation.
United States
The US subsidiary Avangrid¹ has taken action to mitigate, preserve and restore prairies, forests, bush, thickets and wetland in an effort to lessen its impact and compensate for habitats affected by its wind farms and grid projects.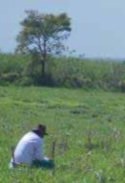 Brazil
Meanwhile, the Brazilian company Neoenergia² is undertaking initiatives to restore degraded areas, plant native forest species, create forest nurseries and otherwise compensate the environment.
Mexico
The company has drawn up plans for reforestation around its thermal power plants in order to offset their environmental impact and comply with the legal requirements set by the Mexican authorities.
1Avangrid, Inc. is 81.50 % owned by Iberdrola S. A.
2Neoenergia, S. A. is owned indirectly by Iberdrola S. A. with 50 % + 1 share.