PERSEO: INTERNATIONAL STARTUP PROGRAM
More than 10 years innovating with startups
Iberdrola's international programme for startups - PERSEO aims to facilitate Iberdrola's access to the technologies of the future and to promote the creation and development of a global and dynamic ecosystem of technology companies and entrepreneurs in the electricity sector. To do this, of the 125 million euros allocated to the initiative, 40 million are earmarked for launching — through its Perseo Venture Builder unit — innovative industrial firms working in new areas of electrification and in difficult-to-decarbonise sectors.
Total budget: 125 million euros
85 million euros
invested in startups around the world
€40 million
to create and invest in companies that support electrification and difficult-to-decarbonise sectors
+3,000 emerging companies
in our ecosystem (increasing at a rate of 300 per year)
8 startups in our portfolio
(+25 real tests/year as a first step to establishing a partnership)
INNOVATION TO IMPROVE SUSTAINABILITY IN THE ENERGY SECTOR
Since it was created in 2008, PERSEO has invested €85 million in startups that develop technologies and innovative business models, focusing on those that make it possible to improve sustainability in the energy sector through increased electrification and decarbonisation of the economy.
The programme has focused its efforts on analysing global business and technology collaboration opportunities with startups and emerging companies, analysing 300 companies every year and creating an ecosystem made up of almost 3,000 entrepreneurial companies. This investment instrument now has a portfolio of eight companies.
Through PERSEO, Iberdrola conducts more than 25 real tests every year with technologies, which are an initial step to establishing a business relationship or partnership with the startups. Additionally, in the last two years the group has launched a total of fourteen challenges in which 700 start-ups have taken part.
Beyond the financial contribution, PERSEO's support for these companies has been key in defining their product and business model by providing them with its knowledge and access to Iberdrola's market. The work done with the startups has also served as a technological antenna to find out where is sector is headed.
PERSEO VENTURE BUILDER: NEW UNIT FOR SUPPORTING THE ENERGY TRANSITION
Within PERSEO, Iberdrola group has launched Perseo Venture Builder, a new unit through which €40 million will be invested in supporting and creating new businesses from scratch that will support electrification — in principle, these will focus on areas such as recycling and circular economy — and difficult-to-decarbonise sectors such as industrial heat and heavy transport.
The short-term aim of the initiative consists of developing six or seven lines of action in the next five years, with which it will stimulate industrial sectors with great potential for growth and drive economic and social revitalisation.
Perseo Venture Builder's activities will focus on creating innovative companies in collaboration with other technology and industrial groups and will also entail public-private collaboration. Its main area of influence is Spain, although it does not rule out promoting activities in other markets where Iberdrola operates.
OBJECTIVES OF THE PERSEO START-UPS PROGRAMME
OBJECTIVES OF THE PERSEO START-UPS PROGRAMME
Access to Iberdrola's ecosystem
Access to market know-how and key technologies
A single contact point
Pilot Programs
Access to large volumes of data
Testing technology in a real environment
Investment
1 to 5 million euros
Co-investment with venture capital companies and funds
MAIN AREAS OF INTEREST
Smart solutions for residential, commercial and industrial customers
Devices for smart homes/buildings

Energy management platforms

Customer loyalty tools

Electric heating, etc.
Solutions for the power grid of the future
Microgrids

HVDC

Technologies for smart grids

Advanced automation

Grid resilience technologies

Reliability and efficiency, etc.
Management of distributed energy resources
Battery control technologies

Solar

Thermal electric power
Renewable energy integration technologies
Flexibility platforms

Energy storage
Advanced operation and maintenance technologies
Platforms based on data

Drones

Sensors

Robots

Diagnosis

On-line supervision

Augmented Reality, etc.
Electric mobility solutions
Charging infrastructure

Mobility platform
COMPETITIONS FOR STARTUPS
With PERSEO, Iberdrola group promotes different Startup Challenges to find innovative solutions that enable its operation to be improved and its environmental footprint to be minimised.
There is currently one active challenge, Inspecting and cleaning of large pipes, in search for technologies to help clean large pipes in thermal power plants to improve sustainability.
Startup Challenges launched to date by Iberdrola are:
POSITIVE+ ENERGY: INNOVATION AGAINST COVID-19
Iberdrola took part, along with other companies of the energy sector, in the Positive+ Energy

External link, opens in new window. initiative to alleviate the economic and social impact of the coronavirus through innovation. In just 13 days, the call made to startups and scaleups received 396 proposals — among them, 14 were selected — related to environmental sustainability, mobility, social impact, digitalisation, telecommunications and 4.0, always from the standpoint of energy.
WHICH STARTUPS ARE WE INVESTING IN?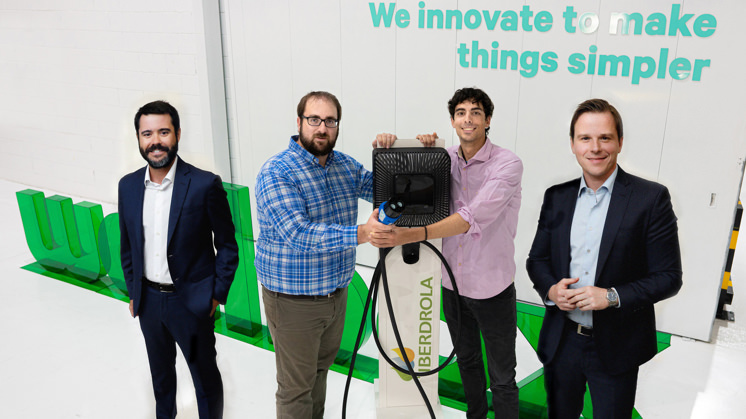 Iberdrola is investing in electric vehicle charging startup Wallbox.
Through the PERSEO program, Iberdrola invests in Wallbox, a smart electric vehicle charging company based in Barcelona that has become part of the list of Spanish unicorn companies (startups with a valuation of more than $1 billion) by announcing its IPO with a market capitalization of €1.475 billion. This is yet another move to support sustainable mobility, which will be a pivotal sector for the post-COVID-19 recovery and a basic requirement for achieving a low-carbon economy. What's more, supporting and committing to Wallbox will boost Iberdrola's strategy to drive zero-emissions transport by improving electric vehicle charging infrastructure.
The company is also investing in Spanish startup Balantia, which is working on improving energy efficiency, and US firm Innowatts, which develops Artificial Intelligence for the electricity sector. It has recently taken a stake in CO2 Revolution, a Navarre-based company that is a benchmark in reforestation using drones and smart seeds, thus taking another step forward in its strategy of combining the development of renewable energy projects with the preservation of biodiversity.
ACHIEVEMENTS AND AWARDS
Thanks to its International Startup Program, Iberdrola has received an award for the fourth consecutive year in the Corporate Startup Stars Awards

External link, opens in new window. as one of the 25 most active companies in open innovation, and it is the only Spanish utility included in the ranking. These annual awards, in which the startups designate the companies that are doing the most to support this type of entrepreneurship, are part of the Start-up Europe Partnership (SEP) initiative by the European Commission, which has been presenting these awards since 2016. In 2020, the awards expanded to worldwide, thanks to the partnership with the International Chamber of Commerce and the consultancy Mind the Bridge.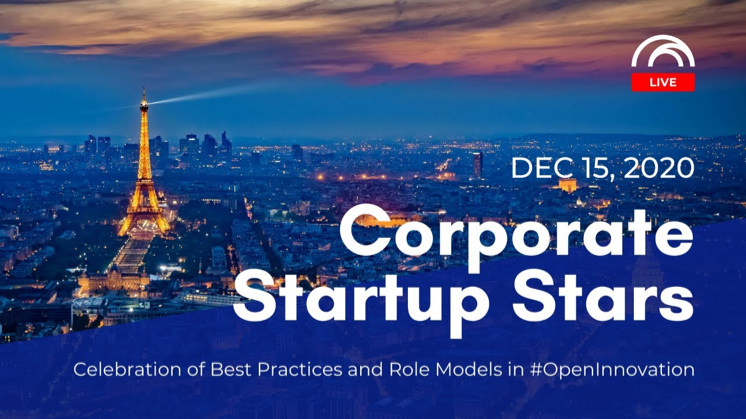 Iberdrola, the only Spanish utility awarded in the 'Corporate Start-up Stars Awards'.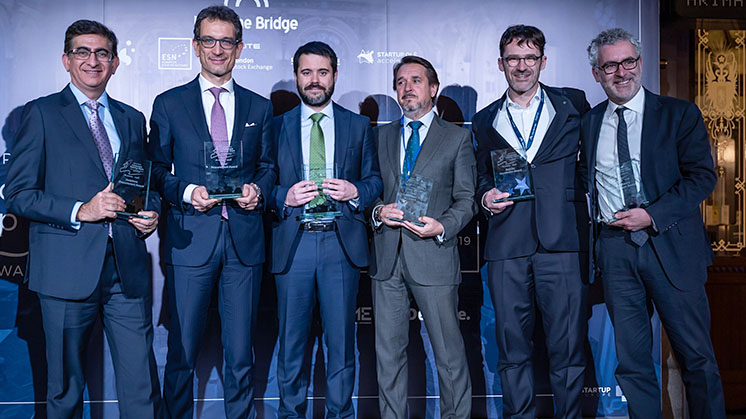 Diego Diaz (centre), responsible for PERSEO, collecting the 2019 Corporate Startup Procurement Award.