PERSEO: Iberdrola's startup program
More than 15 years committed to start-ups and business innovation as a brand value
Iberdrola's startup programme - PERSEO - aims to facilitate the group's access to the technologies of the future while fostering the development of a global ecosystem of startups in the electricity sector with a focus on sustainability. Iberdrola has EUR 200 million for this purpose, invested through its portfolio of investments in startups, its PERSEO Venture Builder unit, pilot projects, the launch of the Iberdrola Startup Challenge and the Andromeda fund for investments in sustainable technologies.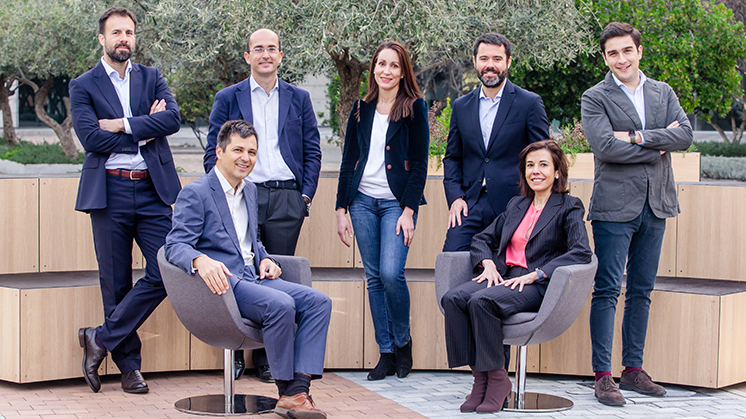 The Iberdrola Innovation team responsible for PERSEO, led by Diego Díaz Pilas (top row, second from right).
Our firm commitment to business innovation has been structured since 2008 through PERSEO, Iberdrola's start-up programme. A tool created for the purpose of introducing innovation in the company through various programmes and facilitating its potential application in tangible business cases that generate significant value for Iberdrola.
Since its creation, the programme has invested more than 125 million euros in supporting open innovation and creating synergies with start-ups that develop innovative technologies and business models. The focus is on those that improve the sustainability of the energy sector through greater electrification and decarbonisation of the economy.
PERSEO uses instruments such as venture capital investments, strategic alliances, start-up competitions and pilot projects or Proof of Concept (PoC) as tools, with the aim of maximising the channelling of innovation into our company for constant improvement.
 
Keys to the programme
125 M€ invested
in startups

9 companies in our portfolio

Challenges Open Innovation Tool

10 challenges launched anually

+ 500 proposals received each year

Venture Builder Program

For creating and investing in companies

+7.500 start-ups in
our ecosystem

Increasing at a rate of 300 per year

Pilot projects

Access to technology in real cases

+25 real pilot projects per year

Andromeda Sustainable
Tech Fund

First major technology fund for energy transition

300 M€ for investing in scaleups
Objetives of the programme
Early identification of key trends for the future of the company

Fostering a culture of innovation and entrepreneurial activity

Access to ground-breaking tecnologies and business models

Stimulation of industrial sectors with high potential for growth and promoting economic and social revitalisation
Main areas of interest
Smart solutions for residential, commercial and industrial customers
Devices for smart homes/buildings
Energy management platforms
Customer loyalty tools
Electric heating, etc.
Solutions for the power grid of the future
Microgrids
HVDC
Technologies for smart grids
Advanced automation
Grid resilience technologies
Reliability and efficiency, etc.
Management of distributed energy resources
Battery control technologies
Solar
Thermal electric power
Renewable energy integration technologies
Flexibility platforms
Energy storage
Green hydrogen
Advanced operation and maintenance technologies
Platforms based on data
Drones
Sensors
Robots
Diagnosis
On-line supervision
Augmented Reality, etc.
Electric mobility solutions
Charging infrastructure
Mobility platform
Solutions that drive sustainability
Circular economy
CO₂ sequestration based on natural solutions
Promoting biodiversity
Investment portfolio: which start-ups do we invest in?
Iberdrola's start-up programme - PERSEO - has focused its activities on analysing business opportunities and technological collaboration with start-ups or emerging companies around the world, analysing 300 companies each year and creating an ecosystem of more than 7,500 entrepreneurial companies, including unicorns (companies valued at more than 1 billion dollars) such as Wallbox and Stem Inc. At present, this investment instrument holds a portfolio of nine companies, check them out!
Andromeda: first major technology fund to accelerate energy transition and sustainability
Iberdrola's start-up programme - PERSEO - is participating in the alliance with Seaya Ventures, together with Fond-ICO Next Tech and Nortia Capital, to launch Spain's first major technology fund to accelerate the energy transition and sustainability: Andromeda.
The fund, with a target size of EUR 300 million, invests in European technology scale-ups related to sustainability, energy transition, electrification of the economy, and other areas such as sustainable agriculture and the circular economy.
In August 2022, the company closed its first investment by backing the 011H construction company's initiative, whose main objective is to optimize the design and construction process of carbon neutral buildings, making them easily repeatable and scalable.
This is the first large technology venture capital fund that contemplates specific sustainability objectives in line with article 9 of the European Union Regulation, with clear and measurable environmental, sustainability and governance (ESG) criteria, which are very present in Iberdrola's corporate identity and management.
PERSEO Venture Builder: new unit to support the energy transition
Within PERSEO, the Iberdrola group has launched Perseo Venture Builder, a new unit to create from scratch businesses to support electrification - initially focusing on areas such as recycling and the circular economy - and in sectors that are difficult to decarbonise, such as industrial heat production and heavy transport.
The short-term objective of this initiative is to develop new lines of action in the coming years, with the aim of boosting industrial sectors with high growth potential and thus promoting economic and social revitalisation.
The activity of Perseo Venture Builder will focus on the creation of innovative companies with the participation of other technological and industrial groups and also contemplates public-private partnerships. It will operate mainly in Spain, but does not rule out the promotion of activities in other markets where Iberdrola operates.
What does PERSEO bring to entrepreneurs?
Iberdrola is a strong advocate of open innovation, enabling companies to go beyond their boundaries and develop cooperation with external organisations and professionals.
What do we offer?
Investment

Between 1 and 5 million euros

Co-investment with venture capital companies and funds

Pilot projects

Access to large volumes of data

Testing technology in a real environment

Access to Iberdrola's ecosystem

Access to market know-how and key technologies
Through PERSEO, the group conducts more than 25 pilot tests of new technologies per year, which serve as a first step towards establishing a commercial relationship or partnership with startups. In addition, in recent years the group has launched numerous challenges in which more than 1,100 startups have participated.
Beyond the financial contribution, PERSEO's support to these companies has been key in defining their product and business, offering them knowledge and access to Iberdrola's ecosystem. On the other hand, the work carried out with the startups has served our company as a technological antenna to find out where our sector is heading.
Start-up Challenges
PERSEO launches an average of ten challenges per year, aimed at emerging technology companies from all over the world, with the objective of receiving proposals with innovative solutions to improve the company's operations, increasing our competitiveness and positioning us in new markets, while minimising our environmental impact.
Discover all the challenges launched to date on the Iberdrola Start-up Challenge page. Here are the latest ones:
From PERSEO we are launching a new challenge to find an automation system for the ergonomic and safety elements of the control rooms of electrical substations, to improve and guarantee their regulation through innovation.

From the Iberdrola Group's startup program, PERSEO, we seek solutions that allow coordinating the integral cybersecurity of the Smart City by means of simulators for the design of joint solutions and for the early detection of cybersecurity incidents.
Pilot projects
In addition to the challenges, and sometimes as part of the award to the winning start-ups, in PERSEO we carry out 25 pilot projects a year to test new technologies and business models offered by emerging companies, always aligned with the areas of interest of our businesses. These pilot tests in real environments are a key preliminary step in the search for companies with which to establish business relationships.
History of PERSEO
Iberdrola's corporate venture capital activity has evolved a great deal since its first steps, more than 15 years ago. Since the creation of the PERSEO programme in 2008, there have been many trials, experiences and learnings, until we have become what we are today. Our real achievement, at the end of the day, is to have succeeded in introducing innovation in the company and helping to apply it in tangible business cases that generate significant value for Iberdrola.
History of PERSEO
2022 Launch of Andromeda
2020 Launch of Venture Builder programme
2016 Creation of the programme Challenges and Pilots
2013 First investment in a Silicon Valley company (STEM)
2009 First investment in PERSEO
2008 Start of PERSEO
Awards
The work carried out within the PERSEO programme has led Iberdrola to win the international Corporate Startup Stars

External link, opens in new window. award on seven occasions, which recognises the application of best practices and open innovation models in large companies.
In the 2022 edition, Iberdrola was ranked among the Top Corporate Startup Starts, the highest recognition of these awards, rewarding our commitment to innovation through the promotion and development of technological start-ups in the electricity sector worldwide with the aim of facilitating the group's access to the technologies of the future.