Cortes - La Muela II hydroelectric plant
Cortes - La Muela, Europe's largest hydroelectric power complex in Spain
Hydroelectric power Energy storage Operating plants
The Cortes-La Muela hydroelectric complex, located in the municipality of Cortes de Pallás (Valencia) in the Júcar river basin, has a turbination capacity of 1,762 MW and 1,293 MW of pumping capacity. With a total investment of more than €1.2 billion, La Muela became the largest pumped-storage hydroelectric plant in Europe.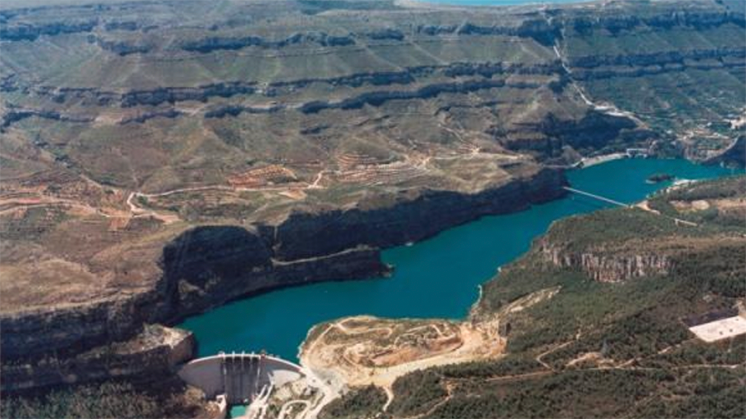 Operating plant
Cortes-La Muela Hydroelectric Complex
Location
Cortes de Pallás (Spain)
Total installed capacity
+1,800 MW
Investment
1.2 billion euros
Comissioning
1988 and 2014
The Cortes-La Muela complex, located in an impressive canyon of deep blue waters of the Júcar River, began construction of its first phase in 1983. At that time, the Cortes dam was installed, with a height of 116 metres and arch-gravity type, with an installed power of 290 MW, and La Muela I, which has 634 MW of power in turbination and 549 MW in pumping. The upper reservoir occupies more than one million square metres and is capable of supplying the daily domestic consumption of 6.75 million people.
In 2015, the complex was expanded with the construction of the La Muela II hydroelectric power plant. With an installed capacity of 880 MW in turbination and 744 MW in pumping, this new facility made this complex the largest installed capacity in Europe with more than 1,800 MW in turbination and 1,293 MW in pumping.
On the other hand, while the Cortes II plant was created from an artificial cylindrical shaft, the La Muela I and La Muela II plants are underground in a cavern and 635,000 m3 and 270,000 m3 were excavated for their construction, respectively.
In these two hydroelectric power plants, the lower reservoir is connected to the upper reservoir by means of two penstocks that bridge a 500-metre drop, one 4.80 metres in diameter and 950 metres long in the case of La Muela and the other 5.45 metres in diameter and 850 metres long in the case of La Muela II.
These pumping stations are the only mass electricity storage systems and allow efficient management of peak hour coverage. At times when there is surplus energy in the system - from traditional or unmanageable renewable technology, instead of disconnecting facilities from the grid, it is possible to use this surplus energy to pump water and store it in a reservoir or overhead tank.
In the particular case of the Cortes-La Muela power plant, with what it produces during a year, it is able to supply the annual electricity demand of almost 400,000 homes, while avoiding the annual emission of more than two million tonnes of CO2.
The extension of the complex
The extension of La Muela II, commissioned in 2015, has three main elements: a penstock with an intake in the upper reservoir, an underground plant to house the equipment and a suction area in the lower reservoir. To build it, a 400-metre tunnel was initially dug, from which three galleries were opened to form the vault.
Underneath it, a cavity 115 m long, 50 m high and 20 m wide was perforated which, due to its size, would be able to house the Valencia Cathedral itself. At the same time, the transformer cavern and the rest of the galleries were created. The machinery was housed in the main cavern, and then the tunnels were fitted out and the main structures were assembled.
To install the penstock, a well was dug 800 metres long and 6 metres in diameter with a 45º inclination. Inside it, a 5.45 m diameter steel pipe was installed, introduced from the upper tank.
The modification of the Cortes-La Muela complex, which led to the construction of Muela II, involved 270,000 m3 of excavation and 90,000 m3 of concrete, which had to be loaded by more than 15,000 trucks.

OPERATION OF A
PUMPED-STORAGE HYDROPOWER STATION
Iberdrola, world leader in renewable energies
At Iberdrola, we decided to commit to renewable energies more than two decades ago as a fundamental pillar on which to build our safe, clean and competitive business model. Thanks to this vision, we are today world leaders in renewable energies, reaching 41,246 MW of renewables in operation by the end of the first half of 2023.
This commitment is reflected in our record investment plan of €47 billion in the period 2023-2025, of which we will allocate 17,000 million euros to the renewables business. With these investments, we will increase our installed renewable capacity by 12,100 MW to 52,000 MW by 2025 —6,300 MW of photovoltaic, 3,100 MW of onshore wind, 1,800 MW of offshore, 700 MW of batteries and 200 MW of hydro.