Cavar onshore wind farm complex
Cavar, the largest wind farm developed by Iberdrola in Spain in recent years, comes into operation
Onshore wind Navarra Operating plants
Iberdrola has begun operating its Cavar wind power complex in the Spanish region of Navarre, the first major facility of its kind commissioned in Spain since the health crisis. With an installed capacity of 111 megawatts (MW), it is also the company's largest wind farm built in Spain since 2012. Cavar complex will generate enough energy to power 46,500 households per year, preventing emissions of 84,000 tonnes of CO2 every year.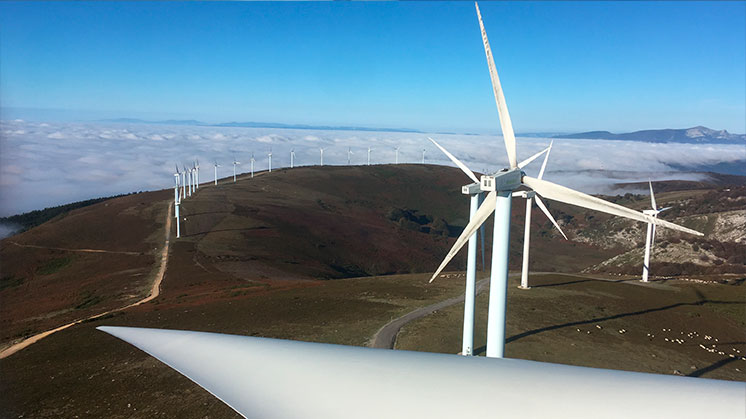 Operating plant
Cavar onshore wind farm complex
Total installed capacity
111 MW
Local employment
200 workers
Iberdrola, together with Caja Rural de Navarra, has begun operating a new renewable facility: the Cavar complex. Its installed capacity of 111 megawatts (MW) makes it the company's largest wind farm commissioned in Spain since 2012, which is already pumping its first clean energy into the grid.
Commissioning of the CAVAR wind farm.
Tour across the Cavar wind farm project, where wind turbine blades are already being installed.
Cavar onshore wind farm complex (Navarra, Spain).
The four onshore wind farms making up the Cavar complex are located in the municipalities of Cadreita and Valtierra and have a total of thirty-two SG 3.4-132 turbines, each with a power of 3.4 MW, the largest used on an onshore wind farm in Spain to date. With blades measuring 64.5 m and a rotor diameter of 132 m, this is the ideal model for sites with medium and high winds.
The construction of the park has been completed in 12 months and has involved the creation of up to 200 jobs. It has also generated over €80 million worth procurement from suppliers, many of which are based in the nearby towns and surrounding area. Practically all of the civil work and the components used to build the wind turbines — towers, blades, nacelles, generators and multipliers — were manufactured in Navarre, Asturias, Cantabria, Soria and Burgos, all in northern Spain.
This wind farm complex will generate enough energy to power 46,500 households per year — around 25% of the population of Pamplona — and, because this is renewable energy, it will prevent emissions of 84,000 tonnes of CO2 every year.
Furthermore, in order to protect the surrounding biodiversity, various birdlife monitoring actions are being carried out, such as detailed monitoring of adult Egyptian vulture specimens, both in the vicinity and in their migration.
Cavar is also the first wind project Iberdrola has developed in Europe with the aim of selling part of the energy to companies through long-term power purchase agreements (PPA).
The company has signed a PPA with Nike to supply 40 MW of clean energy to the sports firm's facilities in Europe. It is the third agreement of this type that the Iberdrola group has signed with Nike

External link, opens in new window., following the two it already has in the United States. Once the Cavar wind farm complex has been built, Nike will receive — on both sides of the Atlantic — a total of 209 MW of renewable energy belonging to Iberdrola.
Besides this, the European Investment Bank (EIB) has assisted this project via a Green Loan — the features of which are fully in line with the requirements set out in its Climate Awareness Bonds

External link, opens in new window. program — which has provided 50 million euros in financing to Renovables de la Ribera, a 50-50 joint venture between Iberdrola and Caja Rural de Navarra to build this new renewable energy project.
Iberdrola, world leader in renewable energies
At Iberdrola, we decided to commit to renewable energies more than two decades ago as a fundamental pillar on which to build our safe, clean and competitive business model. Thanks to this vision, we are today world leaders in renewable energies, reaching 41,246 MW of renewables in operation by the end of the first half of 2023.
This commitment is reflected in our record investment plan of €47 billion in the period 2023-2025, of which we will allocate 17,000 million euros to the renewables business. With these investments, we will increase our installed renewable capacity by 12,100 MW to 52,000 MW by 2025 —6,300 MW of photovoltaic, 3,100 MW of onshore wind, 1,800 MW of offshore, 700 MW of batteries and 200 MW of hydro.