Oitis onshore wind farm complex
Oitis, our largest onshore wind farm project in Latin America
Iberdrola projects Onshore wind Brazil
Iberdrola Group has built the Oitis onshore wind farm complex in Brazil. Consisting of 12 wind farms, the new development has a total installed capacity of 566.5 MW, which makes it the largest onshore wind farm project in Latin America and the second largest in the world.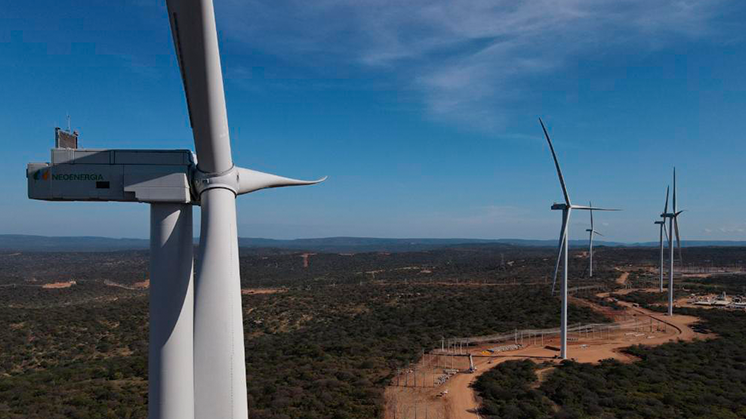 Operating plant
Oitis onshore wind farm complex
Location
States of Piauí and Bahia (Brazil)
Total installed capacity
566,5 MW
Start of construction work
November 2020
Iberdrola strengthens its presence in the Brazilian renewable energy sector with a new development. Through its subsidiary Neoenergia*, it has built in Brazil its largest onshore wind farm complex in Latin America to date: Oitis. Located between the states of Piauí and Bahia, the project consists of 12 wind farms with a total installed capacity of 566.5 MW after full commissioning in 2022.
The work began in November 2020 — three months ahead of schedule — in the municipality of Casa Nova (Bahia), and represented Iberdrola's entry into a new state, Piauí (in which 10 of the 12 parks are located). Furthermore, its construction has contributed to the economic and social development of both in this state and its neighbouring Bahia, both in the north-east of Brazil, where it has generated about 1,500 jobs, 40% of which have been filled by local workers.
The 12 parks occupy a total area of 2.1 million m2 — six times the size of the Maracaná stadium — and have 103 wind turbines with a unit capacity of 5.5 MW, one of the most modern and efficient models in the world energy market. Each one is 125 metres high, equivalent to a 40-storey building and its foundations are supported by a 79-tonne steel and concrete frame made up of 22 tonnes of cement and 1,000 tonnes of gravel and sand.
The turbine components, such as shovels and naceles, began to be delivered in December 2021 after a complex logistical challenge

. The first blades received on site crossed continents between the city of Qinhuangdao in China and the port of Suape in Pernambuco. From there, each of these 77.4-metre-long shovels was trucked along a 900-kilometre route to Oitis, a process that took 60 days to complete and was repeated 19 times during the construction period.
In January 2022, the company has started the assembly of the first wind turbines

of the largest Neoenergia Wind Farm. A 500 KV substation with three transformers (the most powerful installed in Brazil to date) and approximately 70 kilometres of transmission lines were also built to ensure the connection of the new wind farm complex to the Queimada Nova II substation in Piauí.
Discover the Oitis wind project.
With its 566.5 MW of power, Oitis will secure its place on the world podium of the Iberdrola Group's onshore wind farm complexes in terms of installed capacity, just behind the American company Peñascal in the state of Texas (606 MW), and just ahead of the Scottish Whitelee wind farm (539 MW), located south of Glasgow.
It can be able to supply around four million people — a population equivalent to that of the state of Paraíba — and prevent the emission of 1.2 million tonnes of CO2 over 20 years.
In addition, 102 km of access roads were constructed, which will benefit the local population.
The energy generated at Oitis is mainly be used for trading on the free energy market. The energy generated at the Neoenergia Oitis wind farms is 96 % sold on the free energy market (ALC), and 4 % is sold on the regulated energy market.
Neoenergia currently has 44 wind farms in operation in the states of Bahia, Rio Grande do Norte, Piauí and Paraíba, with an installed capacity of 1,389 MW, generating excellence in energy production and contributing directly and indirectly to the socioeconomic development of these regions. In addition, wind power generation is our second largest source of renewable energy in Brazil, behind only hydroelectric generation, with an installed capacity of 3,030.6 MW.
(*) Neoenergia, S. A. is 50 % + 1 share indirectly owned by Iberdrola, S. A.
Iberdrola, world leader in renewable energies
At Iberdrola, we decided to commit to renewable energies more than two decades ago as a fundamental pillar on which to build our safe, clean and competitive business model. Thanks to this vision, we are today world leaders in renewable energies, reaching 41,246 MW of renewables in operation by the end of the first half of 2023.
This commitment is reflected in our record investment plan of €47 billion in the period 2023-2025, of which we will allocate 17,000 million euros to the renewables business. With these investments, we will increase our installed renewable capacity by 12,100 MW to 52,000 MW by 2025 —6,300 MW of photovoltaic, 3,100 MW of onshore wind, 1,800 MW of offshore, 700 MW of batteries and 200 MW of hydro.