East Anglia ONE offshore wind farm
East Anglia ONE, the largest wind farm in Iberdrola's history
Operating plants Offshore wind United Kingdom Scotland
Iberdrola group, through its subsidiary ScottishPower Renewables, has put into operation what is now the largest wind farm in its history and one of the world's largest of its kind: the East Anglia ONE offshore wind farm in British waters in the North Sea. With an installed capacity of 714 megawatts (MW), the 102 turbines that comprise it are already operational, producing clean energy for 630,000 British homes.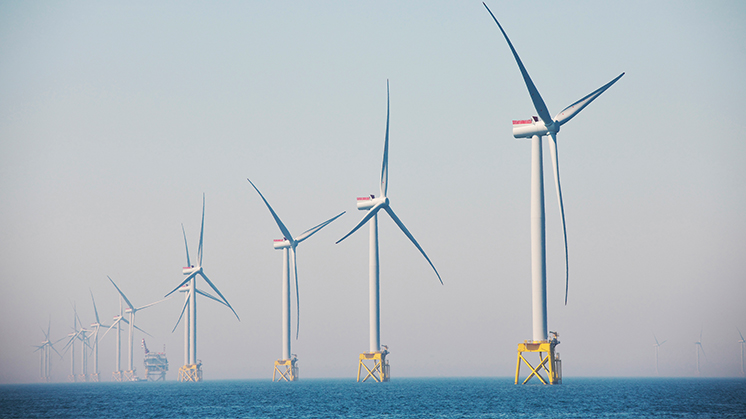 Operating plant
East Anglia ONE offshore wind farm
Location
North Sea (United Kingdom)
Total installed capacity
714 MW
Investment
GBP 6.5 billion
Placed in the North Sea — about 50 kilometres from the coast of the English county of Suffolk —, East Anglia ONE

External link, opens in new window. had an investment of 2.5 billion pounds and is owned 60 % by Iberdrola group and 40 % by the Green Investment Group (GIG), of the Macquarie group.
The project started up on schedule despite the complex environment generated by the COVID-19 pandemic. In fact, around 20 % of the installation of the turbines was carried out during the lockdown period in the United Kingdom, which forced the company and its professionals to change their working methods: smaller boats were fitted out to reduce the crews as much as possible, spaces were created for professionals to live together to avoid contact with people outside the project and specific health protocols were developed, avoiding changes to the teams.
In addition, within the framework of its continuous support to the economic growth of the areas in which it operates, ScottishPower Renewables has awarded a company from Great Yarmouth, a town on England's Norfolk coast, a major contract for the supply of personal protective equipment (PPE). Gibb Safety & Survival will be responsible for supplying the project with protective clothing, equipment for working at height, and rescue, survival and marine equipment. This team will also be responsible for the maintenance and management of the PPE.
Additionally, the construction of East Anglia ONE has driven Europe's fledgling offshore wind farm industry, employing 3,500 people in several countries (Spain, the United Kingdom, the Netherlands, the United Arab Emirates) and being key for various industries, such as the naval sector. To these jobs must be added the 100 permanent and skilled jobs generated for the operation and maintenance of the park at the Lowestoft base on the east coast of the United Kingdom, about 200 kilometres from London.
We put East Anglia ONE into operation.
Get to know East Anglia ONE, our megaproject in the North Sea.
Anchoring East Anglia One's place in history.
Countdown to the opening of East Anglia One.
Construction of East Anglia ONE.
ScottishPower Renewables: a world leader in clean energy.
Technical features of East Anglia One
The farm covers an area of 300 km2, which is equal to 40,000 football pitches.
East Anglia ONE features 102 wind turbines, each producing

7 MW,

supplied by Siemens Gamesa. They reach a height of

167 metres

(two metres higher than the Iberdrola Tower in Bilbao, Spain), with

75 metre long blades.

The

jacket

type foundations were manufactured by Navantia in Fene (Galicia, Spain) and by Lamprell in the United Arab Emirates and by Harland & Wolff in Belfast (Ireland). Windar built the

piles

in Avilés (Asturias, Spain).
The

Andalucía II marine substation,

manufactured by Navantia in Puerto Real (Cádiz, Spain), will be in charge of collecting the electricity produced by the wind turbines and transforming the voltage to transport it to the coast. To do so,

two transmission cables,

each nearly 85 km long, were laid

on the sea bed.

These cables are connected to a further

six underground cables

approximately 37 km long, from Bawdsey to a new

transformer at the land-based Burstall sub-station,

which connects the offshore wind farm to the national grid.
The

maintenance and operations base,

located in Lowestoft Port, will handle daily operations for the fleet over its 30+ year working life. Opened in 2019, it consists of the maritime coordination centre, technical offices and warehouse, and about a hundred people are employed on site.
East Anglia One's latest wind turbine installed.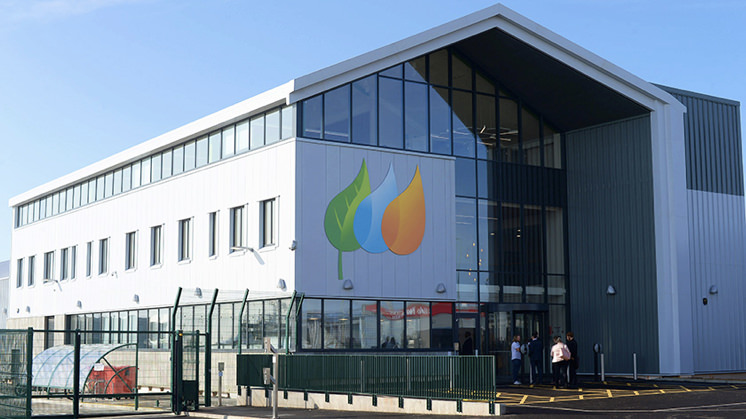 Operations and maintenance base, opened in October 2019 in the port of Lowestoft.
Installation of Andalucía II substation.
'The East Angle' magazine. Summer 2019 issue: "East Anglia Offshore Windfarm Projects"

External link, opens in new window.
East Anglia ONE: turbines [PDF] External link, opens in new window.
East Anglia ONE: jacket foundations [PDF] External link, opens in new window.
East Anglia ONE: offshore substation [PDF] External link, opens in new window.
East Anglia ONE: jackets [PDF] External link, opens in new window.
East Anglia ONE: offshore wind turbine [PDF] External link, opens in new window.
Gisela Pulido: among the wind turbines of East Anglia ONE
Iberdrola ambassador and ten-time world champion, Gisela Pulido, achieved a challenge never before achieved, sailing her kitesurf board in an offshore wind farm, specifically in East Anglia ONE. After travelling more than 50 km from the port of Lowestoft, from where the expedition set off, the ScottishPower wind farm became the ideal setting for such a special sailing experience. Gisela was out in the open sea, alone with the windmills, her kite, her board, and only one energy: the wind.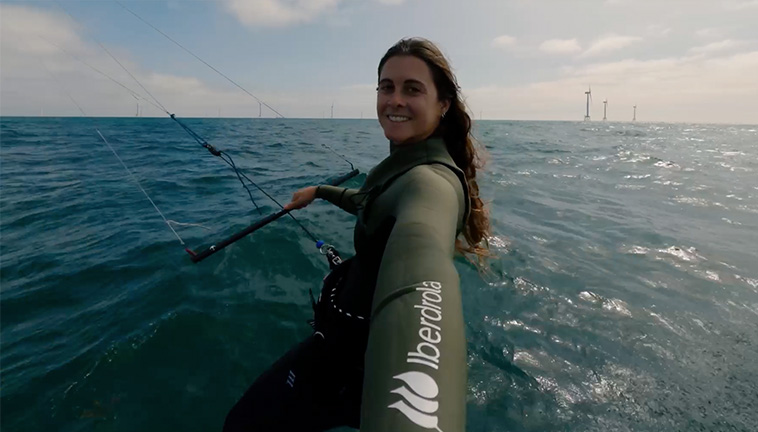 Gisela Pulido, riding her kitesurfing board at the East Anglia One wind farm.
'United By The Wind' documentary
Within the framework of the United Nations Climate Change Conference (COP25), Iberdrola group presented the United by the wind documentary, which shows the most social aspect of the East Anglia ONE offshore wind farm. More than twenty workers, both from the company and from several of its suppliers, tell us about the importance of teamwork, companionship and training to set up an infrastructure of this magnitude and complexity, as well as the driving effect that this development is having on local economies.
'United by the wind' is a documentary produced by Iberdrola on East Anglia ONE.
Access the full documentary
One of the biggest renewable installations in the world
East Anglia ONE is part of a much more ambitious project. Iberdrola will be promoting a macro wind farm called East Anglia Hub, which will incorporate another three farms: East Anglia ONE North, East Anglia TWO and East Anglia THREE. Work will begin on the new development, which will add up to a total installed capacity of 3,100 MW, in 2022 and will require an investment of 6.5 billion pounds (more than 7.6 billion euros).
'Frond Mats' initiative
In response to the company's on-going commitment to wind power research and innovation, ScottishPower is developing the Frond Mats initiative (vegetation covers) in the waters of the East Anglia ONE offshore wind farm, which uses synthetic undersea vegetation to reduce the effects of currents and is designed to protect wind turbines from the effects of erosion, resulting in huge economic savings.
Iberdrola, world leader in renewable energies
At Iberdrola, we decided to commit to renewable energies more than two decades ago as a fundamental pillar on which to build our safe, clean and competitive business model. Thanks to this vision, we are today world leaders in renewable energies, reaching 41,300 MW of renewables in operation by the end of the third quarter of 2023.
This commitment is reflected in our record investment plan of €47 billion in the period 2023-2025, of which we will allocate 17,000 million euros to the renewables business. With these investments, we will increase our installed renewable capacity by 12,100 MW to 52,000 MW by 2025 —6,300 MW of photovoltaic, 3,100 MW of onshore wind, 1,800 MW of offshore, 700 MW of batteries and 200 MW of hydro.