Francisco Pizarro photovoltaic plant
Francisco Pizarro, the largest photovoltaic plant in Europe
Photovoltaic energy Operating plants
Through its subsidiary in Spain, Iberdrola group has begun commissioning the Francisco Pizarro project, which, with its 553 MW installed capacity, will provide clean energy to 334,400 homes a year and will become the largest photovoltaic plant in Europe.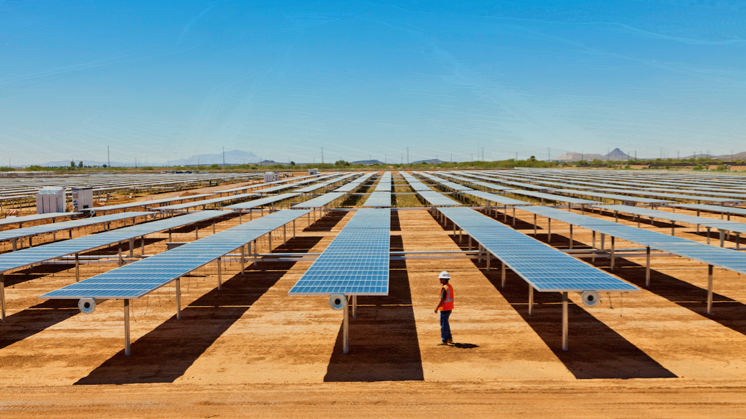 Operating plant
Francisco Pizarro Photovoltanic Plant
Total installed capacity
553 MW
Investment
More than 300 million euros
The Iberdrola group is taking a firm step towards renewable energy with the commissioning of the Francisco Pizarro photovoltaic plant. The plant, with an installed capacity of 553 MW, supplies clean energy to 334,400 homes, more than the populations of the cities of Cáceres and Badajoz, thus avoiding the emission into the atmosphere of 150,000 tonnes of CO2 per year and reducing the carbon footprint.
These figures make Francisco Pizarro the largest photovoltaic development in Europe —with which it contributes to the independence and self-sufficiency of the continent— and the largest launched by Iberdrola worldwide. It thus surpasses the company's other great emblematic project in Extremadura, the Núñez de Balboa photovoltaic plant, with an installed power of 500 MWp.
The construction has involved an investment of more than €300 million and occupies an area of 1,300 hectares between the Cáceres municipalities of Torrecillas de la Tiesa and Aldeacentenera. The figures demonstrate the importance of the project, which totals 1,494,240 photovoltaic modules, 13,724 trackers - a mobile structure that joins the solar panel to the ground and maximises electricity production - and has reached 313 inverters.
The construction of the Francisco Pizarro plant has become a driving force for the industrial fabric and local employment, with more than 1,500 people working at peak periods, 60% of whom have been workers from the province.
Iberdrola, committed to good environmental practices and sustainable development in this type of construction, has worked with the Spanish Ornithological Society (SEO) in the campaign to monitor steppe birds in Extremadura. Together they have identified and protected a breeding area.
In addition, during the execution of the project, archaeological remains have been found, the discovery of which was reported to the local authorities and appropriate measures were immediately taken to control, excavate and safeguard the remains.
Power purchase agreement with Danone
Iberdrola has extensive experience in providing competitive energy committed by PPA (Power Purchase Agreement) or long-term power purchase agreement with various consumers. In this regard, Iberdrola and Danone have joined forces in their sustainability commitments with the signing of a long-term Power Purchase Agreement (PPA), which will drive the development of Francisco Pizarro. The initiative consolidates Danone's renewable strategy and means that 100 % of the renewable electricity used in its plants and factories in Spain will come from this solar project.
The agreement reached will guarantee the long-term green supply of electricity to all Danone's Spanish production plants and its natural water sources, located in Asturias, Barcelona, Gerona, Guadalajara, Granada, Madrid and Valencia; as well as its logistics centres and offices. Danone España's suppliers, Graham Packaging and Salvesen Logística, have also joined the alliance.
Iberdrola also has an agreement with Bayer, whereby the utility supplies renewable electricity from the Francisco Pizarro photovoltaic plant to cover the entire demand of Bayer's nine centres in Spain (three factories, five research and development centres and the company's Iberia headquarters).
In addition, with the PPA signed between Iberdrola and PepsiCo, the energy company will supply green electricity from this plant to all the beverage and food multinational's centres in Spain and Portugal. Iberdrola will supply green energy to 11 PepsiCo facilities from its entry into force on 1 January 2023. These include the production plants in Spain and one in Carregado (Portugal), the two large logistics centres in Burgos and Valencia, the sales offices in Vitoria, Pamplona, Palma de Mallorca and the company's offices in Vitoria and Barcelona.
Iberdrola, world leader in renewable energies
At Iberdrola, we decided to commit to renewable energies more than two decades ago as a fundamental pillar on which to build our safe, clean and competitive business model. Thanks to this vision, we are today world leaders in renewable energies, reaching 41,246 MW of renewables in operation by the end of the first half of 2023.
This commitment is reflected in our record investment plan of €47 billion in the period 2023-2025, of which we will allocate 17,000 million euros to the renewables business. With these investments, we will increase our installed renewable capacity by 12,100 MW to 52,000 MW by 2025 —6,300 MW of photovoltaic, 3,100 MW of onshore wind, 1,800 MW of offshore, 700 MW of batteries and 200 MW of hydro.