El Escudo onshore wind farm
Iberdrola reinforces its commitment to Cantabria with the new El Escudo wind farm
Iberdrola projects Onshore wind
Iberdrola has begun the procedures for the development of the second of its wind projects in Cantabria, the new El Escudo wind farm, which will install 105 MW of green energy. This infrastructure, once operational, will generate enough clean energy to supply a population equivalent to 95,350 homes and will prevent the emission into the atmosphere of 45,000 tonnes of CO2 per year.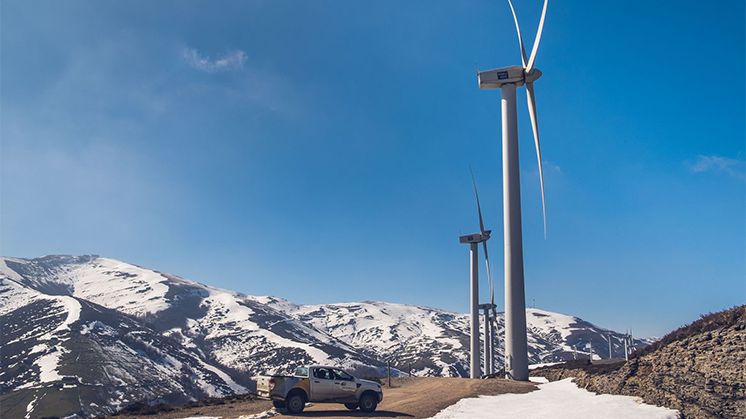 Ongoing project
El Escudo onshore wind farm
Location
Cantabria (Spain)
Total installed capacity
105 MW
Local employment
+200 workers
Start of construction work
2023
The Iberdrola group continues its commitment to renewable energy production in Cantabria with the processing of 105 new green megawatts (MW). The company has obtained a favourable Environmental Impact Statement (EIS) for the development of the El Escudo wind farm, which will be developed in the municipalities of Campoo de Yuso, Luena, San Miguel de Aguayo and Molledo. In fact, the project involves an investment of between €110 and €120 million, 15% of which will go to measures to protect fauna and flora and the peat bogs.
This new wind farm will have more than 25 wind turbines (23 V136-4.2MW and two V117-4.2MW modules) with a maximum height of 150 metres and technical characteristics that will allow them to withstand the climatic conditions of the area such as snow or wind.
Once operational, this facility will generate enough clean energy to supply a population equivalent of 95,350 homes and will prevent the emission of 45,000 tonnes of CO2 into the atmosphere per year. Production will amount to 311,976 MWh/year.
In addition, the project will have an important local component, as it will contribute to boosting the economy and employment in the area. Industrial suppliers will participate in its development and up to 210 people will be employed during peak periods, until its commissioning, scheduled for 2023.
Iberdrola, world leader in renewable energies
At Iberdrola, we decided to commit to renewable energies more than two decades ago as a fundamental pillar on which to build our safe, clean and competitive business model. Thanks to this vision, we are today world leaders in renewable energies, reaching 41,246 MW of renewables in operation by the end of the first half of 2023.
This commitment is reflected in our record investment plan of €47 billion in the period 2023-2025, of which we will allocate 17,000 million euros to the renewables business. With these investments, we will increase our installed renewable capacity by 12,100 MW to 52,000 MW by 2025 —6,300 MW of photovoltaic, 3,100 MW of onshore wind, 1,800 MW of offshore, 700 MW of batteries and 200 MW of hydro.