Villarino photovoltaic plant
Iberdrola reinforces its commitment to Castilla y León with a new photovoltaic plant in Villarino
Photovoltaic energy Operating plants
Iberdrola has installed one of its photovoltaic projects in Castilla y León (Spain), a new wind farm and photovoltaic plant in Villarino, which adds 50 MW of green energy to its portfolio. Once the infrastructure is up and running, it generates enough clean energy to power the equivalent of 27,000 homes and avoid emitting 12,000 tons of CO₂/year into the atmosphere.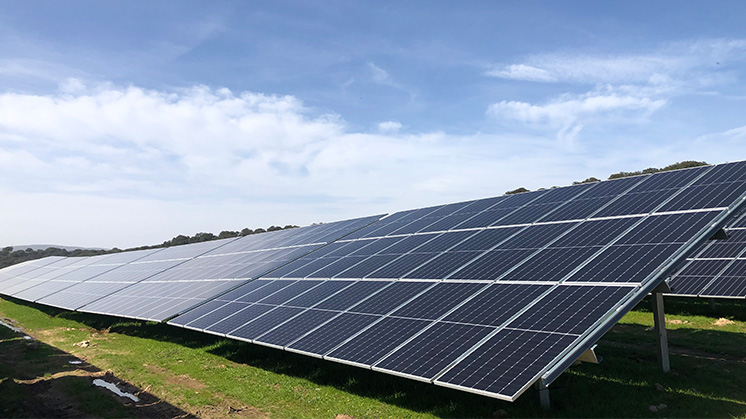 Operating plant
Villarino Photovoltaic Plant
Location
Villarino (Spain)
Total installed capacity
50 MW
Investment
33 million euros
The Iberdrola group is continues to lead the production of green energy in Castilla y León, this time in Salamanca, where it has started the formalities to build 50 new green MW. The company has already completed the installation of the Villarino photovoltaic plant in the Salamanca municipality of Villarino de los Aires. This new solar energy production plant will have more than 110,000 photovoltaic modules installed on structures with a single-axis horizontal tracker.
The facility will generate enough clean energy to supply the equivalent of 27,000 homes and avoid emissions of 12,000 tons of CO2/year into the atmosphere.
The project has involved an investment of more than 33 million euros, and has also had a significant local component, which will contribute to the revitalisation of the economy and employment in the area.
Iberdrola, world leader in renewable energies
At Iberdrola, we decided to commit to renewable energies more than two decades ago as a fundamental pillar on which to build our safe, clean and competitive business model. Thanks to this vision, we are today world leaders in renewable energies, reaching 41,246 MW of renewables in operation by the end of the first half of 2023.
This commitment is reflected in our record investment plan of €47 billion in the period 2023-2025, of which we will allocate 17,000 million euros to the renewables business. With these investments, we will increase our installed renewable capacity by 12,100 MW to 52,000 MW by 2025 —6,300 MW of photovoltaic, 3,100 MW of onshore wind, 1,800 MW of offshore, 700 MW of batteries and 200 MW of hydro.