Pier IV onshore wind farm
Driving Mexico's energy transition with the Pier IV wind farm
The Pier IV wind farm —located in the Mexican municipalities of Cañada Morelos, Chapulco and Palmar de Bravo— has 84 wind turbines with a total installed capacity of 221 MW. This facility reinforces the energy transition in Mexico with the supply of clean energy to Grupo Modelo.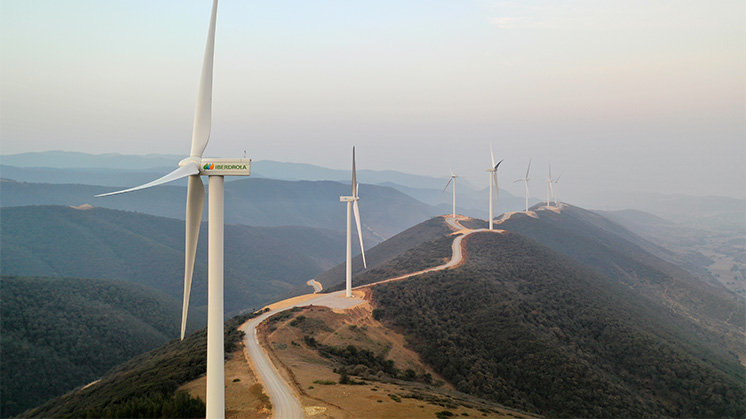 Operating plant
Pier IV Onshore Wind Farm
Location:
Cañada Morelos, Chapulco and Palmar de Bravo (Puebla)
Total installed capacity:
221 MW
Total investment:
$290 million
Our commitment to renewable energy in Mexico is reaffirmed with each of our projects. One example is the Pier IV wind farm, which came into operation in August 2020 and is located along the municipalities of Cañada Morelos, Chapulco and Palmar de Bravo, in the southeast of Puebla. This renewable facility has 84 generators with a total installed capacity of 221 MW. Its operation avoids the emission of more than 216,000 tonnes of CO2.
Construction of Pier IV began in September 2017. During its development, together with the Puebla-based partner Impulsora Latinoamericana Energía Renovable (ILER), the site was studied until it was found to meet the ideal conditions for installing the wind turbines and making the most of the wind power in the area. Each of these Gamesa wind turbines has a unit capacity of 2.6 MW and a height of 80 metres and a wingspan of 114 metres.
Pier IV is Iberdrola's sixth wind farm in Mexico, following the commissioning of Pier II (66 MW), La Ventosa (102 MW), Venta III (102 MW), Bii Nee Stipa (26 MW) and Dos Arbolitos (70 MW). This is the second wind power project in the state of Puebla.
Value for the local community and the environment
We maintain our commitment to social responsibility with the communities in which we are present. During the construction of Pier IV, more than 900 direct jobs and 1,360 indirect jobs were created and at least 14 Mexican companies were hired, generating an economic boost in the region.
Currently, the park is operated by Mexican personnel on site and some of the activities are carried out remotely.
In addition, resources have been allocated to the rehabilitation of roads, schools, sports and community facilities, benefiting more than 8,000 people.
In the environmental field, a fauna and flora relocation programme was carried out so that species could live in a suitable habitat without any risk: more than 121,500 specimens of 40 species of flora and more than 200 of 21 species of fauna benefited. A total of 143 hectares were also reforested.
Agreements and alliances from Pier IV towards sustainable transition
As part of our drive for energy transition, Pier IV covers an important part of the long-term energy needs of Grupo Modelo, a leader in the brewing, distribution and sale of beer in Mexico. The facility supplies approximately 490 Giga Watts-hour (GWh) per year for the company's breweries and vertically operated plants, thanks to an agreement signed in March 2017.
The alliance reinforces the commitment between the two leading companies in sustainable development and allows Grupo Modelo to reduce CO2 emissions by around 365,000 tonnes per year, equivalent to taking more than 90,000 internal combustion vehicles off the road each year.
The supply from Pier IV marks the start of parent brewer AB InBev's transition to clean energy to meet its global commitment to source 100 % of its electricity consumption from renewable sources by 2025.
Iberdrola, world leader in renewable energies
At Iberdrola, we decided to commit to renewable energies more than two decades ago as a fundamental pillar on which to build our safe, clean and competitive business model. Thanks to this vision, we are today world leaders in renewable energies, reaching 41,300 MW of renewables in operation by the end of the third quarter of 2023.
This commitment is reflected in our record investment plan of €47 billion in the period 2023-2025, of which we will allocate 17,000 million euros to the renewables business. With these investments, we will increase our installed renewable capacity by 12,100 MW to 52,000 MW by 2025 —6,300 MW of photovoltaic, 3,100 MW of onshore wind, 1,800 MW of offshore, 700 MW of batteries and 200 MW of hydro.