New England Clean Energy Connect (NECEC)
NECEC: connecting Canada and the United States to supply renewable energy to New England
Iberdrola projects Electrical network United States
The new transmission line between Quebec and Maine will provide 1,200 megawatts (MW) of renewable hydroelectric power to the New England power grid in Lewiston, Maine, sufficient to meet the demand of 1.2 million homes. Once built, NECEC will be New England's largest renewable energy source, saving customers $190 million per year.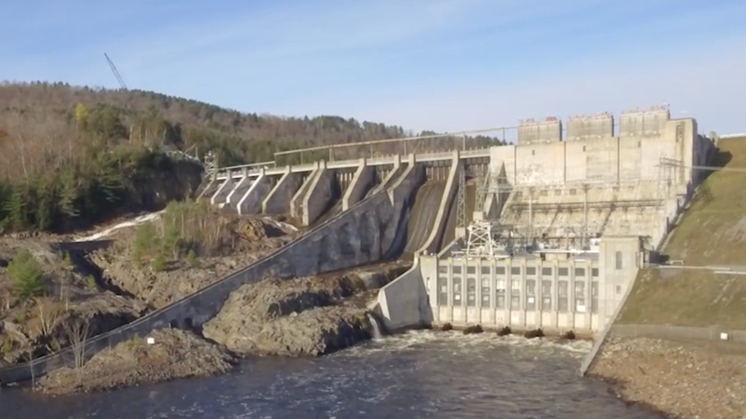 Ongoing project
New England Clean Energy Connect
Location
Quebec (Canada) y Maine (USA)
Transmission capacity
1,200 MW
AVANGRID(1) Nota — Iberdrola group's subholding company in the United States — will supply 100% renewable hydroelectric energy at a fixed rate to distribution companies in Massachusetts as part of the New England Clean Energy Connect (NECEC)

External link, opens in new window. project, carried out in conjunction with the Canadian utility Hydro-Québec. Construction activities began in January 2021, after obtaining a Presidential Permit from the US Department of Energy, with the goal of having the power line operational by 2023.
With an investment of $950 million, NECEC will transmit renewable energy from Quebec (Canada) to Maine (USA), as well as to the shared New England grid, thanks to the construction of a 233 km high-voltage line with 1,200 MW transmission capacity.
All regulatory reviews of the project, which has multiple state and federal permits, agree that this clean energy corridor has a positive environmental, social and economic impact for Maine and New England.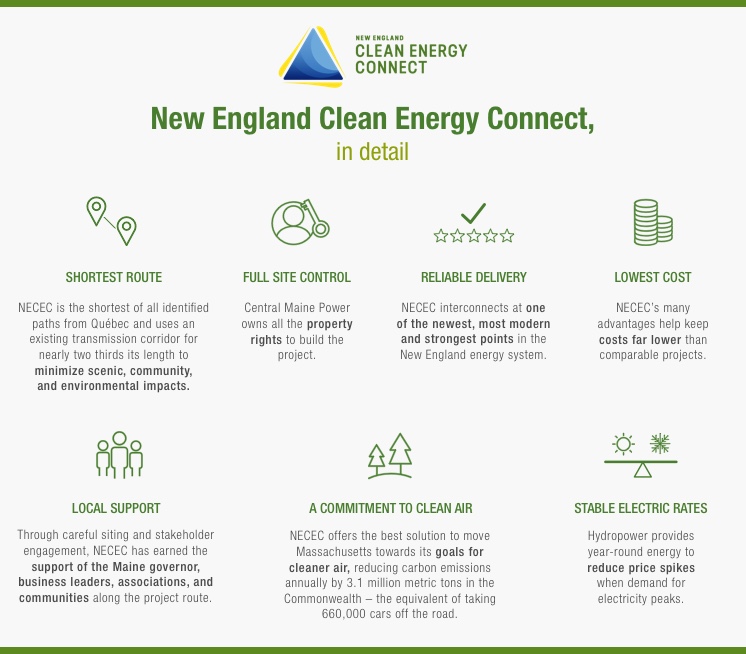 New England Clean Energy Connect (NECEC), in detail.
SEE INFOGRAPHIC: New England Clean Energy Connect, in detail [PDF] External link, opens in new window.
Project map [PDF] External link, opens in new window.
Reducing energy costs in Maine and New England
The agreements with Massachusetts electricity distributors is for a 20 year supply of clean, reliable, baseload energy (approximately 9.45 terawatt/hours (TWh) per annum). The electricity will be produced by the extensive fleet of Hydro-Québec hydroelectric power plants and will reduce dependence on fossil fuels in the New England region.
The NECEC will suply clean energy to 1.2 million New England households. Under this long-term arrangement, customers will benefit from stable prices for the next 20 years, avoiding price rises during peak demand in summer and winter. In fact, NECEC will reduce customer spending on electricity by $3,900 million over the next 20 years. Each year, customers in Massachusetts will save $150 million, and those in Maine, $40 million.
Social contribution of NECEC.
Social contribution of NECEC
In Maine, NECEC will create an average 1,600+ jobs a year during the construction phase and will contribute to the state economy by increasing GDP by $573 million. In Massachusetts, lower energy costs will increase GDP by more than $243 million per annum and will create more than 2,000 jobs.
The NECEC will also reduce annual carbon emissions by 3.1 million metric tons — the equivalent of taking 660,000 cars off the road.
The project will produce nearly $1 billion in economic benefits in Maine, through construction employment, electricity cost savings, local property taxes, and enhanced economic growth between 2017 and 2027. The 20-year Massachusetts contracts through 2043, and separate agreements with Hydro-Québec could extend the delivery of clean energy benefits to Maine and the region to 2063 or beyond.
In summary, NECEC will lead to improved infrastructure in the state of Maine — which will make the electricity service more secure —, reducing prices for customers — including a fund for the most vulnerable customers —, subsidies for deploying charging infrastructure for electric vehicles, economic development for tourism, financing for education, broadband, heat pumps and land conservation.
Iberdrola group and the fight against climate change
Environmental aspects
The 233-kilometre transmission line will be built on land owned or managed by Central Maine Power

External link, opens in new window., one of AVANGRID's distributors. Two-thirds of the project's route follows existing power lines created for the state's hydroelectric industry almost a century ago, while the remaining third of new construction will run through forestry land, where a new conical vegetation clearing technique will be used. There have also been significant environmental revisions made to the project after considering extensive input from local communities and environmental groups.
They include narrowing the width of the new section of corridor from 150 feet to 54 feet, guaranteeing access for hunting and snowmobiling, and implementing a prohibition of herbicide and pesticide use within the new corridor segment. Central Maine Power will also conserve of more than 40,000 acres of Maine forestland as part of the stipulated agreement between the company and state.
Other projects finalised
The NECEC project is Iberdrola's second connection between Canada and the United States. The first was performed in the framework of the Maine Power Reliability Project (MPRP), an initiative that involved building and upgrading 800 kilometres of transmission lines and commissioning or improving 13 substations. This project received an investment of $1.4 billion and created an average 2,100 jobs per year until it was completed in 2015.
The MPRP helped to improve service quality and laid the foundations for future inclusion of renewable capacity in the grid, as well as greatly benefiting the community and economy of the state of Maine.
(1) Nota AVANGRID, Inc. is 81.50 % owned by Iberdrola S. A.
Iberdrola, a world leader in smart grids
Smart grids are essential for our renewable energy to reach consumers safely and efficiently in any country in the world. At Iberdrola, we operate one of the most important distribution systems in the world and we continue to work on its modernisation, digitalisation and automation.
That is why, in our record investment plan of €47 billion over the period 2023-2025, we are focusing on smart grids in addition to renewables. In particular, €27 billion will be allocated to smart grids to reach an asset base of €56 billion by 2025.