Chafariz onshore wind farm complex
Chafariz reaffirms our commitment to onshore wind energy in Latin America
Operating plants Onshore wind Brazil Neoenergia
Iberdrola, through its Brazilian subsidiary Neoenergia*, has built the Chafariz wind power complex in northeast Brazil, one of the company's largest wind power generation projects in the country and in Latin America. The new complex consists of 15 wind farms with a total installed power of more than 471.25 MW and has been fully operational since January 2022.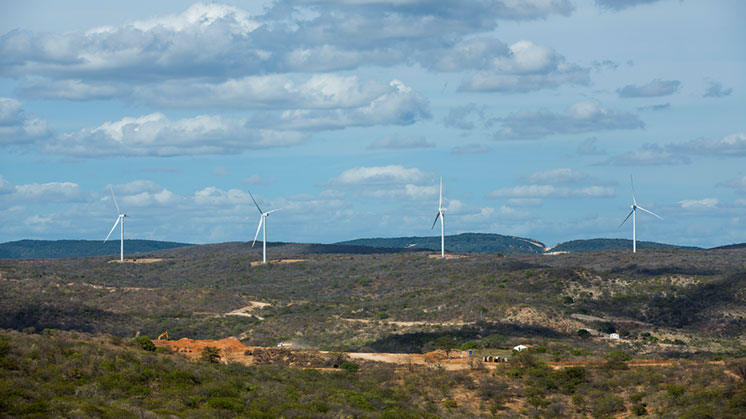 Operating plant
Chafariz onshore wind farm complex
Location
Santa Luzia (Paraíba, Brazil)
Total installed capacity
471,25 MW
Local employment
1,400 workers
Iberdrola group has ratified its commitment to onshore wind leadership in Brazil by undertaking a new flagship project. The Chafariz project, which was fully operational in 2022, is close to the town of Santa Luzia, in one of the continent's windiest areas. This massive renewable facility consists of 15 wind farms and will reach a total installed power of 471.25 MW, of which 61 % will be sold on the Regulated Market (ACR) and 39 % on the Deregulated Market (ACL).
The complex will have 136 SG132-model wind turbines, each with a capacity of over 3.46 MW. This is one of the newest and most efficient wind turbines on the market, with blades 64.5 metres in length. The nacelles, which are manufactured in the domestic market, weigh in excess of 70 tonnes and has been installed at a height of 84 metres, the equivalent of a 28-storey building.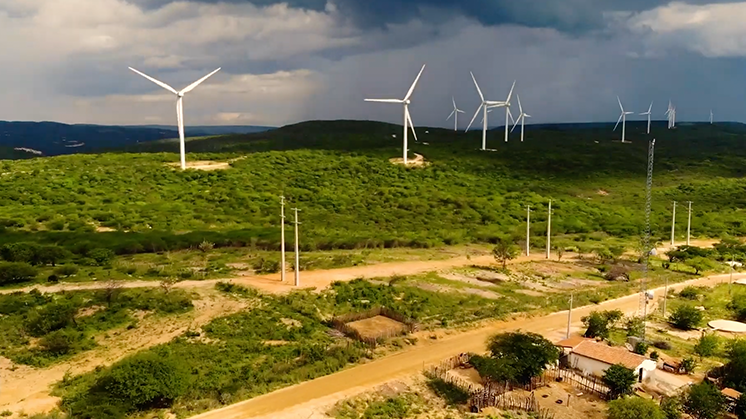 Start-up of the hybrid complex at Chafariz
Status of the works in March 2021.
One year of construction of the largest Neoenergia wind farm in Latin America.
Chafariz onshore wind farm complex: main data.
Check the logistical challenge involved in transporting the different components of the wind turbines.
Assembly of the first turbine.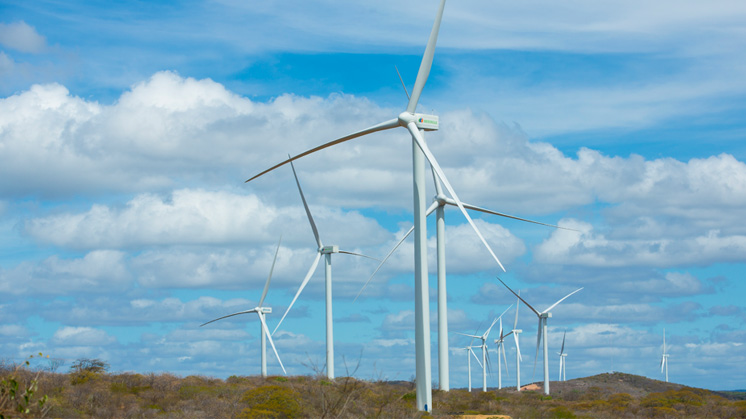 Onshore wind farm belonging to the future Chafariz complex.
Bringing the operation forward
On 29 July 2021, Neoenergia commenced commercial operation

External link, opens in new window. at the complex by commissioning the first ten wind turbines, with an installed power of 34.65 MW. Thus, the delivery is 17 months ahead of the beginning of the validity of the contract in the Regulated Market.
In January 2022 the 15 wind farms of the complex came into operation

, Enlace externo, se abre en ventana nueva. with an installed capacity of 467.77 MW, which is enough to supply one million people per year. Currently there are 135 active wind turbines, and when they are all in operation, the installed capacity will be 471.2 MW.
Building work started in October 2019. Since then, more than 1,400 jobs have been created, around 40 % of which have been filled by local workers.
As well as creating jobs, the company has carried out several actions to benefit the towns around Santa Luzia. It has also made improvements to the roads leading to the wind farms and built 116 kilometres of road, as well as other social and environmental initiatives such as training courses, installing photovoltaic panels on health units and renovating a school.
One of Brazil's largest renewables complexes
Neoenergia is building the Santa Luzia

External link, opens in new window. project in the same region, the company's first solar plant for centralised generation. Once it is fully commissioned, an event planned for the second half of 2022, the complex will have a capacity of 149.3 MW, which is enough to supply more than 100,000 households. So, combined with Chafariz, it will become one of the country's leading renewables complexes, able to cover the energy needs of around three million Brazilians.
The solar farm will have 233,280 photovoltaic modules installed on a leased area of 462 hectares, the equivalent of 38 football stadiums. During the construction stage, it will provide jobs for around 700 workers.
All the power produced at Santa Luzia will go to the Deregulated Market and part of the energy has already been sold through a Power Purchase Agreement (PPA) with Claro. The contract has a twelve-year term starting in 2022.
Brazil, at the forefront of Iberdrola's Wind Generation ambitions
The Chafariz complex is part of Neoenergia's strategy to introduce more wind generation in Brazil. With the commissioning of the new wind farms, the company triples its installed power generated by this technology to 1.6 GW and made Brazil Iberdrola's main wind power generating country in Latin America.
The Iberdrola subsidiary is also building the Oitis complex, consisting of twelve onshore wind farms between Piauí and Bahía and 566.5 MW of power, which will be the group's largest in Latin America. Together, these projects will generate around 3,000 jobs in north-eastern Brazil.
* Neoenergia, S. A. is 50 % + 1 share indirectly owned by Iberdrola, S. A.
Iberdrola, world leader in renewable energies
At Iberdrola, we decided to commit to renewable energies more than two decades ago as a fundamental pillar on which to build our safe, clean and competitive business model. Thanks to this vision, we are today world leaders in renewable energies, reaching 41,246 MW of renewables in operation by the end of the first half of 2023.
This commitment is reflected in our record investment plan of €47 billion in the period 2023-2025, of which we will allocate 17,000 million euros to the renewables business. With these investments, we will increase our installed renewable capacity by 12,100 MW to 52,000 MW by 2025 —6,300 MW of photovoltaic, 3,100 MW of onshore wind, 1,800 MW of offshore, 700 MW of batteries and 200 MW of hydro.