We are committed to dialogue, proximity and actions in favour of shareholders
OLS SHAREHOLDERS CLUB
In order to promote close contact with our shareholders, keep them up to date on the company's financial and business information, and involve them in corporate activities, Iberdrola created the "OLS Shareholders' Club".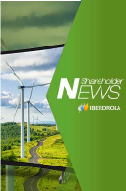 Iberdrola Shareholder NEWS
Discover Iberdrola Shareholder NEWS, the new audiovisual content platform for OLS Shareholder's Club members. Available on your Smart TV, Smartphone, Tablet or computer.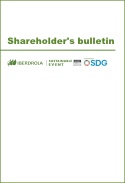 Shareholder's bulletin
Consult the bulletins for the last five years addressed to shareholders, updated quarterly with the group's economic-financial information.
Webinar: Just Transition: Alignment with People and Nature

16.00h - 17.30h

Speakers: Mónica Oviedo, Sustainable Managment and 2030 Agenda, Marta Martínez, Climate Changes and Alliances and Raquel Chamochín, ESG Investor Relations. Broadcast

Add to calendar

Presentation of First Half 2023 Results

09.30h - 12.00h

Iberdrola's results for the first half of 2023 are presented on 27 July 2023.

Add to calendar
Webinar: Just Transition: Alignment with People and Nature

16.00h - 17.30h

Speakers: Mónica Oviedo, Sustainable Managment and 2030 Agenda, Marta Martínez, Climate Changes and Alliances and Raquel Chamochín, ESG Investor Relations. Broadcast

Add to calendar
Presentation of First Half 2023 Results

09.30h - 12.00h

Iberdrola's results for the first half of 2023 are presented on 27 July 2023.

Add to calendar