SHAREHOLDERS
We are committed to dialogue, proximity and actions in favour of shareholders
Iberdrola is the first Spanish company, and one of the first in the world, to formalise a Shareholder Engagement Policy, giving tangible expression to the company's commitment to dialogue with and proximity to shareholders. Discover the main actions that strengthen our shareholders as the central pillar of our work.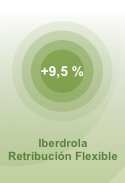 "Iberdrola Retribución Flexible"
Iberdrola increases its shareholders' remuneration by 10.6 % compared to the previous year, paying out, at least, € 0.167 gross per share.
Shareholders' Club
Join now to our club and enjoy all the benefits: drawings, invitations to corporate events and participations in surveys to give your opinion of the company.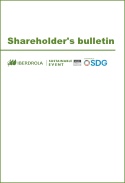 Shareholders' bulletin
Consult our shareholder's bulletins for the last five financial years. It's updated quarterly with economic and financial information about the company.