We ensure a fair, transparent and ethical value chain
Our suppliers are a fundamental part of the performance of activies within the Iberdrola group and strategic players in the transition towards a decarbonised economy. As such, they are considered business partners. We seek to ensure a fair, transparent and ethical value chain, and we involve our suppliers from the first contact with the group, always with a proactive attitude towards their needs and supporting them in the development of new capabilities.
Supplier evaluation model
At the Iberdrola group, we are committed to ensuring that 85% of the main collaborating companies are subject to sustainable development policies and standards by 2025. To this end, we have a supplier evaluation model based on ESG criteria, which are used globally to measure corporate responsibility in three areas: environmental, social and governance.
We consider 43 factors to calculate the ESG score of each of our suppliers, including human rights compliance, climate change risk managment, circular economy strategy and contribution to the United Nations' Sustainable Development Goals (SDG). We also send personalised improvement plans to those suppliers that are not at the appropiate sustainability levels.
For all these reasons, we have been the first company to receive the Sustainable Purchasing Strategy [PDF] certification, in recognition of our transversal promotion of sustainability throughout the company's value chain. With this recognition, AENOR certifies that the purchasing processes carried out by the Iberdrola group have the greatest possible positive environmental, social and economic impact throughout the life cycle of the service of product.
Contribution of our value chain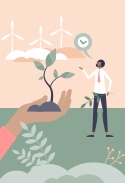 Sustainability resources for our suppliers