News Back
13/04/2023
We accelerate ESG criteria at our 20,000 suppliers worldwide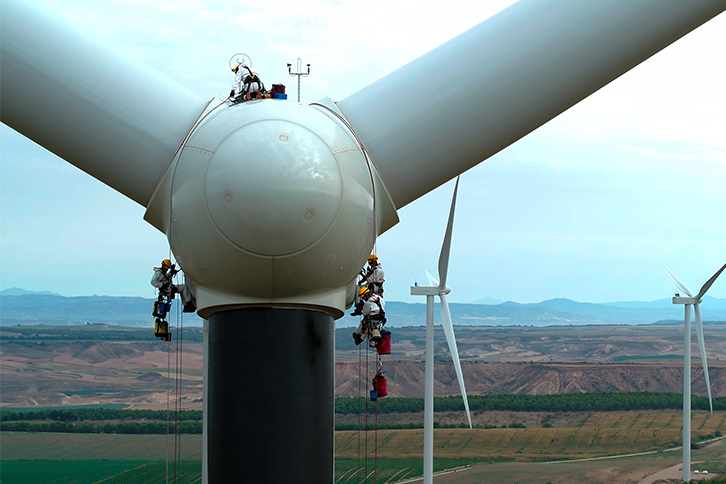 From this year onwards, the company will require that more than 85% of its purchases are made from suppliers that comply with these criteria.
Iberdrola is a driving force in the area of environmental, social and governance (ESG) criteria, three pillars that form part of its DNA. For this reason, the company will require from this year onwards that more than 85% of its purchases are made from suppliers that comply with the aforementioned criteria, according to its strategic plan until 2025. Thus, the electricity company will promote best practices in 20,000 suppliers, from which it made purchases worth 17.8 billion euros last year.
Iberdrola raises the bar significantly with respect to its previous targets, set in 2021, when it established that at least 70% of its main bidders, those making annual purchases worth more than one million euros, meet the established ESG criteria and are subject to sustainable development policies and standards.
As part of its responsibility as a driving company, Iberdrola's ESG plan in the supply chain was not intended to exclude companies that had not paid sufficient attention in this area, but rather to encourage the entire chain to align itself with the company's principles. To this end, it has established a mechanism for proposing ESG improvement plans through which it has attracted more than 1,000 suppliers that initially did not meet the level of requirement, of which more than half have ended the 2020-22 three-year period being sustainable. Thanks to the efforts made, 77% of the main suppliers were sustainable at the end of the period.
Iberdrola's supplier must first accept the Supplier Code of Ethics in order to enter into a business relationship with the company. This includes principles of action and clauses on respect for human rights, diversity and equality, occupational health and safety, anti-fraud and corruption measures, and respect for the environment, among other issues.
Iberdrola thus seeks supplies and suppliers that, in addition to being sustainable, are transparent, solvent, fair, ethical, and technically competitive. For this reason, it evaluates the supplier during the purchasing process to ascertain the potential risk of the contract. The company verifies that its modus operandi is in line with the group's policies, principles and responsibilities.
With regard to the requirement for ethical behaviour, monitoring is carried out in which the supplier is analysed, as well as its parent and subsidiary companies, management and shareholders. This screening seeks to identify sanctions, adverse news or indications of non-compliance in terms of compliance and human rights.
In terms of financial requirements, a credit assessment is carried out to determine their financial solvency, an assessment that is carried out at each relevant tender or award and on an ongoing basis with annual follow-up and monitoring. Depending on the service or supply, they are required to meet requirements in terms of cybersecurity, occupational risk prevention, environmental management, including the requirement to provide ISO certifications.
For the period 2023-2025, the current ESG measurement model, which is fully consolidated and integrated into procurement decision-making, will be maintained. Purchasing managers incorporate sustainability in their conversations with suppliers at the same level as they previously did with more traditional aspects such as price or quality. In addition, the plan for ESG supplier audits (more than 50 planned in 2023) and supplier recognition will continue with Global Supplier of the Year Awards events (2023 and 2025) and local awards (2024).
In order to meet the ambitious commitment to be neutral in all its operations by 2040, new action plans specifically linked to the fight against climate change are being considered. These include improving the measurement of supplier emissions as a first step towards reduction plans through process electrification and circular economy, among others. It also proposes specific campaigns, for example on green steel, deforestation, biodiversity and sustainable mobility.

Support for the local fabric 
Iberdrola follows a strategy of developing local suppliers for its strategic procurements, which has allowed for the creation of indirect jobs and the maintenance of a strong industrial fabric in the geographies in which it does business. The percentage of local purchases in 2022 was above 87%. The number of indirect jobs generated by the group's purchasing volume is around 400,000.
Navantia, Windar, Ormazabal, Ingeteam and Haizea Wind, for example, are some of the Spanish companies in which Iberdrola has placed its trust for the construction of critical components for its Wikinger (Germany) and East Anglia ONE (UK) offshore wind farms and those under development, such as Saint Brieuc (France). These companies are thus expanding their capabilities in this sector of the future for small and medium-sized Spanish companies, which are also suppliers.
In its search for allies to boost the development of industry and the energy sector, the company has made purchases from more than 4,500 Spanish suppliers worth more than €2.7 billion during 2022, a figure that represents a growth of more than 12% compared to the €2.4 billion in 2021.