Iberdrola, global leader in climate action
Iberdrola group is leading the way towards a decarbonised and resilient economy through a sustainable and efficient business model. The fight against climate change has been the main driver of our profitable growth strategy, leading us to invest 120 billion euros in renewables, energy storage and grids over the last 20 years and to commit another 150 billion euros for this decade.
Iberdrola will work to fully align disclosures with the Climate Action 100+ Net Zero Company Benchmark by year-end 2023 at the latest
CLIMATE ACTION, A PRIORITY AXIS OF OUR STRATEGY
Iberdrola has amended its By-Laws to entrust its Board of Directors with responsibility for climate action, thereby strengthening its climate governance. The group's highest management body will be responsible for approving and updating a climate action plan that allows meeting the company's environmental objectives, as well as reporting annually on climate management.
The Board will set interim emission reduction targets, ensuring that these cover all direct and indirect emissions and are validated by science with respect to their alignment with the Paris Agreement. It will also establish an investment strategy that is consistent with these objectives and define the methods that will help achieve them.
This measure, which was approved by the shareholders at the last General Shareholders' Meeting, is another step forward in Iberdrola's Climate Action Policy, which includes priority lines of action that contribute to the electrification of the economy. To achieve this, the group will support regulatory initiatives to promote, for example, electric mobility and heat pumps, the "polluter pays" principle, the elimination of subsidies to high-emission technologies or sectors, the analysis of the risks arising from climate change and, in general, the development of a real and global energy transition.
The content of the Climate Action Policy, which has also been endorsed by shareholders at the Meeting, is aligned with the recommendations of the Task Force on Climate-related Financial Disclosure (TCFD)

External link, opens in new window., a benchmark platform on climate reporting, which sets out guidelines for integrating climate change into internal strategic planning and decision-making processes, as well as in the analysis, management and reporting of long-term risks.
WE ARE MOVING TOWARDS CARBON NEUTRALITY
As a strategic pillar for its achievement, we are working according to the group's investment plan, which is supported by innovation initiatives aimed at decarbonising the energy mix, increasing its resilience and consolidating the company's leadership in renewable energy, smart grids, efficient storage and clean technologies.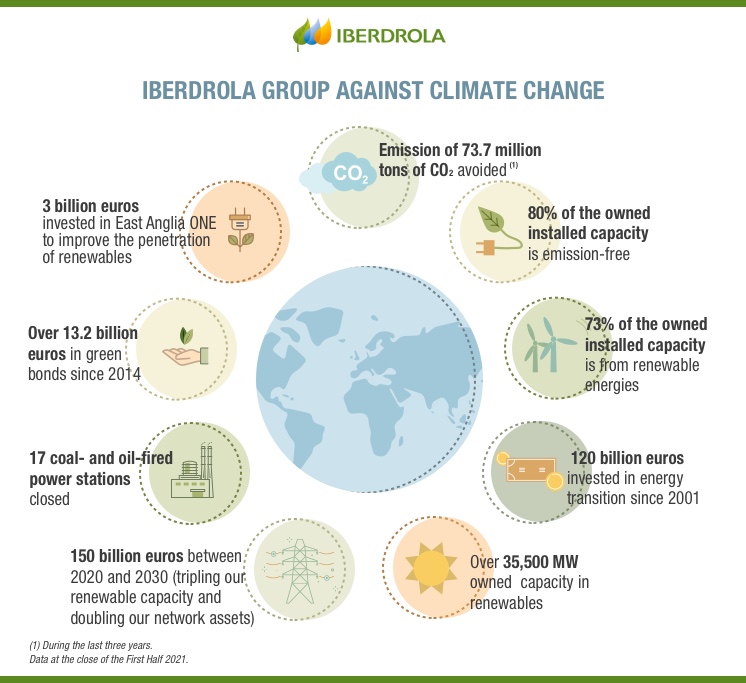 Iberdrola group, against climate change.
​​​​​​​
SEE INFOGRAPHIC: The Iberdrola group against climate change [PDF] External link, opens in new window.
73.7 million tonnes of CO2 avoided(1)
80 % of the owned installed capacity is emission-free
74 % of the owned installed capacity is from renewable energies
120 billion euros invested in energy transition since 2001
Over 37,000 MW owned capacity in renewables
150 billion euros between 2020 and 2030 (tripling our renewable capacity and doubling our network assets)
17 coal- and oil-fired power stations closed
Over 13.8 billion euros in green bonds since 2014
3 billion euros invested in East Anglia ONE to improve the penetration of renewables
(1) During the last three years
Data at the close of the Nine months 2021.
WE MANAGE THE RISKS AND OPPORTUNITIES OF CLIMATE CHANGE
Iberdrola one of the first companies to publicly commit itself to implementing the recommendations of the Task Force on Climate-related Financial Disclosure (TCFD) in its public reports for 2020. In 2017 the company created a multidisciplinary internal working group which coordinates all the work carried out on this matter, reporting in a specific section of its 2019 Statement of Non-financial Information [PDF] External link, opens in new window. (and other annual public documents) on the progress made and its alignment with each of the four thematic areas into which the eleven TCFD recommendations are structured.
In addition, the Iberdrola group has participated, together with other electricity companies, in a report

External link, opens in new window. promoted by the World Business Council for Sustainable Development (WBCSD) on the disclosure of financial information on climate change aligned with the TCFD in the electricity sector.