Leading the way to a zero-emission future
In the context of its commitment to the United Nations Sustainable Development Goals, Iberdrola group focuses primarily on compliance with SDG 13, climate action, making an active, determined contribution to a sustainable, low-carbon future to fight against climate change. In this regard, we have set targets to achieve carbon neutrality by 2030 for carbon equivalent emissions of Scopes 1 and 2 and net zero carbon equivalent emissions by 2040 for all Scopes, including Scope 3.
SDG 13: Climate action - what is it and why is it so important?
SDG 13 focuses on the need to take urgent action to end climate change, which affects every country in the world. According to the UN, climate scientists have already shown that people are responsible for global warming over the past 200 years. Human activities, such as the burning of fossil fuels, deforestation, loss of forests, or agricultural and livestock activities using fertilisers and other chemicals, have been the main drivers of climate change.
As the Intergovernmental Panel on Climate Change (IPCC) reveals it is essential to radically, rapidly and sustainably reduce greenhouse gas (GHG) emissions in all sectors, and to sustain these measures over the course of the decade. In its latest synthesis report, the IPCC states unequivocally that human activities, in particular more than a century of fossil fuel burning, unsustainable energy and land use, and unsustainable consumption and production patterns, have caused global warming of 1.1°C above pre-industrial levels. To limit global warming to 1.5°C above pre-industrial levels, emissions should already be declining and need to be nearly halved by 2030.
Extreme weather events are becoming more frequent and intense and are already having an impact in all regions. Between 2010 and 2020, the most vulnerable regions, home to approximately 3.3 to 3.6 billion people, experienced human mortality rates from floods, droughts and storms 15 times higher than those in regions with very low vulnerability. Moreover, according to the World Health Organisation (WHO), climate change is expected to cause an additional 250,000 deaths each year between 2030 and 2050. Currently, pollution and toxic substances cause at least nine million premature deaths per year worldwide.
Reversing this trend is only achievable via worldwide action and by tackling the problem forcefully from all angles. It is for this reason that taking urgent action to combat climate change was made SDG 13 of the 17 UN Sustainable Development Goals adopted in September 2015 as part of Agenda 2030.
Iberdrola aligned with the Sustainable Development Goals
Keys to understanding climate change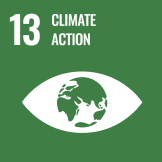 Natural disasters They have caused more than 2.5 million deaths worldwide since 198
Pollution It causes at least 9 million premature deaths a year
Forecast 2030 - 2050 Climate change will cause an additional 250,000 deaths each year
Most affected countries
Las Bahamas
Haití
Puerto Rico
Pakistán
Nepal
Bangladesh
Myanmar
Thailand
Philippines
Main causes
According to the UN, there are natural changes, due to variations in solar activity or large volcanic eruptions, but since the 19th century, human activities have been the main driver of climate change, mainly due to the burning of fossil fuels such as coal, oil and gas.
What are the consequences?
Consequences include, among others, intense droughts, water shortages, severe fires, rising sea levels, floods, melting of the poles, catastrophic storms and declining biodiversity.
Sources: UN and The World Bank.
SDG 13 Targets: Climate Action
Within SDG 13, the specific goals from here to 2030 are as follows:
Strengthen the resilience and capacity to adapt to climate-related risks and natural disasters in all countries.

Incorporate climate change measures into national policies, strategies and plans.

Improve education, awareness and human and institutional capacities relating to climate change, mitigation and early warning.

Promote mechanisms to enhance the capacity for effective climate change planning and management in the least developed countries.
In this regard, communities must work towards a low-carbon economy, where renewable energies and the electricity sector have a crucial role. Decarbonisation of the economy is vital to halt climate change, and this can only be achieved with clear investment in electrification and clean energies.
Our contribution to SDG 13: Climate Action
At Iberdrola, we are committed to the fight against climate change, aware that the electricity sector plays a key role in the goal of complying with the historic Paris Agreement to limit the increase in global temperature to 1.5 ºC and to tackle the climate emergency. For this reason, the Iberdrola Group began the energy transition 20 years ago and we have established ourselves as a global benchmark in climate action and clean energy.
Our Climate Action Plan sets more ambitious targets to achieve carbon neutrality for scope 1 and 2 carbon equivalent emissions by 2030 and net zero carbon equivalent emissions by 2040 for all scopes, including scope 3 (expressed in CO2eq).
81% of the Group's own installed capacity comes from emission-free sources.
We have completed the closure of all our coal-fired power plants.
We promote the planting of 20 million trees by 2030, capable of capturing approximately 6 million tonnes of CO2 in 30 years, which will occupy an area equivalent to 25,000 football pitches.
Iberdrola is the first Spanish company to join The Climate Group's EV100 initiative to electrify its entire vehicle fleet in Spain and the UK and provide charging facilities for its workforce by 2030. We are also working to meet these targets in Brazil, Mexico and the United States.
In the UK, through our subsidiary ScottishPower, we have launched the Zero carbon communities project, an initiative to help local communities achieve Net Zero targets as part of the country's commitment to be carbon neutral by 2050.
 
 
United Nations Climate Change Conference

COP28 takes place from 30 November to 12 December 2023 in Dubai (United Arab Emirates).

Add to calendar
United Nations Climate Change Conference

COP28 takes place from 30 November to 12 December 2023 in Dubai (United Arab Emirates).

Add to calendar