BIODIVERSITY
We protect biodiversity as a source of sustainable development
Here at Iberdrola we have made conservation and promoting the biodiversity of ecosystems part of the group's strategy to develop clean energy sources that treat nature as a precious source of sustainable development. We are involved in more than 750 activities per year to protect biodiversity around the world.
Carousel of images and videos
Committed to the Sustainable Development Goals
IBERDROLA'S BIODIVERSITY GOAL
Achieve "No Net Loss" of biodiversity by 2030, working to ensure that new facilities deliver a net positive impact on biodiversity, where possible. All our projects include a thorough environmental plan to minimise the impacts to flora and fauna.
This objective is based on the application of the principles of the mitigation hierarchy in all activities and in the continual improvement of our standards of protection of biodiversity, integrating relevant methodologies to assess attainment of the objective. As a priority, Iberdrola avoids locating new infrastructure in designated conservation areas (protected because of their ecological, biological, cultural and/or scenic value) unless there are no other feasible alternatives. Areas of special interest for biodiversity without a specific designated protection will also be avoided whenever possible. Designated conservation areas include, amongst others, World Heritage areas, national or regional protected areas and the relevant categories defined by IUCN.
What is biodiversity and why is so important?
Biodiversity — also known as biological diversity — refers to the huge variety of living beings that inhabit our planet. This also includes the various land and underwater ecosystems, and the interactions that take place between different species.
It plays a crucial role in the composition and functioning of every ecosystem and their cycles: the water cycle, the food chain, the soil cycle. What's more, keeping a good biological balance helps to stabilise the climate and reduce contamination. For us humans, it ensures we get food, access to raw materials and clean water. It prevents us from suffering natural disasters and also provides energy security.
BIODIVERSITY AND SUSTAINABLE DEVELOPMENT
Fostering economic and social development, respect for the environment and promoting global biodiversity are Iberdrola's priority corporate values, which are totally in line with Sustainable Development Goals six, thirteen, fourteen and fifteen. Iberdrola group manifests its commitment to safeguarding and promoting the biodiversity of ecosystems according to the action principles set out in its Biodiversity Policy.
Integrating biodiversity conservation into the group's strategy and in decisions on infrastructure projects.
Applying the mitigation hierarchy and avoiding placing new infrastructure in protected areas and those with high biodiversity value.
Integrating biodiversity into the group's environmental management systems (EMS).
Participating in research, conservation, education and awareness-raising projects.
Providing information on the group's activities relating to biodiversity.

Iberdrola supports knowledge and research by collaborating with stakeholders and taking part in a range of studies to understand the behaviour of species and habitats in the countries where it operates. Among these are the Coralizar1 project, which studies the effects of climate change on coral reefs, the Flyways project, which tracks 22 species of gulls and migratory birds, as well as the continuation of the "Bird Migration" project, the main purpose of which is to study the migratory habits of birds found in Spain.
1Project by the Neoenergia Institute and the World Wide Fund Nature - WWF Brazil.
It also encourages the conservation of habitats and species, such as the work to protect wild cats in the Mexican mangroves and contributes to research that will lead to a better understanding and management of natural assets. Examples of these are the ES Values Project in collaboration with the University of Salamanca and the Energy and Natural Capital Working Group of the Natural Capital Factory. It is also worth mentioning the implementation project of the Life Institute's methodology taking place at the hydroelectric facilities in Brazil, which will evaluate the performance of biodiversity protection and conservation initiatives.
The company also helps to produce the Practical Guide to Ecological Restoration in collaboration with the Biodiversity Foundation's Business and Biodiversity Initiative. This guide is a methodological tool aimed at helping decision makers to foster ecological restoration in activities in order to strengthen and recover natural assets and fight against biodiversity loss.

MANAGEMENT, INTERACTION AND ACTION PLANS
SUSTAINABLE USE OF BIODIVERSITY
Marine biodiversity protection
Bubble curtains system helped to protect porpoises, a small cetacean in danger of extinction, during the construction works of the Wikinger marine wind farm.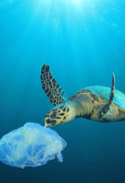 Marine life and life in terrestrial ecosystems
40% of the world's oceans are severely affected by our activity and each year 13 million hectares are deforested. Respect for the biodiversity of all ecosystems is essential for our own survival.
IBERDROLA INITIATIVES TO PROMOTE BIODIVERSITY
In Spain, Iberdrola has set aside €40 million over to protect plant life between 2018 and 2019. The company is undertaking an adaptation programme for electricity power lines to avoid electrocutions and protect birds. In total, more than 2,700 maintenance activities and power cable renewals have been carried out to reduce all types of risks on the installations. Almost 30,000 kilometres of power lines have been checked.
Of particular note among the biodiversity activities in renewable energy is the environmental protection plan in place for the Núñez de Balboa Photovoltaic Plant in Extremadura. Also, the installation of 162 hives at the plant in Andévalo, in Huelva, and 105 in Núñez de Balboa, an initiative to be extended to some of the company's other photovoltaic plants in Spain, will show how encouraging insect pollinators at renewable generation facilities close to farmland can improve crop yield and contribute to the circular economy.
In Europe the Tâmega hydro-electric complex in Portugal has also involved detailed and specific studies of fauna and flora. Among other actions, 1,000 sampling stations have been created and various species have been monitored for over 80,000 hours.
In the UK, at the East Anglia ONE offshore wind farm, a 'Specific Marine Mammal Mitigation Protocol' (MMP) was produced prior to commencement of work.
In addition in Brazil, at the Baixo Iguaçu hydroelectric power plant, a biodiversity corridor is being created that will connect forest areas and permanent conservation areas in the protected zones of the Iguazú National Park.
In California, at the Manzana wind farm, most of the condors in the State have been fitted with radio devices and GPS to monitor their movements.
Furthermore in Mexico, activities are in progress to conserve and protect the Fernández Canyon, one of the most important reserves in the north of the country.
Discover how we protect biodiversity in some of our more flagship projects

Business for Nature's Call to Action
Iberdrola has joined the initiative Call to Action promoted by the Business for Nature platform to urge governments to act now to reverse biodiversity loss in this decade. The declaration, which was adopted on 21 September 2020 to coincide with the 75th anniversary of the United Nations, was presented at the UN Biodiversity Summit on 30 September and has the backing of more than 560 companies from 54 countries with a combined turnover of US$4 trillion and that employ 9.5 million people across all sectors. This is the first time that so many companies have come together with the aim of influencing decisions to be made in this area after the completion of the Strategic Plan for Biodiversity 2011-2020 [PDF].
The manifesto states that "healthy societies, resilient economies and thriving businesses rely on nature", and that governments need to act with "courage and urgency" and formulate policies that put nature front and centre. Only in this way will it be possible to achieve the climate objective of reducing the increase in the average temperature of the planet below 1.5 ºC set by the Paris Agreement and prevent a catastrophic loss of biodiversity.
Biodiversity Pact
By signing this Pact, Iberdrola underlines its commitment to biodiversity conservation and sustainable use. The Pact [PDF] is sponsored by the Spanish Business and Biodiversity Initiative, created by the Ministry of Agriculture, Food and Environment (Magrama) and the Biodiversity Foundation, of which Iberdrola is also a member.
Iberdrola is a member of the European Initiative from the EU Business @ Biodiversity Platform.
ALETEO project
Iberdrola, through its Distribution subsidiary i-DE, will invest around 200 million euros to adapt and correct some 234,000 electrical supports in order to minimise the impact of overhead lines on birdlife. ALETEO project [PDF], as it is called, will be carried out in Spain between 2018 and 2025 and will affect one third of the supports the company has installed in the nine autonomous communities where it operates (Madrid, Extremadura, Castilla-La Mancha, the Valencian Region, Castilla y León, La Rioja, Navarre, the Basque Country, Murcia Region and Cantabria).
Carousel of images and videos
Read more
Priority will be given to modifying the pylons in Spain's Special Bird Protection Areas (ZEPAS), although those located in protection zones established by the Autonomous Communities themselves will also be adapted.
The improvements to be made to the power lines will consist of covering the different phases and connections on the supports, increasing the safety distance — changing the insulators to lengthen the chain or installing other long rod type ones —, replacing the crossarms with others specially designed to protect the birds and installing anti-nesting devices, among other measures.
Over the next two years, the company expects to adapt 25,000 supports on distribution lines to protect birds from electrocution. So far, 4,127 have already been adapted, and a further 6,659 and being processed for adaptation.
Hide

MIGRA programme:
This ambitious project, under way since 2011, and developed by Fundación Iberdrola España conjunction with SEO/BirdLife, is a result of Iberdrola's commitment to achieving bird-friendly energy and Spanish biodiversity.
Carousel of images and videos
The programme aims to preserve Spanish birdlife by expanding knowledge of bird migratory and bird breeding habits through the latest geolocation and remote-monitoring technologies. Different species have been equipped with GPS devices to gather the details about their migratory trips, the duration, what route they follow, at what speed and altitude they fly, where they rest and feed and if the routes are the same year after year, which make it possible for all of us to see their movements www.migraciondeaves.org. In addition, they help us anticipate any possible threats that could endanger them, while providing fundamental information to prepare relevant scientific studies.
The MIGRA programme currently has 1,223 birds of 34 different species tagged — useful information has been gathered from 745 birds of 33 different species —, building up a database of millions of locations thanks to the work of over 350 collaborators and 60 collaborating entities from Spain and abroad.
The Migra programme has revealed that booted eagles and black kites spend winter in the Sahel or that the white stork has changed its migratory patterns due to the global changes caused by mankind. We also know that the European roller spends winters in Namibia and Botswana, over 9,000 kilometres away from its nesting grounds, and its migratory path varies from one population to another.
A recent study has revealed that the common swift, one of the most mobile land birds in the world, has a unique migration pattern, called "chain" migration, as opposed to the usual "leap-frog" migration. In the leap-frog pattern, northern populations winter further south, so that they migrate farther than southern populations. In contrast, in "chain" migration, the different populations migrate the same distance, to consecutive wintering areas. This pattern had only been observed previously in two other species: the sharp-shinned hawk (Accipiter striatus) and the northern gannet (Morus bassanus). Southern European swifts are also larger, have more chicks and start their migration earlier, so that they reach the best wintering areas.
Migration strategies. A: leap-frog migration. B: chain migration (source: Åkesson et al., 2020. Evolution, evo.14093).
The MIGRA Programme results are published in a collection of digital monographs and in several science journals and educational papers to help preserve these species.
Read more
Tracking birdlife
The black kite is the target species of the MIGRA Programme in 2021. This migratory bird of prey — one of the raptors with the widest worldwide distribution — crosses the Sahara to spend the winter in the African Sahel, but much remains unknown about its migration and wintering grounds. In the spring-summer of this year, 18 specimens are being marked with GPS transmitters to find out more about their migratory routes and how climate change is affecting the species.
Black kite.
Fundación Iberdrola España and SEO/Birdlife have launched an agricultural steppe bird protection campaign in Extremadura. For the second year running, nesting areas have been identified, birds have been marked and other activities have taken place to reduce the impact of agriculture on colonies of species including the Bustard, the Little Bustard and the Hen Harrier.
The campaign focuses on nine major areas and covers 450,000 hectares. The project aims to monitor these birds' breeding areas and find nests endangered by farming activities at crucial times of the year.
The species to receive help from the MIGRA program during 2020 were the Hen Harrier (Circus cyaneus) and the Red Kite (Milvus Milvus). The first is a medium-sized bird of prey whose numbers have plummeted by 50 % in the last decade. Knowing where these birds are at each moment of the year and understanding their spatial ecology is essential if they are to survive in the future. That is why SEO/Birdlife experts marked 22 hen harriers throughout the last year. The GPS-GSM devices used weigh less than ten grams and are fitted backpack style on the bird's back. They measure GPS coordinates every five minutes and send them via the GSM mobile telephone network.
Hen Harrier.
The Spanish population of the Red Kite is also in danger of extinction. It was thought that they were settled colonies and therefore that the parent birds remained in their territories, but it has been observed that many Red Kites migrate short or moderate distances to other wintering areas or undertake other journeys during the winter.
In 2019, the program focused on Montagu's Harrier (Circus pygargus), a migratory bird classified as vulnerable in Spain's National Catalogue of Endangered Species. We know that the Spanish populations of these endangered birds of prey winter in the African Sahel, but this is the first time they have been tracked with high-resolution GPS systems to follow their movements and migratory paths, feeding areas in Spain, wintering areas in Africa and resting places during migration.
In 2018, ten adults were marked in Andalucía, Castilla y León, Cataluña and Galicia. In spring 2019, an additional 13 hen harriers were included in Albacete, Cáceres, Huelva, Madrid, Palencia, Salamanca and Segovia. Using this method, more than 250,000 locations were obtained to analyse whether the cause of their decline is found in these areas with a view to finding solutions.
Montagu's harrier.
Save the Montagu's harriers campaign

As part of MIGRA, 80 lesser kestrels have also been tagged throughout Spain. In the Community of Madrid, four peregrine falcons — a species considered vulnerable in the Catalogue of Endangered Species of this region — as well as 41 Swifts in the municipality of Nuevo Baztán, Madrid.
Nano-GPS trackers were attached to the lesser kestrels' backs to track their migratory habits.
Monographs
Five monographs were prepared under the MIGRA program, in collaboration with Fundación Iberdrola España:
Migration and Spatial Ecology of the White Stork in Spain

. Published in February 2020, this is a comprehensive work that compiles the results obtained from

79 birds tagged with remote monitoring devices

in Spain and Central Europe between 2012 and 2017. The study, which reveals the movements of the white stork throughout the annual cycle, has shown a

clear change in the migration strategy of these birds in Western Europe.

In fact, white storks have proven to be the ideal model to demonstrate that changes caused by humans on a global level (production of large amounts of waste, large expanses dedicated to irrigated crops, etc.) are causing profound changes to the environment and how species behave.
White stork.
Migration and Spatial Ecology of Bulwer's petrel in Spain

.

Bulwer's petrel

is a small seabird that breeds in the Canary Islands and is classed as endangered. Therefore, understanding the current distribution of these populations makes it possible to model the effect of global warming on the distribution of this species, among other advantages. To prepare this monograph, which was presented in November 2019, the migratory journeys of

105 birds equipped with geolocators were studied and GPS devices

were fitted during breeding, enabling 59 complete feeding journeys to be recorded.
Bulwer's Petrel.
Migration and spatial ecology of Spain's Cory's shearwater population

, conducted by tagging 460 birds in 13 breeding colonies in different Spanish regions: Balearic Islands, Castellón, Murcia, Almería, Chafarinas Islands, Atlantic Islands of Galicia and several of the Canary Islands. The size of the positioning database, with

1,017,029 locations,

made this work the most ambitious to date to address the ecology of Spanish species movement by using new generation remote tracking devices.
Migrating Cory's shearwater. © Pep Arcos.
Migration and spatial ecology of the Spanish booted eagle population

. To carry out the study, 21 booted eagles were marked with GPS and

more than 83,000 locations were obtained over the more than 194,000 km covered by the birds in their periplus.

The data from the study reveals that international cooperation is essential for creating safe areas for their migratory journeys to sub-Saharan Africa: during the autumn migration, these birds travel between 2,400 and 3,400 km to areas of the African Sahel savannah.
Booted eagle with a GPS device.
Migration and spatial ecology of the Audouin's Gull

[PDF]. Audouin's Gull is an endemic Mediterranean species with a relatively small population 90 % of which gather in Spain during the breeding season. To conduct the study, a total of

221,931 spatial locations of more than 15,500 individual birds were analysed.

The resulting 100 pages show the movements, phenology and spatial ecology of Audouin's gull at breeding grounds, on migratory routes and in wintering areas. The study also reveals15 areas of great value for the species on the African coasts that deserve to be identified as

Important Bird Areas (IBA).
Audouin's Gull.
Hide

Study on the impact of climate change on bearded vultures:
Iberdrola — through Fundación Iberdrola — and the Bearded Vulture Conservation Foundation (FCQ) have presented the results of the Study on the Effects of Climate Change on the Bearded Vulture Population in the Central Pyrenees. The study reveals the presence of more than 800 mosquitoes, black flies and midges carrying avian malaria, a disease more dangerous for birds than initially thought.
Carousel of images and videos
Read more
These insect vectors, accustomed to warmer habitats, were previously unknown in the cold, mountainous ecosystem of the Central Pyrenees. But the increase in temperature caused by climate change means they are now found in bearded vulture nesting areas. This demonstrates the risk that the bearded vulture, an endangered species in the EU, is being exposed to the disease.
The study has detected avian malaria in the Central Pyrenees, the bearded vulture's habitat.
This parasitic disease has caused dramatic reductions in species as widespread and common as the house sparrow (Passer domesticus) and its expansion into new regions, such as Hawaii and New Zealand, has had devastating effects on previously unexposed domestic populations. It has now been found that the disease has also had a severe impact on species that have previously coexisted with the parasite. For example, it has been implicated in the 75% decline in London's sparrow population.
Hide

LIFE+ Cantabrian Capercaillie Project:
The programme for the conservation of this emblematic and endemic species in danger of extinction in the Cantabrian Mountain Range has involved active work between 2010 and 2016 with the two-fold objective of halting its decline and fostering its recovery.

Read more
At the start of the project, it was estimated that only some 400 specimens remained between Asturias, León and Cantabria. To contribute to the recovery of this species, the European LIFE+ Cantabrian Capercaillie Project, coordinated by the Biodiversity Foundation of the Ministry of Agriculture and Fishing, Food and the Environment, with the support of Fundación Iberdrola España and the Autonomous National Parks Organisation, a series of urgent conservation, social participation, awareness raising and dissemination actions have been carried out.
Cantabrian Capercaillie.
Some of the main actions carried out since 2010 han include:
Forestry treatments in over 500 hectares to improve the Capercaillie's habitat.
Removal or marking of 60 km of dangerous fences to eliminate the risk of electrocution.
Control and monitoring of the deer population, due to its direct effect on the availability of food for the Capercaillie.
Breeding in captivity programme as a complementary measure to the management of the habitat and re-introduction of Capercaillies into the wild.
19 land custody projects thanks to 29 voluntary agreements between owners, non-profit organisations and other public and private agents.
Environmental awareness-raising and educational activities, with school workshops, in which 2,000 students have participated.
This project has laid the foundations for the future conservation of the species, based on the experience and technical know-how acquired during the execution of the different actions.
Hide
All the information about
BIODIVERSITY
What biodiversity protection plans are in place?
Iberdrola first established its biodiversity action plan many years ago. This strategic plan is motivated by four principles of behaviour, defined in its biodiversity policy: to protect, understand and conserve biodiversity and to raise awareness and inform stakeholders. In the various operational units, this strategic action plan is translated into action lines and work programmes such as the protection of fauna and flora or pollution reduction.
The action plan encompasses and applies to each and every stage of the facility life cycle (design, construction, operation and dismantling). Therefore, construction projects are carried out in line with the mitigation hierarchy and the environmental impact process. During the operational phase, the action plan is incorporated through the group's integrated management.
Do you know the real importance of forests in our ecosystem?
The importance of forests to our planet is undeniable They are vital ecosystems for protecting the world's biodiversity. In order to achieve sustainable development, they must be looked after in the knowledge that they are finite and essential to life. Without them, there would be no drinking water, no clean air, nor much of the necessary food. Furthermore, the importance of primary forests is not only because of the source of oxygen they provide but also because they mitigate climate change by absorbing carbon dioxide from the atmosphere and therefore reducing the greenhouse effect.
What is Iberdrola's biodiversity policy?
The development of the group's businesses inevitably produces interactions with various ecosystems. That is why we are committed with the protection of biodiversity and environmental conservation. We promote a social culture aimed at raising the awareness of all stakeholders, identifying specific actions that help to conserve natural environments and act against the loss of biodiversity in favour of living beings and the conservation of species.

Find out the details biodiversity policy.
What is the importance of biodiversity for the conservation of life?
Biodiversity has a great influence on the conservation of living beings. If we do not take the importance of biodiversity into consideration, acting with a focus on sustainability and respecting the rules of environmental conservation, we will be acting against the interests of human beings. Because the loss of biodiversity has a direct impact on our food security, on vulnerability to natural disasters, on access to clean water, and on the extinction of species.
Overexploitation of biological resources and its negative effect on biodiversity
Human impact is a direct cause of loss of biodiversity. Not knowing how to manage resources, ignoring that they are finite, brings with it the depletion of natural resources. Constant human activity and the undeniable overexploitation of resources at a higher speed than their natural regeneration makes life difficult and brings with it the loss of biodiversity. Deforestation and overfishing are clear examples of this.

Here we explain overexploitation and its consequences for natural resources.
Which animals are in danger of extinction?
Global biodiversity is suffering an unprecedented decline. More than one million species are in danger of extinction and may disappear within decades, according to a report issued by the Intergovernmental Science-Policy Platform on Biodiversity and Ecosystem Services (IPBES). The report identifies which animals are in danger of extinction due to climate change (which will be responsible for five per cent of these losses if the temperature increases by two degrees). The natural habitats of these animals are under threat from global warming, and the risk of extinction is increasing. Among the most severely endangered species are Madagascar crickets and millipedes, the African antelope and the snow leopard. However, climate change is not the only thing threatening biodiversity. Soil depletion, pollution and the over exploitation of species are as big a threat to their survival than climate change, if not more so.
How can we handle the conservation of the environment and the sustainability of the system?
Biodiversity and its conservation are irremediably conditioned by human interference in the environment. In order not to generate environmental problems that result in the loss of biodiversity, it is necessary to carry out conservation measures and know how to implement them. Conservation is a basic principle in the environmental policy of the Iberdrola group, and it is committed to the biodiversity of the ecosystems, landscapes and species where it carries out its activity.

In addition, environmental conservation will be helped by small actions that each one of us can carry out in our daily lives: using reused products, turning off taps properly, using public transport, separating rubbish or consuming ecological products.
What is the importance of protecting and conserving biodiversity?
Protecting biodiversity and ecosystems means protecting ourselves as a species, because we depend on them for our own survival. Forests reduce global warming and end water pollution. Biodiversity helps to pollinate flowers and crops, among other things. We get food and medicine from nature, and micro-organisms help us with soil fertilisation. The benefits that biological diversity provides to all living beings are innumerable, and that is why we have to take care of the interactions in the ecosystems and have clear environmental conservation areas. Our duty as a species is to encourage ecological transition, mitigating greenhouse gas emissions and improving energy efficiency, and with it, the survival of the earth's flora and fauna.
Biodiversity and its conservation must be a sure bet for the future
Opting for the conservation of the earth means opting for the conservation of biodiversity. Biological diversity safeguards the functioning of vital cycles of water, nutrients and soil. So we have to minimise the impact of human beings on the environment in order to guarantee food security and access to clean water and different raw materials, among other things. It is also a chance to prevent natural disasters. Therefore, when it comes to action policies, among the objectives for development, particular emphasis must be placed on the conservation of biological diversity, and on ensuring the protection of environmental conservation areas.
How does climate change affect biodiversity?
Climate change is one of the direct causes of loss of biodiversity. Global warming and global climate change mean that many animal and plant species are not adapting to the situation and are abandoning their reference habitats in the face of drought, rainfall and extreme weather events. Many of the animals suffering from climate change will be driven to extinction as they are unable to adapt to the effects of the change. That is why conservation policies are so important to look after species and ecosystems.
What does environmental management mean?
Environmental management is the strategy that the various organisations use to try to make their activities have as little impact on the environment and nature as possible. It is a question of seeking a balance between geo-economic interests and environmental conservation. There are different approaches to management control, depending on the scope. These include preventing future environmental conflict; the correction of existing environmental problems and reversing environmental damage caused in the past.
What is a protected area?
Protected areas are extensions of land or sea that are protected so that they don't lose their biodiversity, geodiversity and natural and cultural resources. The aim is to contain natural ecosystems that are threatened or of special ecological, educational or scientific interest, among others. They are usually recognised as natural heritage, and their biological diversity and species' habitats are protected and looked after.

According to the map of protected areas, the Iberdrola group selects the location of new infrastructure, avoiding protected areas or those with a high impact on biodiversity.
What are the principles of conservation of biodiversity?
The Iberdrola group undertakes different actions to conserve biodiversity in the different ecosystems in which it carries out its activities. These principles include integrating environmental conservation into decision-making at the various stages of their infrastructure projects; applying a precautionary approach to environmental conservation; compensating for the impact produced and restoring natural capital; and protecting species and habitats through positive conservation and research.
What are the basic principles of environmental management?
The Iberdrola group has defined a series of basic management principles in its environmental policy with the aim of achieving sustainable development and avoiding environmental degradation. These include: respecting the environmental regulations in force in the countries in which it operates; knowing and continually evaluating the risks involved in its facilities; preventing those risks; responsible consumption; and incorporating environmental considerations into investment and planning decision processes. In short, these are basic ethical principles for respecting and ensuring biodiversity and ecosystems.
How can we manage energy efficiency and environmental sustainability?
Achieving energy efficiency and promoting environmental sustainability can be achieved by responsible energy use and advocating efficient technologies that reduce energy consumption. At Iberdrola we encourage responsible energy use and pay special attention to optimising our entire energy chain (production, transport and distribution). We never lose sight of our goal of protecting biodiversity and ecosystems.

However, small actions also count, and any household can achieve its own energy efficiency and sustainability, with the aim of protecting biodiversity on a small scale and fighting climate change. Commitment to renewable energies, efficient technologies and simple rules for private energy use.
How can the GHG protocol impact in biodiversity conservation?
The Greenhouse Gas Protocol provides a standardized way to calculate and account greenhouse gas emissions. Its use allows to compare the results between different organizations all over time to better knowing if reductions of emissions have taken place, and to evaluate climatic benefits. Knowing the indices and protocol standards helps to guide policies for combating climate change and looking after and promoting biodiversity.
Environmental biodiversity and sustainability
Environmental management
Environmental Indicators
Sport in the countryside and its environmental impact