Monitoring flora and fauna
Climate action Nature Biodiversity
Iberdrola group applies several measures to protect and restore areas that might be affected by its facilities in the main countries it operates in.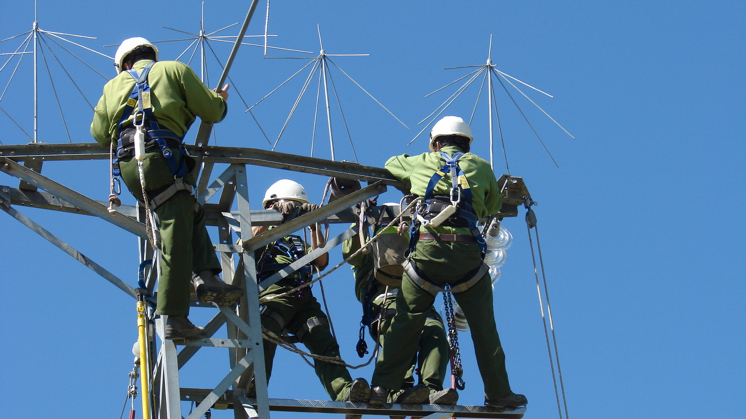 A group of Iberdrola group's employees installs a deterrent system for bird protection.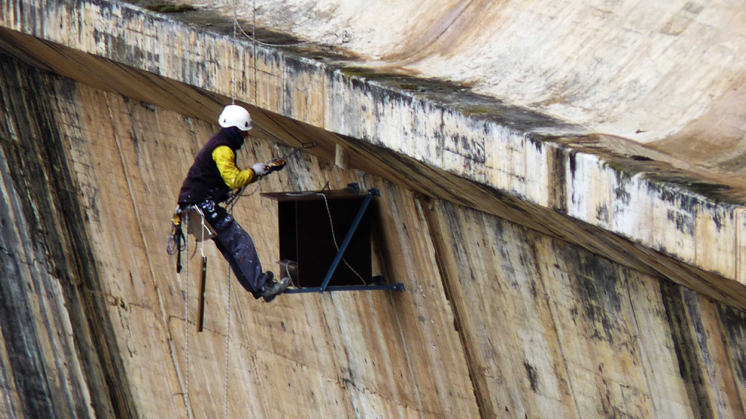 En el parámetro de la presa de la Almendra se ha colocado una caja nido para que una pareja de halcones anide allí libremente, fuera del alcance de cualquier depredador.
Iberdrola carries out monitoring of flora and fauna, depending on the needs of each project, especially of protected or vulnerable species, silvicultural treatments, forest restoration with native species, integration and landscaping, etc. depending on the needs of each project with the objective of protecting species and habitats or mitigating the damage caused to them.
These activities are performed throughout the life of the project, tailoring the actions according to the construction, operation and dismantling phases.
Biodiversity in compensated areas
Iberdrola applies the mitigation hierarchy (avoid, minimize, correct and, as a last resort, offset) in its projects' environmental impact assessments. It avoids sites which are protected or which are valuable because of their biodiversity and minimizes any impact on the environment.
By means of its offsetting activities, it sets out to improve the state of conservation of the biodiversity of species and habitats in areas affected by the presence of group facilities. Actions to improve biodiversity are also carried out, as described in the biodiversity reports and in the environmental dimension in the Sustainability Report [PDF] External link, opens in new window..
Some of the habitats being offset are listed below, most of which are from projects that have been under way for several years and that have continued actively in 2020:
Protected or restored habitats
Iberdrola carries out a variety of actions to protect or restore the different habitats that surround or are affected by the group's facilities. These are actions that have continued actively in 2020 which are also included in the action plans.
Knowledge of the species living in the vicinity of the facilities is essential for preventing harming them, even more so if they are protected.

Iberdrola identifies the threatened species included in the IUCN Red List(1) and in national and regional lists with habitats in the areas where it operates to prevent any impact. The company implements species monitoring programs and research projects at many of its facilities to learn more about their behavioral patterns and integrate this knowledge into its operations.

The following table shows the number of IUCN Red List threatened species identified by Iberdrola's facilities, without suggesting any impact or threat from its activity.

| IUCN Red List Classification | No. species |
| --- | --- |
| Critically endangered (CR) | 15 |
| Endangered (EN) | 46 |
| Vulnerable (VU) | 75 |
| Near threatened (NT) | 71 |
| Least concern (LC) | 723 |

(1) 'International Union for the Conservation of Nature' (www.iucn.org External link, opens in new window.).

The species that appear as not assessed by the IUCN appear as threatened on each country's specific list. Some of the species are:

In critical danger: birds such as the California Condor, Eskimo curlew, Lear's macaw, channel-billed toucan; mammals such as the Iberian lynx, woolly spider monkeys, brown titi; fish such as the European eel,

Austrolebias carvalhoi,

etc.
Endangered: birds such as the Iberian imperial eagle, red kite, black stork, Egyptian vulture, Cantabrian capercaillieExternal link, opens in new window., Dupont lark and the squacco heron; bats such as the long-fingered bat, Indiana bat; insects such as the American burying beetle, fish like the Piabanha and Crumatã.
Vulnerable: birds such as Bonelli's eagle, osprey, Montagu's harrier, red-tailed amazon, neotropical bellbird; bats such as Geoffrey's bat, Mehely's horseshoe bat, the greater mouse-eared bat, common bent-wing bat and the common noctule; insects such as backswimmers, the hairy canary fly and river jelly lichen, fish like Lambaríes and Guarús.

On the properties of the generation centres in the United Kingdom, a total of 28 birds included on the UK BAP — half of the 56 species on the priority list — have been recorded as over-wintering or raising young. Also living on the properties are nine species of mammals, seven fish species, five reptile species, two amphibians, eight species of butterflies and moths, another four species of invertebrates, a species of lichen and seven plants on the UK BAP list.