Corporate Environmental Footprint (CEF)
Iberdrola, first organisation to receive the AENOR certificate for our Environmental Footprint
Business Corporate social responsibility Renewable energy
True to our commitment to transparency, every year we publish our Ecological Footprint (CEF), a summary of the Group's environmental performance. External and independent verification by AENOR accredits that we have calculated and identified all the environmental impacts derived from our activities in all the countries in which we are present, with the aim of improving and reducing them.
The Corporate Environmental Footprint (CEF) is defined as a multi-criteria measure of the environmental performance of an organisation that provides goods or services, with the perspective of the whole life cycle, i.e. considering not only direct impacts but also indirect impacts on which we have influence, for example through our suppliers. The overall objective of an CEF is to seek to reduce the environmental impact derived from the organisation's activities.
Objectives of the Corporate Environmental Footprint
The Iberdrola Group's Environmental Footprint objectives are:
Understand and compare objectively the

effect of our activity

in the different environmental impact categories, trace their cause, identifying the environmental aspects and the assets/technologies/regions responsible of them. This will be an extra element of information for the company's management system.
Have a

single homogeneous methodology for the whole Group

that

measure to improve.

Development of environmental impact reduction activities to increase

operational efficiency

and corporate

reputation

, through transparency; drive

innovation

and internal and external

benchmarking

; and mitigate environmental

risks

.
Ensure the

Group's commitment to transparency.
Main environmental impacts observed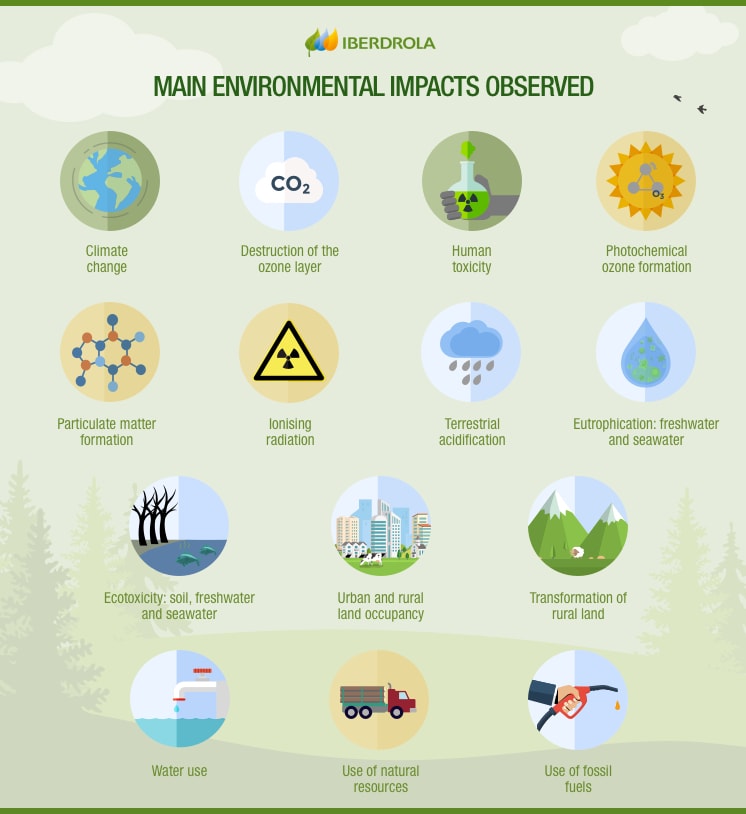 Main environmental impacts observed.
SEE INFOGRAPHIC: Main environmental impacts observed [PDF]
The calculation of the Endpoint provides us with a final value for the company's global environmental performance by grouping the different environmental impacts into a single score. In turn, the Endpoint score values for each impact category are also reported:
| Impact category | Score (Points) | Iberdrola Group environmental footprint |
| --- | --- | --- |
| Climate change (Human health) | 2,718,648,901 |   |
| Ozone layer depletion | 326,186 |   |
| Human toxicity | 240,042,770 |   |
| Photochemical ozone formation | 143,035 |   |
| Particulate matter formation | 467,959,451 |   |
| Ionising radiation | 10,386,143 |   |
| Climate change (Ecosystems) | 259,015,198 |   |
| Soil acidification | 344,330 |   |
| Freshwater eutrophication | 153,112 | 7,195,598,048 |
| Soil ecotoxicity | 327,886 |   |
| Freshwater ecotoxicity | 845,757 |   |
| Marine ecotoxicity | 143,554 |   |
| Rural land occupancy | 22,538,009 |   |
| Urban land occupancy | 35,413,438 |   |
| Natural land transformation | 18,443,598 |   |
| Mineral resource depletion | 118,477,192 |   |
| Fossil fuel depletion | 3,302,389,489 |   |
Our Environmental Management System
To respond to international expansion and the diversity of our activities that have an environmental impact, the Iberdrola group Environmental Management System was designed in 2008 to create a common environmental framework to coordinate different group plans and measures, while at the same time respecting the independence and features of each region.
This model establishes a common line for strategies and policies, defines compliance report criteria and standards, and lays down a set of monitoring KPIs.
The summary of our performance in 2016 was certified for the first time by AENOR

Enlace externo, se abre en ventana nueva. , in accordance with the international technical specification ISO/TS 14072 on Environmental Management –Life Cycle Assessment– Requirements and guidelines for organisational life cycle assessment. Obtaining this certificate is part of the Group's commitment to the UN Sustainable Development Goals, especially number 7 —Affordable and clean energy— and number 13 —Climate action.
The aim of this verification by a renowned, independent third party is to objectively ensure the accuracy and integrity of the information published. To award this certificate, AENOR has observed 18 environmental impacts over the course of 2016, as well as our behaviour with respect to climate change, the depletion of fossil fuels and by-products of water consumption, among others.
Previous Corporate Environmental Footprint reports
We compiled the inventory of previous years' Corporate Environmental Footprint reports, a comprehensive document published annually in which we identify all the environmental impacts arising from our activities.