Digital transformation and innovation
At the forefront of digital transformation
Iberdrola group is at the forefront of the use of digital technologies and is preparing to face a new era in which disruptive tools will be key to all businesses, either by improving the processes and productivity of its assets or by achieving greater efficiency in its activities. The company, which will increase its R&D investment to €420 million per year by 2025, maximises the use of technology in those business areas that add value, either by improving processes and the productivity of its assets or by achieving greater efficiency in its activities.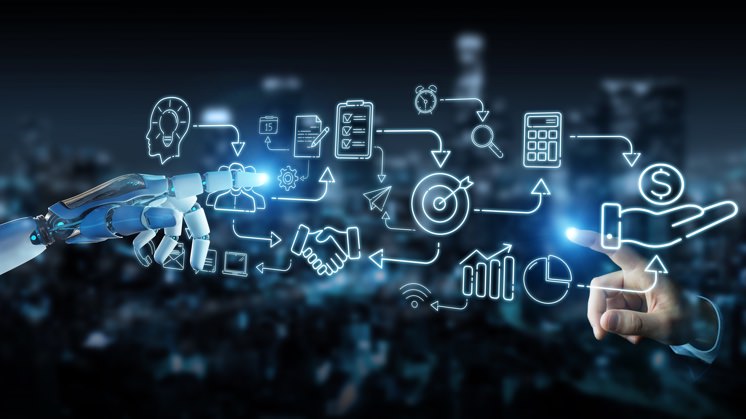 Iberdrola, at the forefront of digital transformation.
For some decades now, digitalisation has been an essential part of Iberdrola's business and the use of information technologies has become a fundamental asset for the company. Currently, Iberdrola digitally manages its electricity generation assets and has transformed its networks into intelligent ones with digital tools and Artificial Intelligence.
Thanks to this, the group can "offer the best service to customers, even under difficult conditions," as its chairman, Ignacio Galán, explained at the opening of Digital Summit 2020. Such has been the case during the health crisis resulting from COVID-19, during which Iberdrola has kept up its operations and investment plans, safeguarding the health and safety of its staff and partners at all times.
Ignacio Galán, Iberdrola group chairman
Ambition must be increased and the green and digital revolution must be combined as key pieces in the economic recovery
Galán's view is that digitalisation will make it possible to push forward with the decarbonisation of transport, domestic consumption and industry, and affirms that Iberdrola has the technology, the resources and the capability to lead the digital transformation and to convert it into a fundamental competitive advantage in the coming years.
Our digital transformation pillars
Strategy and digital culture
Taking maximum advantage of digitalisation necessitates a new corporate culture and different ways of working. Within Iberdrola group, various technologies and tools are being implemented along these lines:
Microsoft Yammer: a corporate business network for staff around the world.
The use of Microsoft Teams, as a crucial collaborative tool for implementing remote working throughout the group.
Workplace transformation: the digital workplace uses Microsoft O365 productivity tools and encourages mobility, making it possible to work from anywhere, anytime.
The implementation of an agile methodology not only for software development projects but in many areas of the company.
Digital Mentoring programme aimed at employees, with the objective of contributing to the process of digital transformation in the company, as well as the creation of opportunities to transmit knowledge and experiences and foster an environment of teamwork.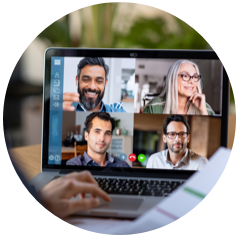 Iberdrola believes that blockchain is a key tool in speeding up the process of decarbonising the economy, as it makes transactions traceable, secure and fast. The company uses this technology for a variety of tasks:
Participation in the Alastria network.
Marketing operations for wholesale energy.
Document authentication and certification.
Carrying out of financial transactions in asset management scenarios (contracts between companies).
The Cryptotrust: platform: facilitates the assessment of third parties, providing efficiency and reliability on matters of compliance to these information exchanges.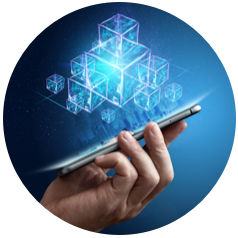 Robots and drones support humans in difficult and hazardous operations, which improves work efficiency. Some of the uses to which Iberdrola puts these devices are:
Drones to inspect wind farm components where access is tricky, such as turbine blades, in Spain and Mexico.
Inspection procedures at hydroelectric plants (water pipes) and thermal power stations (steam turbines).
Robots to inspect underwater pipework in combined cycles and underwater deposits at the Cofrentes nuclear power plant.
The use of drones in the distribution network for: applying LIDAR technology to inspect high voltage lines using thermal imaging; corrosion on poles; reducing service downtime after extreme weather conditions and emergencies in the US; detecting fraud through recognition of images captured by drones in Brazil.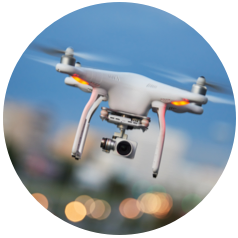 Augmented and Virtual Reality
The company uses Augmented Reality and Virtual Reality in the following ways:
Technical training school in Madrid and on the Bilbao Campus that simulates a substation and uses virtual Geographic Information Systems (GIS) in 3D, VR headsets and holograms to train workers and check the design of thermal plants.
Training and assessment simulator for engineer training on renewable energy operations and maintenance.
Mobile devices with Augmented Reality for undertaking field operations on overhead cables and pipework systems.
Augmented Reality technology which guides field engineers remotely using digital information and smart glasses.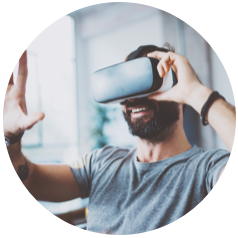 Thanks to advanced digital communication in devices, systems and internet services, Iberdrola offers improved and faster service to customers, guaranteeing efficiency and safety. Some applications of the Internet of Things are:
CORE (Renewables Operation Centres): the platform from which the group operates and controls its renewable generation facilities, in a way that is centralised and standardised in the different countries in which it operates.
Smart Home: intelligent climate, lighting etc. control from just a smartphone.
Asset Smart Tagging (NFC): a mobility solution for network assets.
Biometric technology to ensure the correct identification of shareholders during the General Shareholders' Meeting.
STAR Project: implementation of smart meters in Spain, the UK, the US and Brazil. The company expects to install 21 million smart meters by 2025.
Supervision of UK wind power plants using data and visual sensors.
Smart Buildings: management of spaces (sensors that measure real time occupation) and facilities (automated control of heating, lighting, electrical systems, etc.).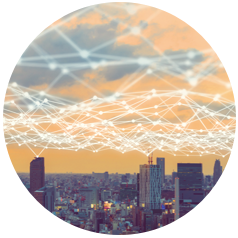 The virtual replication of a product, service or system allows the company to anticipate possible problems and do risk-free testing of new features before launching them. Iberdrola has used digital twin technology for:
Increasing the capacity of the fuel handling crane at the Cofrentes nuclear plant. The actual crane was implemented using digital twinning and machine learning models were used to anticipate potential problems.
Optimising combined cycle plants using the digital twin of a gas turbine, with the aim of adjusting the operation of the turbine in question to adapt to different climatic conditions and energy demands.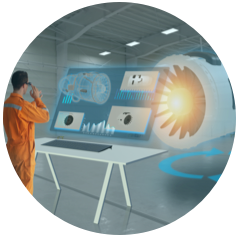 Mobile technology is transforming the company, customer service and the way work is carried out on a daily basis. Iberdrola applies it in environments as diverse as:
Operation and maintenance tasks in the areas of Renewables, Networks and Generation.
Mobility for internal employee processes: SAP Fiori implementation for the Procurement Department.
Online management of wind farms.
Apps for customers, investors and consumers, such as the Iberdrola Charging App for electric vehicles and the Investor Relations App.
Inspections and mobility in reception procedures for new Renewable and Network facilities.
TechLocker: a locker to supply staff with small IT devices, using their smartphones.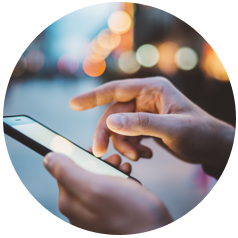 Big Data and advanced analytics
The group is working on new solutions using Big Data:
The MeteoFlow, system, which has been predicting the production of the group's renewable facilities for over 20 years by analysing meteorological variations, has incorporated new Big Data techniques to make the most of the vast quantities of asset information gathered, and the latest climate prediction models.
Fraud detection and minimisation of distribution network losses, as well as maximising the efficiency of inspection campaigns (by up to three times).
Big Data analysis for predictive maintenance for offshore turbines.
Advanced analysis of information received from smart meters for decision-making and energy demand prediction.
Analysis of customer behaviour when using websites and apps.
Customised plans y segmentación de los clientes: Smart Mobility, Smart Home y Smart Solar, Planes a Tu Medida, etc.
Sedar project (High Resolution Wind Power Simulation): simulation software that makes it possible to determine the best place to site a turbine.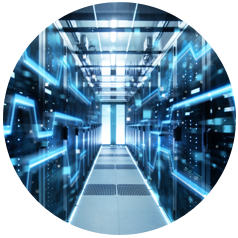 Iberdrola continues to develop new capabilities through the application of Artificial Intelligence and Machine Learning to a variety of processes, helping with decision-making:
Early identification of anomalies and automatic identification of faults in photovoltaic plants.
Application of Machine Learning techniques to forecast daily flow and predict the production of hydroelectric plants.
Iberdrola operators use Machine Learning models to predict market liquidity, long-term production, etc.
Machine Learning to predict natural disasters that could affect infrastructure.
Application of RPA (Robotic Process Automation) technology to automate processes.
Development of AI models to predict faults in onshore turbines components.
Speech Analytics: real-time voice analysis of conversations with customers who phone Customer Services, to determine their state of mind.
Algorithms to offer the most suitable tariff to each customer depending on their consumption habits and patterns.
Use of chatbots as virtual assistants in customer relations.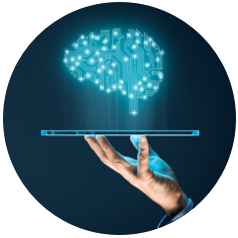 Cloud Computing is based on offering services (hardware, platform or applications) over the internet and using them according to pay per use model. The strategy of software providers and market trends are forcing companies to use this type of paradigm, and currently the cloud is one of the keys in the digital transformation of companies.
Iberdrola only considers cloud scenarios that comply with the group's privacy and security policies. Thus:
Only four of the 82 essential company systems have moved to the cloud, following the software as a service (SaaS) concept.
Only 7 % of inherited infrastructures are in the cloud and offered in the infrastructure as a service (IaaS) mode.
Some cases of cloud usage are of interest because they provide greater scalability, flexibility, improved performance and cost reductions.
Iberdrola uses private, hybrid or public clouds depending on each business case.
In conjunction with the Cybersecurity department, the group has implemented a Global Security Action Plan 2019-2020, which incorporates various security measures and deals with different threats and vulnerabilities:
With the introduction of new standards set by the General Data Protection Regulation (GDPR) and the recommendations of KPMG auditors, it has become necessary to protect the company's data and improve access control to the business applications.
Automated analysis of incoming and outgoing malicious traffic on the internet as well as encryption of credentials.
Improved incident detection and response. All businesses have backed the initiative to technologically enhance the response team in the event of IT security incidents (CSIRT).
Greater protection for devices and servers against advanced threats.
GLOBAL SMART GRIDS INNOVATION HUB
Iberdrola has created a global smart grid innovation centre to respond to the challenges of the energy transition and to lead innovation in electricity distribution networks. The Global Smart Grids Innovation Hub will act as a platform for promoting innovation, combining its technological capacity with that of suppliers, partners and startups from around the world.
The centre launched in the spring of 2021 and brought together the innovative potential of more than 200 professionals in the undertaking R&D projects related to the challenges of the electricity networks of the future, including greater digitalisation, the processing of the data generated by this infrastructure and the response, in terms of robustness and flexibility, made by the electricity network to new models of consumption, such as electric mobility and self-consumption. The international lines of work will enable the development and deployment of innovative solutions for Iberdrola group's electricity grid activity worldwide.
AWARDS AND RECOGNITIONS
The company has received important awards and recognitions for its commitment to the digital transformation. The latest are:
The IDC Futurescape Excellence

External link, opens in new window.

Award 2021, within the

Best project to implement disruptive technologies

(Blockchain, Artificial Intelligence, Robotics, 3D Printing, IoT, 5G) category, to the project

'GEM Digital Space'

for implementing Artificial Intelligence in Iberdrola Global Energy Management Processes.
Iberdrola's Network Data Analysis Unit was awarded the Big Data Talent 2020 prize from the ENIIT Business School for its loss reduction project.
The prize for the Best Customer Journey 2020

External link, opens in new window.

from the Association for the Development of Customer Experience (DEC) for the methodologies and tools used by Iberdrola for customer voice capture. The Customer Voice Program was also a finalist in the

12th National Marketing Awards 2020,

in the Innovation category, for improving the customer experience.
Avangrid, the group's subsidiary in the United States, was chosen as a finalist in the

IDC Futurescape 2020 - Innovative Company

awards in the category of Best Project for the Implementation of 3rd Platform Technologies, for the use of Kubernetes and Azure technology to efficiently roll out retailer applications.