Ceclavín photovoltaic plant
The Ceclavín photovoltaic plant, our third photovoltaic project in Extremadura
Photovoltaic energy Operating plants
Iberdrola invests €250 million in its third photovoltaic plant in Extremadura, the Ceclavín plant, which a total installed capacity of 328 megawatts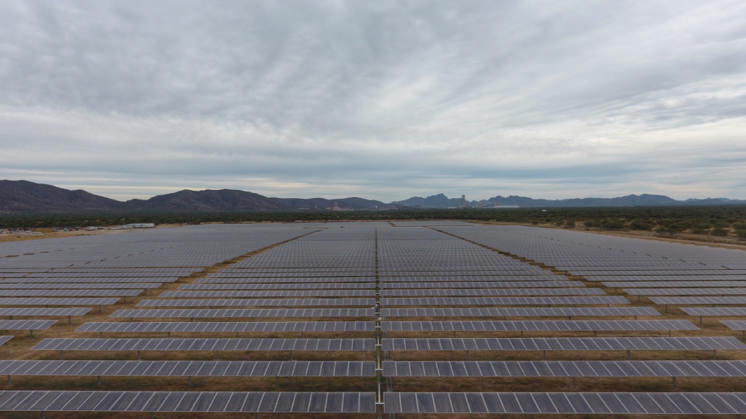 Operating plant
Ceclavín photovoltaic plant
Location
Ceclavín y Alcántara (Spain)
Total installed capacity
328 MW
Investment
250 million euros
Iberdrola group has commissioned its third photovoltaic project in the Extremadura municipalities of Ceclavín and Alcántara (Cáceres province). With an installed capacity of 328 MW, it supplies energy to a population equivalent to 175,385 homes/year and prevent the emission of 110,000 tonnes of CO2 a year.
This huge plant has more than 850,000 modules and 168 inverters and includes the construction of a substation and a high-voltage line over 18 kilometres long.
The project will supply clean energy to the 9,000 supply points of Orange's own network in Spain for a period of 12 years through a Power Purchase Agreement (PPA), a long-term power supply contract that will enable the telecommunications operator to keep its promise to use emissions-free energy nationwide. The Ceclavín plant will account for half of this consumption (200 GWh/year).
With an investment of around €250 million, the installation has been a major boost for local employment. At peak construction times, more than 1,140 people from nearby communities have worked on the site. Around 60 % of the employees involved in the installation are from Extremadura.
This project is part of Iberdrola group's strategy to invest in renewable power generation projects in Spain — where it plans to commission a further 1,500 MW of renewables in the near future, of which 1,000 MW are already under construction — and its commitment to forging bilateral agreements with big customers who are committed to sustainable consumption as a way of promoting the supply of energy at competitive, stable prices. The company is a global pioneer in the area of PPAs and manages agreements in markets that include Spain, the United States, the UK and Mexico, for wind and photovoltaic power projects totalling over 1,500 MW.
Evolução da construção da usina solar Ceclavín.
Iberdrola, world leader in renewable energies
At Iberdrola, we decided to commit to renewable energies more than two decades ago as a fundamental pillar on which to build our safe, clean and competitive business model. Thanks to this vision, we are today world leaders in renewable energies, reaching 41,246 MW of renewables in operation by the end of the first half of 2023.
This commitment is reflected in our record investment plan of €47 billion in the period 2023-2025, of which we will allocate 17,000 million euros to the renewables business. With these investments, we will increase our installed renewable capacity by 12,100 MW to 52,000 MW by 2025 —6,300 MW of photovoltaic, 3,100 MW of onshore wind, 1,800 MW of offshore, 700 MW of batteries and 200 MW of hydro.