East Anglia Hub offshore wind complex
East Anglia Hub: our biggest offshore wind project worldwide
Iberdrola projects Offshore wind United Kingdom
Iberdrola group is going to build a macro offshore wind complex in UK waters, the East Anglia Hub. This undertaking will see the development of three projects capable of delivering a total installed capacity of 2,900 MW: East Anglia ONE North, East Anglia TWO and East Anglia THREE. The works, which represent an investment of GBP 10,000 million, commenced in 2022 and are expected to take four years.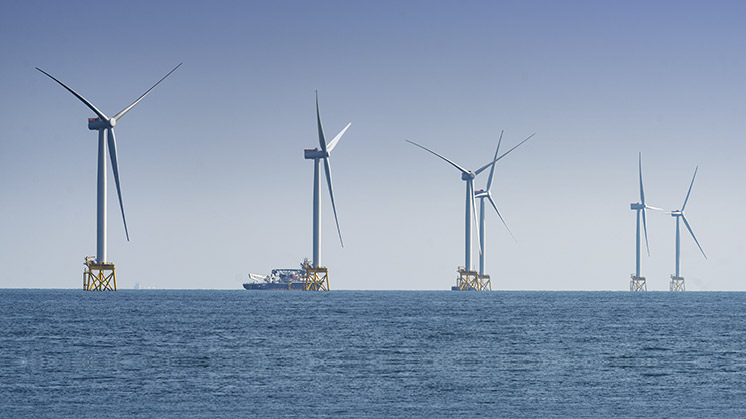 Ongoing project
East Anglia Hub offshore wind complex
Location
North Sea (United Kingdom)
Total installed capacity
2,900 MW
Investment
GBP 6.5 billion
Start of construction work
2022
Iberdrola group — through its UK subsidiary, ScottishPower Renewables

External link, opens in new window. — is to develop the East Anglia Hub, a macro offshore wind complex to deliver a combined installed capacity of 3,100 MW. The investment cost will amount to approximately GBP 10 billion. In addition, a new investment package of a further 6 billion - subject to obtaining authorisations - will double renewable generation capacity and boost decarbonisation in the UK.
This power is sufficient to supply clean energy to 2.7 million British homes and represents more than 7.5 % of the 40 GW target for offshore wind power set by the United Kingdom Government for 2030. The East Anglia Hub will make a significant contribution to this goal, supporting green recovery regionally and nationally and helping to meet climate neutrality commitments.
Destined to become the company's biggest offshore wind project worldwide, it will encompass three developments Iberdrola already has in its portfolio in the East Anglia area, specifically, in the southern area of the North Sea: East Anglia ONE North, East Anglia TWO and East Anglia THREE. The offshore wind farms will be developed simultaneously, which will shorten construction and commissioning times, increase opportunities for the supply chain, reduce the cost of clean energy and actively contribute to the country's offshore objectives.
The East Anglia Hub already has the approvals for its 2,900 MW in the UK, with construction starting in 2022 and to be completed in 2026.
East Anglia Hub will have 2.900 MW.
Siemens Gamesa, preferred turbine supplier
Iberdrola, through ScottishPower Renewables, has selected Siemens Gamesa Renewable Energy (SGRE) as the preferred supplier to supply and install some of the most powerful and productive wind turbines in the world for its East Anglia Hub project. The two companies have agreed to work together on the next Contracts for Difference auction, scheduled for the end of the year, with the intention of reaching agreements for the supply and installation of turbines by then.
The selection of a preferred supplier at this time will enable Iberdrola and SGRE to join forces both in the project plan and in the design of a new-generation turbine, with 14 MW of unit power, with the aim of achieving greater efficiency and maximising opportunities for the supply chain.
Iberdrola has also agreed with Navantia-Windar to manufacture 45 monopiles for the East Anglia 3 offshore wind farm. This new contract will employ 450 people and is part of the agreement signed with the companies for the installation of the new offshore wind farms. All the manufacturing will take place at the shipyard in Fene (A Coruña).
The potential supply and installation of 200 turbines for the East Anglia Hub by SGRE would make it possible to replicate and maximise the achievements of the joint work carried out on the East Anglia ONE wind farm from the point of view of job creation and support of the UK supply company chain.
The Hub projects would create a pipeline of continued economic investment that will support jobs and opportunities across the East of England. SPR will continue to work closely with local authorities, groups and local colleges to maximise the potential positive outcomes for local people, building on the success of East Anglia ONE.
This development will see Iberdrola become one of the major offshore wind operators in the United Kingdom, where East Anglia ONE already operates, with a capacity of 714 MW.
 
Iberdrola, world leader in renewable energies
At Iberdrola, we decided to commit to renewable energies more than two decades ago as a fundamental pillar on which to build our safe, clean and competitive business model. Thanks to this vision, we are today world leaders in renewable energies, reaching 41,300 MW of renewables in operation by the end of the third quarter of 2023.
This commitment is reflected in our record investment plan of €47 billion in the period 2023-2025, of which we will allocate 17,000 million euros to the renewables business. With these investments, we will increase our installed renewable capacity by 12,100 MW to 52,000 MW by 2025 —6,300 MW of photovoltaic, 3,100 MW of onshore wind, 1,800 MW of offshore, 700 MW of batteries and 200 MW of hydro.