Puertollano green hydrogen plant
Iberdrola commissions the largest green hydrogen plant for industrial use in Europe
Green hydrogen Energy transition Operating plants
Iberdrola has commissioned the largest plant producing green hydrogen for industrial use in Europe. The Puertollano (Spain) plant consists of a 100 MW photovoltaic solar plant, a lithium-ion battery system with a storage capacity of 20 MWh and one of the largest electrolytic hydrogen production systems in the world (20 MW). All from 100 % renewable sources.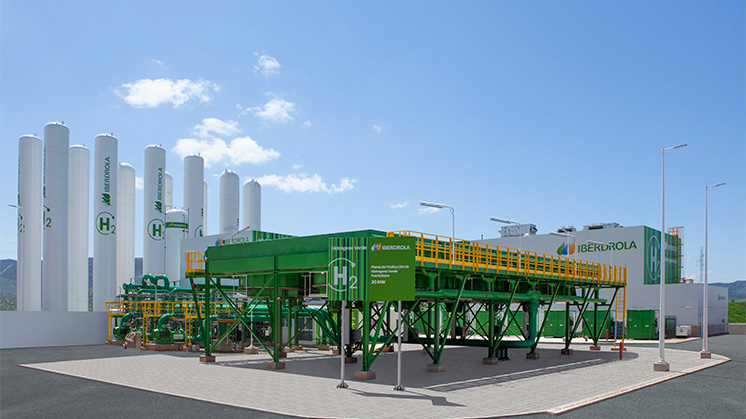 Operating plant
Puertollano Green Hydrogen Plant
Location
Puertollano (Spain)
Total installed capacity
105 MW
Investment
150 million euros
With an investment of 150 million euros, the initiative will create up to 1,000 jobs and prevent emissions of 48,000 tCO2/year. The green hydrogen produced there will be used Fertiberia's local ammonia plant.
This is already one of the most efficient plants in the European Union with a production capacity of more than 200,000 t/year. Fertiberia will update and modify the plant to be able to use the green hydrogen produced to manufacture green fertilisers. Thanks to this technology, it will be able to reduce natural gas requirements at the plant by over 10 % and will be the first European company in the sector to develop expertise in large-scale green ammonia generation.
Thanks to the work carried out for the development of the plant, we have received the prize for the best Hydrogen Project of the year, awarded by AAE Spain Chapter, during the 4th International Congress of Energy Engineering iENER23, held in Valencia.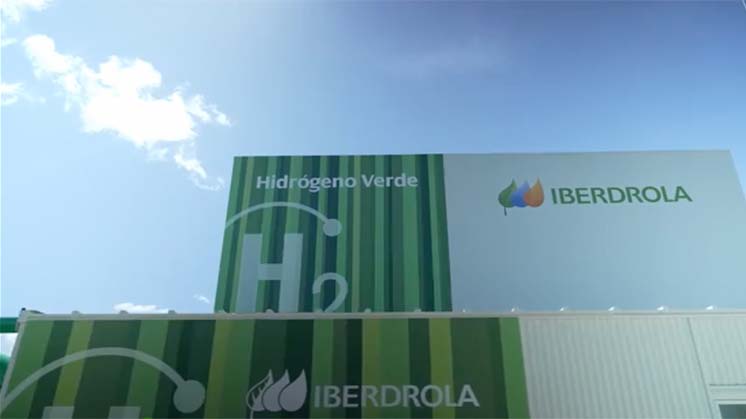 Puertollano green hydrogen plant inauguration
Green hydrogen plant for industrial use
Europe's most ambitious innovation project to promote decarbonization of industrial sectors
100% renewable hydrogen for emission-free ammonia and fertilizer production
Investment

150 M€

Local jobs

1,000

CO2 avoided emissions (1)

48,000

tCO2/year
Distribution network
Emission-free fertilizers
Ammonia
Substation

30 kV
Electrolyser
Distribution network
Green hydrogen production

3,000 tH2/year
H2 tanks
Battery

5 MW
Puertollano II photovoltaic plant

100 MW
Underground power line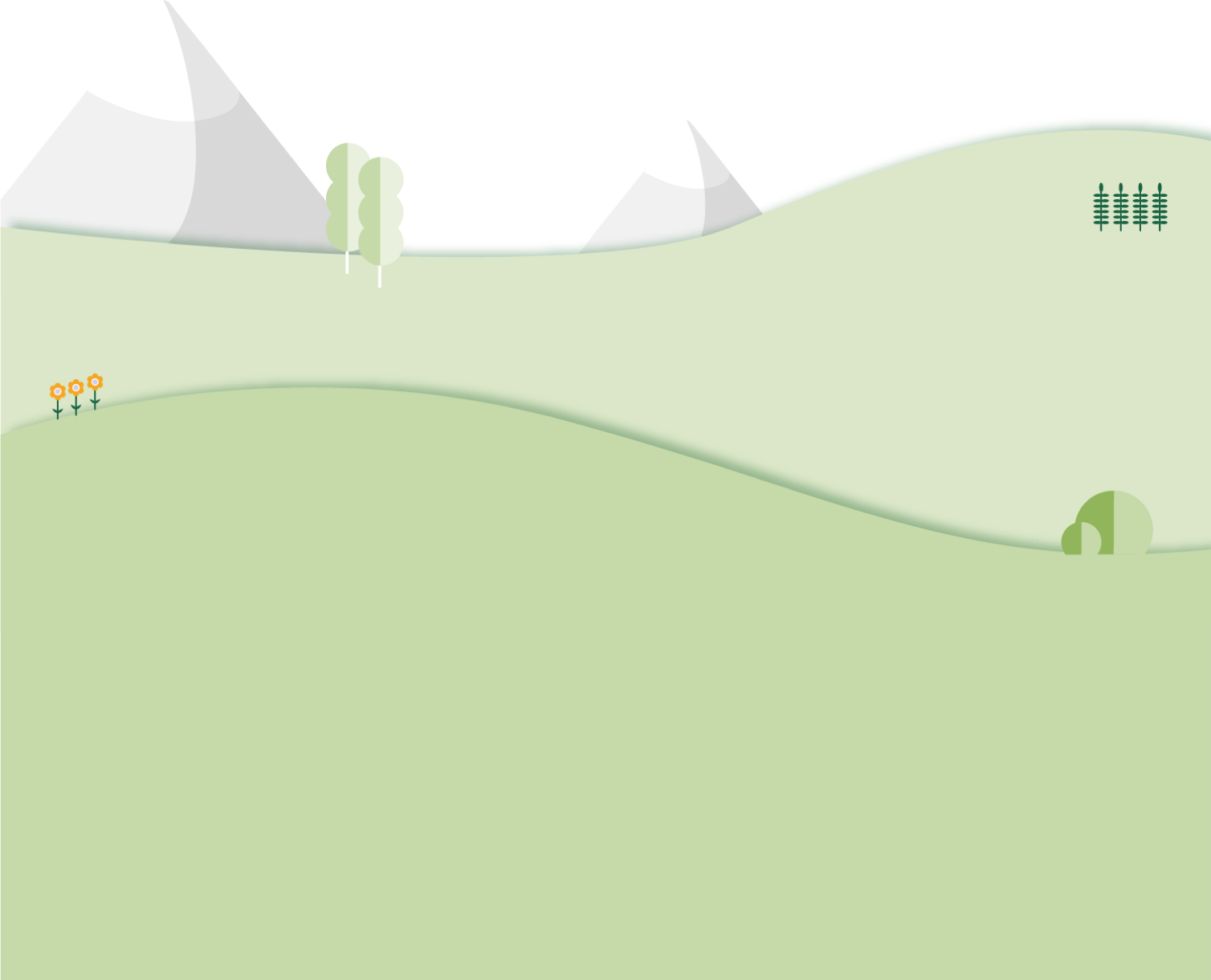 Close
Distribution network
The surplus energy generated in the photovoltaic plant is fed into the distribution network for commercialization.
Close
Green hydrogen production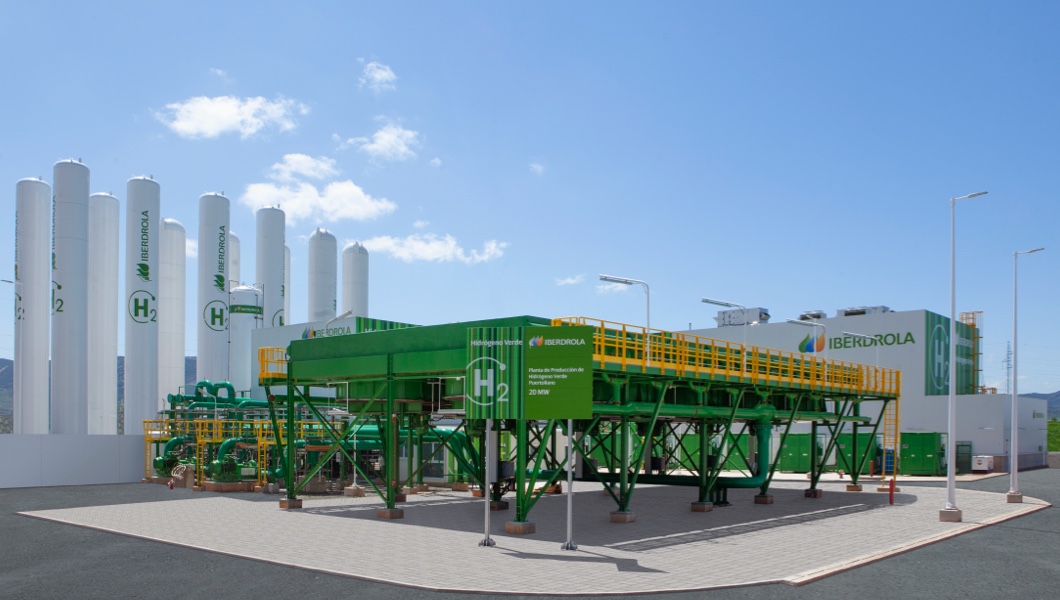 Green hydrogen is produced by electrolysis cells powered by both the energy generated by the photovoltaic plant and the battery energy storage system, in a process with no associated CO2 emissions and allowing the electrification of industrial sectors.
The production process is carried out with a polymer electrolysis system with a 20 MW power supply and a capacity to generate 360 kg/hour of hydrogen.
Close
H2 tanks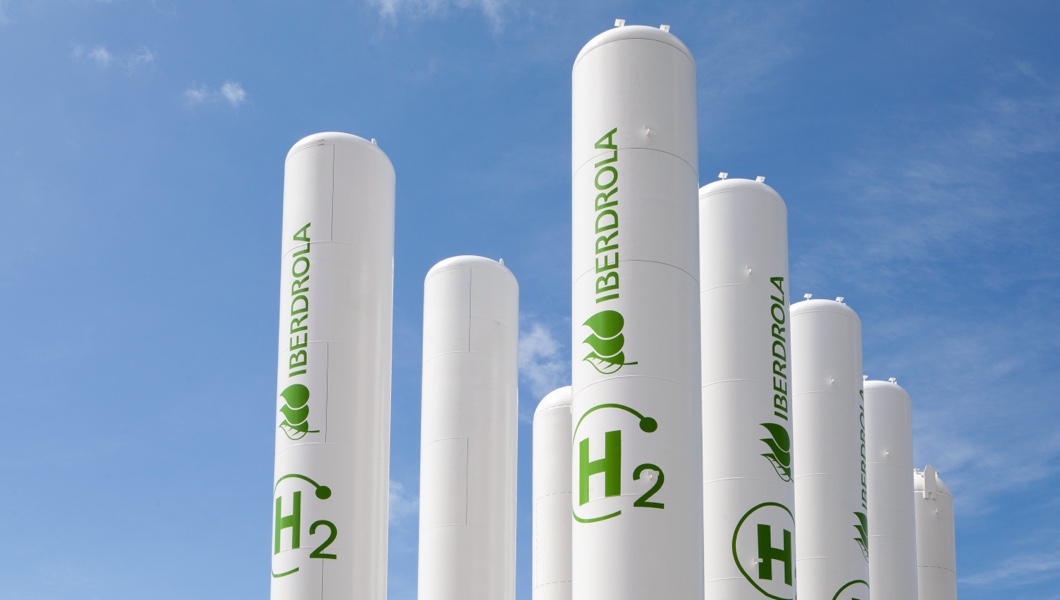 The storage of green hydrogen is essential to guarantee the stability of supply required by the Fertiberia plant and to make efficient use of renewable energy production. A total of 11 tanks that allow the storage of 6,000 kg of green H2 at 60 bars.
Each tank has a volume of 133 m3 and dimensions of 23.5 m height and 2.8 m in diameter. They weigh 77 tonnes empty and are made of a special steel with a sheet thickness of 4.5 cm to contain hydrogen, given the small size of this particle.
Close
Battery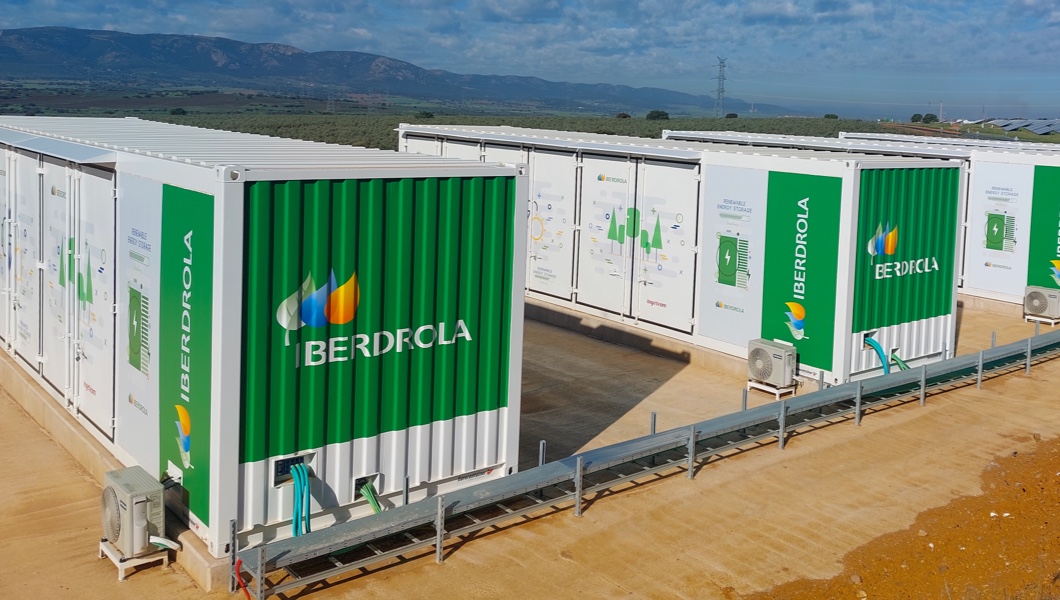 The project includes a 5MW lithium-ion battery system, with a storage capacity of 20MWh, which allows for greater plant manageability and optimisation of control strategies.
Close
Puertollano II photovoltaic plant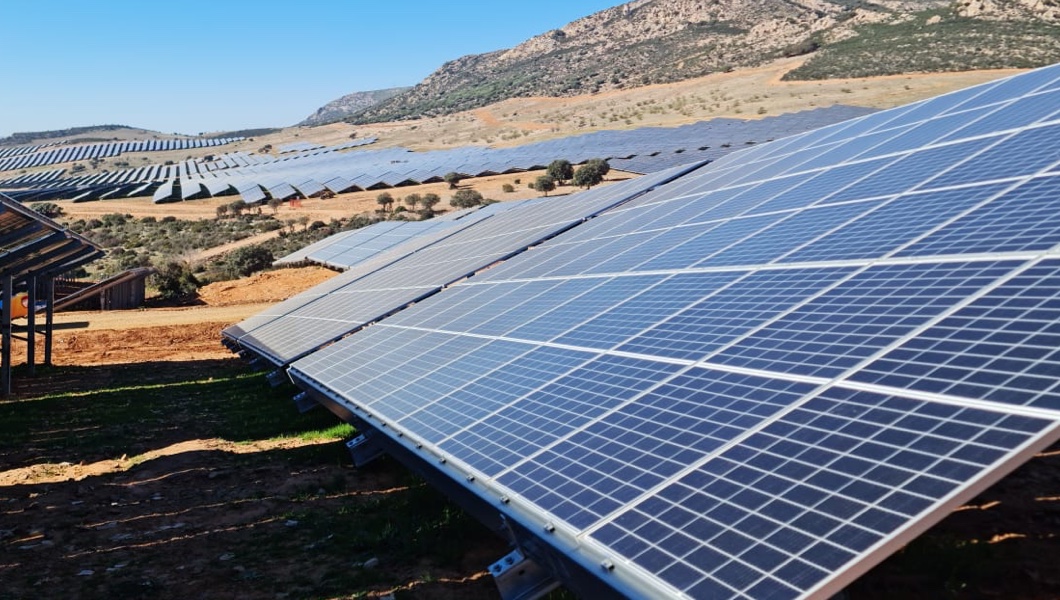 The new facility for the production of green H2 from 100% renewable sources consists of a solar photovoltaic plant with an installed capacity of 100 MW.
The installation incorporates state-of-the-art technologies, such as bifacial panels, which allow for higher production by having two light-sensitive surfaces, and string inverters, which improve performance and make better use of the surface area.
Close
Underground power line
Dedicated underground power line for exclusive use to ensure that all energy used in the electrolyser is renewable and environmental impact is minimised.
The new plant, operational since 2022, was built in the municipality of Puertollano, a privileged location, with an important industrial hub and where the National Hydrogen Centre is located, which it has advised during its construction on. It also contributes to advancing the technological maturity of green hydrogen and make it a solution for efficient decarbonisation in the medium term.
Iberdrola selected the European company Nel Hydrogen Electrolyser — a division of Nel ASA — as its preferred supplier for the construction of the hydrogen production system by electrolysis, which will be based on its Proton PEM® solution. For its part, the Basque company Elecnor carried out the electrical assembly of the Puertollano plant and supplied equipment such as electrical panels and cabinets, support, conduits and luminaries, while Construcciones Electromecánicas Consonni will manufacture medium-voltage equipment at its Bilbao plant.
Learn how green hydrogen is extracted.
Iberdrola, a pioneer in renewable energies, is committed to green hydrogen.
A 100 MW solar plant with the latest innovations
The solar plant (100 MW) has already obtained a positive Environmental Impact Statement (EIS) and will have several innovations:
The installation has

bifacial panels,

never used before in company projects, which enable greater production since they have two light-sensitive surfaces and provide a longer useful life.
The plant has been designed with

cluster inverters

or

string

inverters, which improve the yield and allow better use of the surface area.
The plant is equipped with a

storage system,

which will facilitate plant management. The battery system (with 5 MW of power) has a storage capacity of 20 MWh.
Iberdrola and Fertiberia plan 830 MW of green hydrogen
The alliance between Iberdrola and Fertiberia aims to place Spain at the forefront of green hydrogen in Europe and make it a technological benchmark in the production and use of this resource, especially in the field of electrolysis. To this end, both companies have launched a comprehensive project that includes the development of 830 MW of green hydrogen with an investment of 1.8 billion euros until 2027.
The innovation initiative, which will start with the commissioning of the Puertollano complex, could be completed with a plan to multiply the capacity of this first plant by 40 with the development of three other projects between 2023 and 2027, which would be carried out at the Fertiberia plant in this municipality of Ciudad Real and at the Palos de la Frontera plant in Huelva.
The plan would achieve 830 MW of electrolysis, equivalent to 20 % of the national target of 4 GW installed by 2030, and would ensure that around 25 % of the hydrogen currently consumed in Spain would not generate CO2 emissions. The annual production of hydrogen, which is used as a raw material in the refining, chemical and fertiliser industries, is 0.5 Mt H2/year and this generates emissions of 5 Mt CO2/year. Worldwide this figure grows to 830 Mt of CO2/year (more than 2 % of global emissions).
In addition, the initiative, which represents an investment or 1.8 billion euros, would contribute to the development of the entire value chain, creating almost 4,000 skilled jobs (2,000 of them already in 2023) through 500 local suppliers.
The project, which is the result of private and public collaboration, is created with the same ambition that the government has shown in its Green Hydrogen Roadmap and would require support from the European Recovery Fund for the implementation of the last three stages. The European Union has launched a strategy to boost green hydrogen: it aims to have 40 GW of green hydrogen electrolysers in just 10 years.
World leaders in green hydrogen.
First major European green hydrogen project in Puertollano.
3D animation of the operation of the industrial green hydrogen plant.
We develop a chain of suppliers to manufacture electrolysers
Iberdrola has also entered into an agreement with Norwegian company Nel to develop electrolysers on a major scale and promote the value chain of this technology in Spain. Nel is world's leading electrolyser manufacturer and offers optimal solutions for producing, storing and distributing hydrogen from renewable energy.
Iberdrola, a pioneer in green hydrogen
As part of our commitment to driving the energy transition, Iberdrola is leading the development of green hydrogen with more than 60 projects in eight countries (Spain, United Kingdom, Brazil, United States, among others) to respond to the decarbonisation needs of sectors such as industry and heavy transport.
Therefore, within our record investment plan of €47 billion over the period 2023-2025, we are committed to allocate 3 billion euros to some green products and customer services, including green hydrogen with a project pipeline to 2025. We also have a specific business unit within the company to position ourselves as a world leader in this technology.