News Back
03/11/2020
Iberdrola advances Europe's largest green hydrogen project with electrolyser award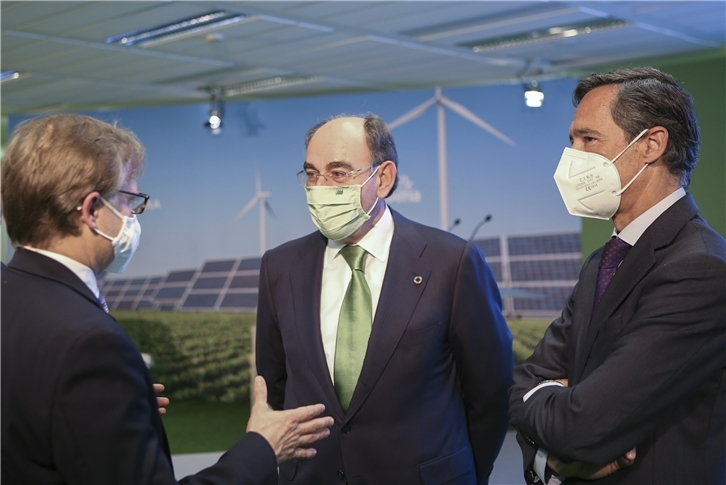 It selects Nel Hydrogen Electrolyser as the preferred supplier for the construction of a 20 MW hydrogen production system through electrolysis. The utility seeks to promote a supplier chain in Spain to develop electrolyser technology
In 2021, Europe's largest industrial green hydrogen complex will start operating in Puertollano (Spain), following an investment of €150 millón
Iberdrola is making progress on Europe's largest green hydrogen complex for industrial use, located in Puertollano (Spain) with the selection of European company Nel Hydrogen Electrolyser - a division of Nel ASA - as its preferred supplier for the construction of the project's key component, a hydrogen production system using electrolysis. Nel's Proton PEM® solution, deployed all across the world for several decades, will now be used a as part of a commercial green hydrogen project, with 20 MW of installed capacity.
The electricity utility is also working on leading the creation of a supply chain in Spain to develop electrolyser technology.
The €150 million green hydrogen project in Puertollano (Ciudad Real), the result of an alliance between Iberdrola and Fertiberia, will be operational in 2021. The complex will comprise a 100-MW solar photovoltaic plant, a lithium-ion battery system with a storage capacity of 20 MWh and a system for producing hydrogen by electrolysis (20 MW). Its construction will create 700 jobs and, once operational, will prevent the emission of 48,000 tCO2/year[1].
The green hydrogen produced will be used in the Fertiberia ammonia factory in the same town. The plant is already one of the most efficient in the European Union, with a production capacity of over 200,000 t/year. Fertiberia will adapt its plant to the use of green hydrogen for manufacturing green fertilizers, reducing the needs of natural gas in the plant It will be the first European company in the sector to develop a large-scale experience in the generation of green ammonia.
The plant is being built in a strategic location, an important industrial hub which includes the National Center of Hydrogen that advised both companies during the process.
Iberdrola and Fertiberia have recently presented an innovative proposal which includes the development of 800 MW of green hydrogen at the Fertiberia plants in Puertollano (Ciudad Real) and Palos de la Frontera (Huelva) by 2027. The initiative represents an investment of €1.8 billion over the next seven years and could make Spain an industrial leader in green hydrogen and the first country with 100% production of ammonia for completely green fertilizers.
The project is the result of a private-public partnership, created with the same ambition that the Spanish Government has shown in its Green Hydrogen Roadmap and would require European Recovery Fund support for the implementation of the last three phases.






[1] Including the reduction of emissions in the processes at the Fertiberia industrial plant