Kitty Hawk offshore wind farm
Kitty Hawk: 3,500 MW of clean energy thanks to offshore winds
Iberdrola projects Offshore wind United States Avangrid
Iberdrola, through Avangrid Renewables, is participating in the development of an offshore wind farm close to the Outer Banks, off the Virginia and North Carolina coasts (USA). The wind farm will have a total estimated capacity of 3,500 MW and will provide 700,000 households with clean energy.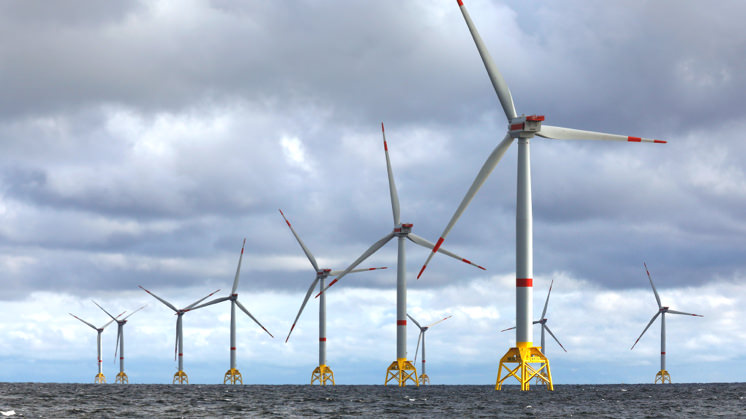 Ongoing project
Kitty Hawk offshore wind farm
Location
27 km from the Outer Banks (USA)
Forecasted total installed capacity
3,500 MW
Economic impact
2 billion dollars
Start of construction work
2024
Avangrid Renewables, a subsidiary of AVANGRID*, develops a large offshore wind project, covering nearly 50,000 hectares, off the coasts of Virginia and North Carolina (USA). The large Kitty Hawk Offshore Wind

External link, opens in new window. area will have a total capacity of 3,500 MW and will generate enough electricity to power 700,000 homes, approximately four times the number of homes in Virginia Beach.
The US Bureau of Ocean Energy Administration (BOEM) has issued a Notice of Intent (NOI) to prepare an Environmental Impact Study (EIS) for Kitty Hawk North

External link, opens in new window., the first of the projects within the company's offshore wind lease area.
This first phase will have an installed capacity of approximately 800 megawatts (MW) and will occupy an area of over 20,000 hectares. Its construction will begin in 2024.
The conclusions of an economic impact study (EIS) carried out by the Public Strategy Group predicts that the construction of the farm will yield significant economic benefits and create new jobs between 2021 and 2030.
During the construction of the first phase, some 800 jobs will be created in Virginia and North Carolina, and the project should have an economic impact of 2 billion dollars from 2021 to 2030.
A field office

External link, opens in new window. has already been opened to support the project development and help ignite a new industry off the coast of Virginia and North Carolina. It will also welcome members of the growing team.
* AVANGRID, Inc. is 81.50 % owned by Iberdrola S. A.
Iberdrola, world leader in renewable energies
At Iberdrola, we decided to commit to renewable energies more than two decades ago as a fundamental pillar on which to build our safe, clean and competitive business model. Thanks to this vision, we are today world leaders in renewable energies, reaching 41,246 MW of renewables in operation by the end of the first half of 2023.
This commitment is reflected in our record investment plan of €47 billion in the period 2023-2025, of which we will allocate 17,000 million euros to the renewables business. With these investments, we will increase our installed renewable capacity by 12,100 MW to 52,000 MW by 2025 —6,300 MW of photovoltaic, 3,100 MW of onshore wind, 1,800 MW of offshore, 700 MW of batteries and 200 MW of hydro.