Iberdrola Innovation and Training Campus
A global centre for knowledge, innovation and employability
With about 13,000 people receiving development training in its classrooms every year, the Iberdrola Campus for Innovation and Training embodies the group's commitment to technology, R&D and collaboration with technology centres as levers for leading the energy transition, the green recovery of the economy and employment, improving the employability of young people and senior professionals in sectors with a future.
The King and Queen of Spain, accompanied by Ignacio Galán, officially open the Iberdrola Campus.
Iberdrola Innovation and Training Campus, the backbone of the knowledge of the entire company.
Talent, diversity, inclusion and training are the pillars that make Iberdrola People a true green force.
Visit the facilities of the new Iberdrola Campus.
Ignacio Galán, Iberdrola group chairman
This Campus is based on our conviction that the future will belong not to those who guess how it will be, but to those who create it
The innovation Campus, a multidisciplinary space
Iberdrola's Campus is made up of all kinds of spaces that allow for the training development of new employees as well as the advancement of various research project.
Our facilities Infographic [PDF]
Iberdrola Innovation and Training Campus
The main hall can seat 340 people and has been specially designed for amplified voice activities such as conferences or audiovisual presentations. The side glazed facade is one of the most outstanding elements in its design, in which the intensity of light can be adjusted with rotating panels, either fully closing the facade or showing the natural environment surrounding the hall.
Learn more about our main hall [PDF]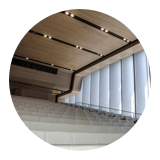 15 lecture halls (386 seats)
The Campus has nine multi-purpose lecture halls of different sizes, with a total capacity for 174 people. They can seat from 12 to 46 people and can be used for different activities. In addition, there are six lecture halls with a 24 to 68 seat capacity. The total capacity of these six lecture halls is 212 seats.
Learn more about our lecture halls [PDF]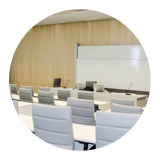 12 meeting rooms (96 seats)
The Campus has 12 meeting rooms with an eight-seat capacity each, for a total capacity of 96 people.
Learn more about our meeting rooms [PDF]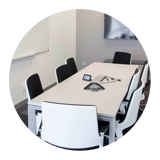 Hotel - Hall of residence (106 rooms)
The Campus' Hotel - Hall of Residence has 106 rooms (four of them adapted for the disabled and distributed between the first and second floors), and offers the services and style of a 4-star hotel.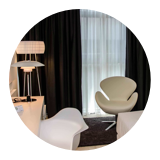 Dining hall / Cafeteria (260 seats)
The Campus has a very large main dining hall with a capacity for 200 people and another 60 seats in the cafeteria. Three of its four facades are glazed and open to the outside, creating an open and flexible space with plenty of light, which can be adapted to different uses. In addition, the terrace can be used, since it is connected to the plaza.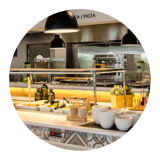 Innovation and Training Campus
Carretera A-1 Km. 33,5
28750 San Agustín del Guadalix
Madrid
Arriving by car (car park with 260 parking spaces) [PDF]

Arriving by public transport [PDF]

Arriving from the airport [PDF]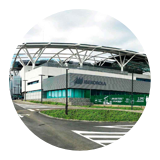 Make a reservation for these spaces and services at:
Our spaces and available services [PDF]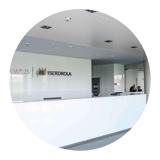 A Campus designed with energy efficiency in mind
Iberdrola Campus for Innovation and Training, a 180,000 m2 complex with all the latest facilities in San Agustín del Guadalix (Madrid), comprises a collection of functional, sustainable and independent buildings, which are interconnected with a top roof structure that "flies" over the buildings. Such a roofing structure or canopy generates a bio-climate inside, reducing the cold and hot water production for cooling and heating the buildings, as it minimises the thermal load generated on the façades. In addition, it results in a significant reduction in the atmospheric emissions of CO2.
The Campus also implements specific measures to reduce the use of water. A system has been established to collect rainwater, which will be used for watering and hosing the complex, as well as a system that collects and treats the grey water from the hall of residence for its sanitary use. It also features a 100-kW photovoltaic panel installation for self-generation and a solar thermal system for domestic hot water covering a surface area of 400 m2, as well as 60 charging points for electric vehicles.
Additional sustainability and energy efficiency measures have been implemented in these buildings, such as the meticulous choice of plant species, high-efficiency lighting systems that can reduce consumption by 20 % and bathroom fittings that cut potable water consumption by around 50 % compared with conventional equipment.
These sustainability innovations have earned the Campus the LEED Gold 2009 [PDF] External link, opens in new window. certification, which is awarded by the U. S. Green Building Council. Leadership in Energy and Environmental Design (LEED) is the most widely used green building rating system in the world and recognises the most healthy, highly efficient and cost-saving green structures.
Campus training
In addition to the advanced architecture, the Campus facilities include classrooms and workshops to contribute to the professional development of young people in the electricity sector. One of the initiatives carried out at the complex is the Plan Jóvenes - Profesionales del Futuro en el Sector Eléctrico [PDF]*, aimed at students and graduates of vocational training in Spain.