Ciudad Rodrigo photovoltaic plant
We are developing a new large-capacity photovoltaic plant in Ciudad Rodrigo, Salamanca
Iberdrola projects Photovoltaic energy
Iberdrola confirms the development of its photovoltaic plant in Ciudad Rodrigo (Salamanca), which will have an installed capacity of 318 MW. With an investment of close to €200 million, the project will involver industrial suppliers in the area will create up to 250 jobs during peak periods.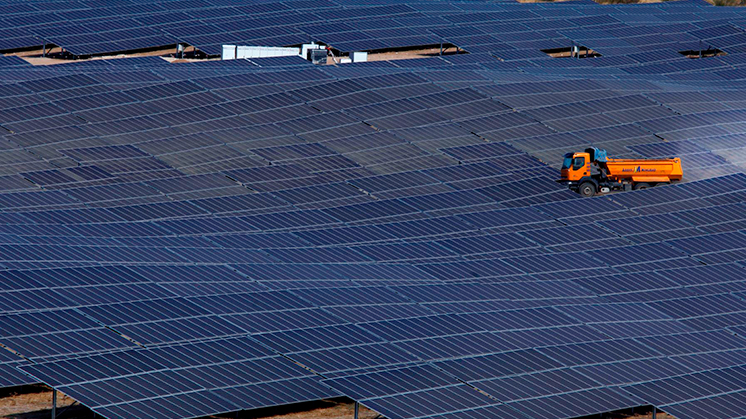 Ongoing project
Ciudad Rodrigo photovoltanic plant
Location
Ciudad Rodrigo (Spain)
Total installed capacity
318 MW
Investment
200 millon euros
Start of construction work
2023
The Iberdrola group is spearheading large-capacity renewable project development in Castilla y León, particularly in the province of Salamanca. In addition to its project in Villarino, it is building a 318 megawatts (MW) photovoltaic plant in Ciudad Rodrigo, which has already had its Environmental Impact Statement approved.
The facility in Ciudad Rodrigo entails an investment of almost 200 million euros and will consist of 826,200 solar panels installed on a 439-hectare site between Valdecarros and the Torralba mountains, just 5 kilometres from the city centre. Once up and running, the photovoltaic power plant will produce clean energy to supply 150,000 homes.
The installation of this plant will also include building infrastructure such as transformer centres, 800 V to 30,000 V elevators, an underground evacuation network, an earth network and communications. Around 250 people will be involved in this work during peak periods, many of whom will be local suppliers.
The Iberdrola group has also sponsored the solar system project "Astróbriga" in Ciudad Rodrigo, which is a three-dimensional reproduction of the solar system on a scale of 1/290,000,000. It is a tool for carrying out activities aimed at promoting the region as a tourist destination and developing educational and scientific dissemination activities in the area.
The construction will involve 250 workers and will also include local suppliers. It is expected that during the peak of construction there will be around 800 suppliers from the area involved in the construction of the plant.
Iberdrola, world leader in renewable energies
At Iberdrola, we decided to commit to renewable energies more than two decades ago as a fundamental pillar on which to build our safe, clean and competitive business model. Thanks to this vision, we are today world leaders in renewable energies, reaching 41,246 MW of renewables in operation by the end of the first half of 2023.
This commitment is reflected in our record investment plan of €47 billion in the period 2023-2025, of which we will allocate 17,000 million euros to the renewables business. With these investments, we will increase our installed renewable capacity by 12,100 MW to 52,000 MW by 2025 —6,300 MW of photovoltaic, 3,100 MW of onshore wind, 1,800 MW of offshore, 700 MW of batteries and 200 MW of hydro.