EVOLUTION OF WIND POWER IN EUROPE
Wind, the best commitment to our future
Denmark covered 95.8% of its demand for electricity on 22 February 2017 with wind power. A month later, on 21 March, Germany reached a 53% rate of coverage.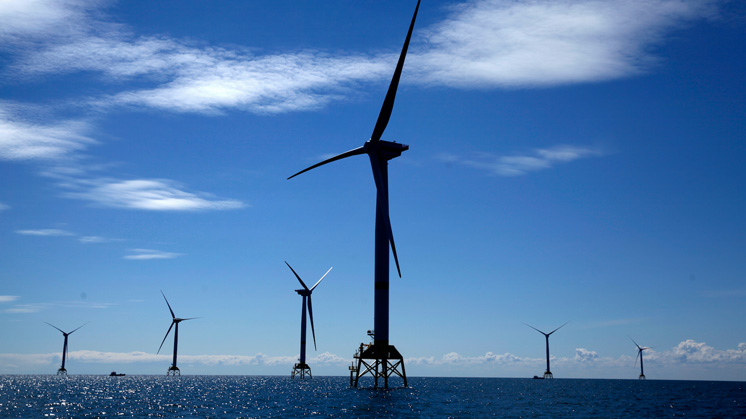 Wikinger Offshore Wind Farm.
The month with the highest wind energy production in Spain was March 2018: wind turbines produced 7,650 GWh, according to data from Red Eléctrica de España. The wind produced 27,779 GW of electric energy during the first half-year, which represents 22.6% of the mix of peninsular energy and makes wind energy the leading electricity generation source in the country. Compared to the same period in 2017, wind production has increased by 10.4%.
EVOLUTION OF WIND ENERGY
This news, which is becoming ever more frequent in the media, gives a true reflection of the advance of wind energy. In just a decade, wind energy has advanced five positions in the European energy mix, becoming the second source of energy generation, only behind gas plants in 2016.
Since then, it has remained in second position, achieving 18% of the continent's energy share in 2017, according to data from the European Wind Energy Association (WindEurope). During that year, wind generated 336 TWh, which was sufficient to meet 11.6% of the European Union's (EU) electricity demand and enough to close on first place.
EVOLUTION OF WIND ENERGY
EVOLUTION OF WIND ENERGY
(Europe)
2017
2nd position (18% of energy share)
2016
2nd position after beating carbon
2015
3rd position after beating hydraulic energy
2013
4th position after beating nuclear energy
2007
5th position after beating fuel oil
WIND FARMS IN EUROPE
In 2017, installed capacity grew by 15.6 GW, 25% more than in 2016. A new record was obtained, both in onshore wind energy (12,484 MW) and in offshore (3,154 MW). In the latter, the increase was 101% higher than in 2016. Total installed capacity is already 169 GW, 153 GW from onshore wind farms and 16 GW from offshore wind farms.
Visor Estáticos is temporarily unavailable.
In addition, the average power of wind turbines has increased by 20% from 2013 to 2016:
AVERAGE WIND POWER
AVERAGE WIND POWER
3.7 MW
2013
4 MW
2014
4.2 MW
2015
4.8 MW
2016
2013
2016
In this field technology is also seeking new records: on January 26, 2017 a new windmill was tested in Denmark with 8 MW of power, which can be increased to 9 depending on the prevailing winds in the location. The wind turbine was able to produce 216,000 KWh in a single day, enough to meet the energy demands of 22,000 households for one year.
OUTLOOK 2018-2022
Wind energy will be key over the next five years and will allow European countries to advance with regards the decarbonisation process of the economy and continue with energy transition. The report Wind energy in Europe: outlook to 2022 prepared by WindEurope, forecasts that E.U. member states will meet the targets set for 2020 with respect to renewable energy and that, by 2030, they will already have National Energy and Climate Plans.
According to the study, the installed capacity will grow an average by 17.4 GW per year between 2018 and 2022, thanks to the development of wind farm projects both onshore and offshore. Thus, it is expected that, at the end of this period, wind generation will have increased by 87 GW, to reach the total figure of 258 GW of installed capacity on the whole continent.
Germany, Spain and the United Kingdom will continue being the countries with the largest fleet of wind turbines in Europe. Growth will slow in Germany and will accelerate in Spain and Sweden.
Likewise, wind turbines will become more and more powerful. By 2022, onshore turbines are expected to exceed 4 MW, while offshore wind farms could be above 8 MW in power.
A PROMISING FUTURE
In addition to the WindEurope report mentioned above, there are other studies that reinforce the idea that wind energy will play a key role in the necessary energy transition to meet the challenges of climate change and produce clean energy.
For example, the Massachusetts Institute of Technology, considered one of the best incubators of ideas in the world, in collaboration with other institutions, has developed a study

External link, opens in new window. that points out what the keys factors will be in the electricity of the future: decarbonisation, combating climate change, new technologies, digitisation, and the advancement of renewable energy are just a few of them. Also confirmed by Stanford University: a world driven 100% by renewable energy, mainly wind and solar, will be possible by 2050.
 
Wikinger offshore wind farm

East Anglia ONE offshore wind farm
Saint-Brieuc offshore wind farm
Baltic Eagle offshore wind farm