Evolution of wind power in Europe
Wind, the best commitment to our future
Denmark covered 99% of its demand for electricity on 6 March 2021 with wind power. A few days later, on 14 March, Germany reached a 72% rate of coverage.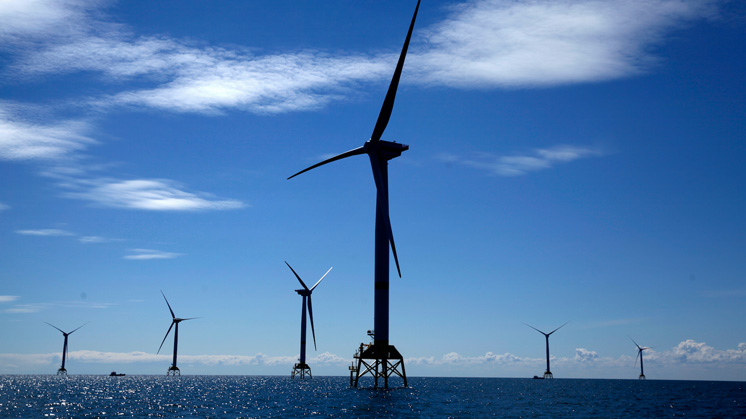 Wikinger Offshore Wind Farm.
Wind power production was the main source of electricity generation in Spain in 2021: wind turbines generated 60,600 GWh, according to data estimated by Red Eléctrica de España. Wind power in 2021 accounted 23.3% of the peninsular energy mix, making wind energy the leading electricity generation source in the country for the first time since 2013. Compared to last year, wind production has increased by 10.5%.
Evolution of wind energy
This news, which is becoming ever more frequent in the media, gives a true reflection of the advance of wind energy. In just a decade, wind power increased its annual production in Europe by 34.8%, reaching its maximum installed capacity in 2021, with a total of 17.4 GW of new installations.
The countries that most increased their wind power were, in this order, the United Kingdom, Sweden, Germany, Turkey and the Netherlands, according to data from the European Wind Energy Association (WindEurope). During that year, wind generated 437 TWh, enough to cover 15% of the European Union's (EU) electricity demand, of which 12.2% came from offshore wind and 2.8% from onshore wind.
Wind farms in Europe
In 2021, total installed capacity reached 235 GW, 7.7% more than in 2020. A total of 207 GW from onshore wind farms and 28 GW from offshore wind farms was achieved. With 64 GW, Germany continues to lead the way in wind power generation in Europe, followed by Spain (28 GW), the United Kingdom (27 GW), France (19 GW) and Sweden (12 GW).
In addition, Denmark and Ireland have remained the countries with the highest percentage of wind energy in their energy mix, reaching 44% and 31%, respectively, of their annual energy production.
In this field technology also set a new record: on 6 March 2021, Denmark covered almost 100% of its entire electricity demand with wind energy. The Nordic country's wind turbines generated 98 GWh that day, 99% of energy consumption. In 2017, a 9 MW wind turbine was tested, capable of producing 216,000 KWh in a single day, enough to cover the energy demand of 22,000 households for a year.
Outlook 2022-2026
Wind energy will be key over the next five years and will allow European countries to advance with regards the decarbonisation process of the economy and continue with energy transition. The report Wind energy in Europe: outlook to 2022-26 prepared by WindEurope, forecasts that E.U. member states need to meet the target of installing 32 GW of wind power each year in order to reach the target of 40% of their production coming from renewable energy by 2030.
According to the study, the installed capacity will grow an average by 17.6 GW per year between 2022 and 2026, thanks to the development of wind farm projects both onshore and offshore. Thus, it is expected that, at the end of this period, wind generation will have increased by 89 GW, to reach the total figure of 341 GW of installed capacity on the whole continent.
Germany, Spain and the United Kingdom will continue being the countries with the largest fleet of wind turbines in Europe. Growth will slow in Germany and will accelerate in Spain and Sweden.
Likewise, wind turbines will become more and more powerful. By 2022, onshore turbines are expected to exceed 4 MW, while offshore wind farms could be above 8 MW in power.
A promising future
In addition to the WindEurope report mentioned above, there are other studies that reinforce the idea that wind energy will play a key role in the necessary energy transition to meet the challenges of climate change and produce clean energy.
For example, the Massachusetts Institute of Technology, considered one of the best incubators of ideas in the world, in collaboration with other institutions, has developed a study

External link, opens in new window. that points out what the keys factors will be in the electricity of the future: decarbonisation, combating climate change, new technologies, digitisation, and the advancement of renewable energy are just a few of them. Also confirmed by Stanford University: a world driven 100% by renewable energy, mainly wind and solar, will be possible by 2050.
 
Wikinger offshore wind farm

East Anglia ONE offshore wind farm
Saint-Brieuc offshore wind farm
Baltic Eagle offshore wind farm