Working to minimise impacts on maritime areas
Climate action Nature Water SDG
At Iberdrola, we are committed to achieving zero net loss of biodiversity by 2030. For this reason, our offshore wind power business has an Environmental Management System in all projects that includes specific procedures for managing risks to the marine environment.
SDG 14: Life below water: what is it and why is it so important?
SDG 14 seeks to conserve and use the oceans, seas and marine resources in a sustainable manner. It therefore seeks to prevent and reduce marine pollution of all kinds, to minimise and address the effects of ocean acidification and to regulate fisheries, among other objectives.
Precipitation, drinking water, some food and oxygen in the air ultimately come from the sea. The oceans provide critical natural resources such as medicines and biofuels, regulate the climate and contribute to the removal of waste and pollution, and their coastal ecosystems are good buffers against storm damage.
Healthy seas and oceans will provide vital aid in adapting to climate change and mitigating its harmful effects. But not only that: marine conservation areas are also drivers of poverty reduction because fishing increases and, as a result, people's income and health.
Despite the vital importance of the oceans, irresponsible exploitation over decades has led to an alarming level of degradation. A quarter of the annual CO2 emissions generated by humans are absorbed by it, and although helpful, this absorption causes seawater to become more acidic. Acidity endangers many marine species, including coral reefs; it shakes the marine food chain and has negative effects on marine ecosystems, fisheries, agriculture, coastal protection, transport or tourism. According to the 2023 SDG Progress Report

External link, opens in new window. , the average pH of the ocean is 8.1, about 30% more acidic than in pre-industrial times, and is changing rapidly.
Added to this is the abundant dumping of plastic, the most harmful marine debris. The United Nations (UN) estimates that more than 17 million metric tons pollute the ocean, a figure it expects to double or triple by 2040. The Ellen MacArthur Foundation

External link, opens in new window. estimates that by 2050 the oceans could contain more plastics than fish. In addition, coastal eutrophication is increasing, which - along with algal blooms - is caused by agriculture, aquaculture and sewage. These blooms cause oxygen depletion and damage marine life. All this, coupled with the warming of bodies of water, calls for rapid and coordinated action on a global scale.
The sustainable development of the oceans depends on caring for marine protected areas, which protect the most vulnerable species and ecosystems. A landmark agreement on the protection of marine biodiversity in international waters, the so-called High Seas Treaty, was reached in 2023, which will help provide vital protection. Moreover, countries have succeeded in reducing illegal fishing through a binding international agreement. However, more concrete action is needed to tackle unreported and unregulated fishing.
Reversing the loss of marine biodiversity and pollution requires urgent global action. This is why the United Nations (UN) made the protection of underwater life SDG 14 of its 17 Sustainable Development Goals, approved in September 2015 as part of the 2030 Agenda.
Iberdrola aligned with the Sustainable Development Goals
Keys to understanding the current threat to underwater life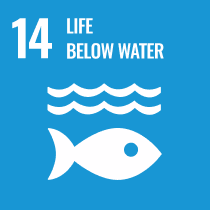 Sea level rise In the last 140 years, global sea levels have risen by 21 to 24 centimetres. In the next 2,000 years they will rise by 2 to 3 metres if global warming is limited to 1.5 degrees.
Marine heat waves By the year 2100, marine heat waves are projected to be up to 50 times more frequent and 10 times more intense than in pre-industrial times.
Loss of marine biodiversity Overfishing has led to the disappearance of more than a third of the world's fish stocks.
Countries that dump the most plastics into the ocean
Annual amount of plastic waste reaching the oceans, by country (in tonnes).
Philippines

356,371
India

126,513
Malaysia

73,098
China

70,707
Indonesia

56,333
Myanmar

40,000
Brazil

37,799
Vietnam

28,221
Bangladesh

24,640
Thailand

22,806
Rest of the world

176,012

Data from 2021.
Main causes
Overfishing, plastic waste, water acidification and climate change are some of the factors threatening biodiversity in the seas and oceans.
How can we end threats to underwater life?
Rapid and coordinated action on a global scale is imperative. This means increasing funding for ocean science, stepping up conservation efforts and advancing nature- and ecosystem-based solutions.
Source: UN (2023) and Science (2021)
SEE INFOGRAPHIC: Keys to understanding the current threat to underwater life [PDF]
Targets for SDG 14: Life below water
The specific targets set for 2030 are:
Sustainable management of

marine and coastal ecosystems.

Putting an end to the

loss of biological diversity and the degradation of natural habitats.

Addressing the effects of

ocean acidification

and regulating

fishing

.
Stopping

poaching and trafficking of protected species

and preventing the introduction of

toxic and invasive species.
Our contribution to SDG 14: Life below water
We support new technologies for wildlife protection through our international start-up programme PERSEO with challenges to protect marine biodiversity and minimise the impact of human activity.
Working to protect porpoises in the North Sea: during the construction of the East Anglia ONE offshore wind farm in UK North Sea waters, a specific Marine Mammal Mitigation Protocol (MMMP) was implemented to prevent or minimise the risk of injury or disturbance to marine mammals. A floating base was installed in this park that actively collects debris by pumping water through the device, in order to contribute to a better functioning marine environment.
Protecting marine biota in Mexico: measuring values of environmental indicators of marine biota (nekton, plankton) in the marine ecosystem adjacent to the Baja California combined cycle power plant.
We control the sea temperature: at the Wikinger offshore wind farm, the insulation of submarine cables has been carried out to prevent the temperature rise in the Baltic Sea.
We avoid water pollution: we optimise water management, avoid water abstraction in water-stressed areas and limit the volume of inland water abstraction and consumption in all technologies.
We share knowledge and best practice: the Offshore Wind Environment team shares knowledge and best practice on all offshore wind projects, as well as collaborating with internal and external stakeholders around the world.