SDG 6: Clean water and sanitation
We are one of the utilities with the best water productivity
Social action Water Health SDG
Iberdrola Group contributes directly to achieving Sustainable Development Goal (SDG) 6, clean water and sanitation, working towards rational and sustainable use of this essential resource and tackling the risks related to its scarcity. Thanks to these efforts, the company is currently one of the utilities with the best water productivity and, by 2030, it has committed to reducing the intensity of water use/production by 50 % compared to 2019.
SDG 6: Clean water and sanitation - what is it and why is it so important?
SDG 6 aims to ensure the availability and sustainable management of water and sanitation for all. Billions of people still lack access to safe water, sanitation and hygiene, and water scarcity is a growing problem exacerbated by conflict and climate change. In addition, water pollution is a considerable challenge that in many countries affects both people's health and the environment.
and the environment.
According to the latest Evolution Report published by the UN in 2023, 2.2 billion people remain without access to safe drinking water, including 703 million without a basic water service. In addition, 3.5 billion people lack sanitation, 1.5 billion of whom have no basic sanitation facilities. In terms of facilities, 2 billion people lack a basic handwashing facility with soap and water in their homes, including 653 million who have no facility at all for something as basic as handwashing. To achieve universal coverage by 2030, there is a need to triple or six times the current rates of progress.
According to the World Bank, sanitation is crucial for health, economic growth and the environment. Approximately 446,000 children under the age of 5 die from diarrhoeal diseases related to poor water, sanitation and hygiene services, a number that represents 9% of the 5.8 million deaths of children under the age of 5.
Another important piece of data related to SDG 6 is water stress —the ratio of freshwater withdrawn to total renewable freshwater resources. Globally, this remains at a safe level of 18.2%, but regional variations are very relevant. Central and South Asia experience high levels of water stress, exceeding 75%, and North Africa faces critical water stress exceeding 100%. An estimated 2.4 billion people live in water-stressed countries, of which almost 800 million are in high and critical water-stressed countries.
Reversing this reality has become an overarching goal at the international level. For this reason, ensuring the availability and sustainable management of water and sanitation for all is SDG 6 of the 17 UN Sustainable Development Goals, adopted in September 2015 as part of the 2030 Agenda.
Iberdrola aligned with the Sustainable Development Goals
Keys to understanding global water scarcity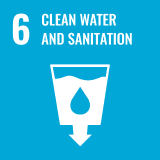 Access to drinking water 2.2 billion people lack access to safe drinking water.
Hygiene and sanitation services 3.5 billion people lack access to safely managed sanitation services, 2 billion of whom lack basic hygiene services.
Wetland losses

Wetland ecosystems have suffered an alarming 85% loss over the last three centuries, mainly due to drainage and land conversion.
Countries with the least access to water in the world
Eritrea

19 %
P. N. Guinea

37 %
Uganda

38 %
Ethiopia

39 %
R.D. Congo

39 %
Somalia

40 %
Angola

41 %
Chad

43 %
Nigeria

46 %
Mozambique

47 %
Main causes
Excessive water consumption as a result of overpopulation, industry and agriculture; pollution and degradation of water reserves; lack of basic infrastructure; and climate change.
How can we put an end to them?
We must raise awareness of the consequences of water scarcity; invest in smart conservation and storage technologies; reuse wastewater; allocate more funding to water projects; and reduce the corporate water footprint.
Sources: Water Aid, UN and World Bank.
SEE INFOGRAPHIC: Keys to understanding world water scarcity [PDF] External link, opens in new window.
Targets of SDG 6: Clean water and sanitation
The specific targets set for 2030 are:
Achieve

universal and equitable access

to safe drinking water at an

affordable price

for all.
Achieve

equitable access to adequate sanitation and hygiene services

for all and end open defecation.

Improve water quality

by reducing pollution and increasing safe recycling and reuse worldwide.
Increase

the efficient use of water resources

in all sectors and ensure the

sustainability of freshwater extraction

and

supply.

Expand

international cooperation

and support to developing countries.
Our contribution to SDG 6: Clean water and sanitation
We are ranked as one of the utilities with the best water productivity (sales/water used), according to the Global 100 ranking among a selection of leading utilities.
Our target is to reduce water use/production intensity by 50% by 2030 compared to 2019.
The replacement of conventional thermal generation (coal and fuel oil plants) with more efficient technologies has led to a decrease in water consumption per GWh. At the Iberdrola Group, we have completed the process of closing all of our coal-fired plants worldwide, and 81% of our total installed capacity comes from emission-free sources, mainly renewable energy and combined cycle plants.
We strive to make rational and sustainable use of water, which is why, by the end of 2022, we had returned 96% of the water captured to the environment and saved 3.27 hm3 thanks to its reuse in closed or semi-open cycles.
We are a member of the United Nations CEO Water Mandate to promote sustainable water use practices and have participated in CDP Water since its first edition, a UN body that aims to encourage companies, financial markets and governments to use water sustainably and invest in water security.