SDG 7: AFFORDABLE AND CLEAN ENERGY
Pioneers in the energy transition with an investment of 120 billion euros for 20 years
#energy transition #renewable energy #SDG
Iberdrola group is the top producer of wind power in the world and a leader in renewable energy at the global level, thanks to its investments of 120 billion euros in the last 20 years. Within its commitment to the UN Sustainable Development Goals, the company focuses particularly on SDG 7, Affordable and Clean Energy, and is working to bring electricity to everyone and to optimise energy use.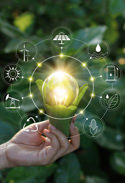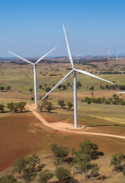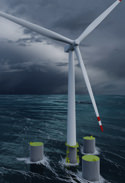 Flagship project
We are leading the Flagship project to advance floating offshore wind power.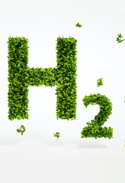 Green hydrogen
Hydrogen extracted from renewable sources is the key to achieving decarbonisation for the planet and meeting the climate proposals for 2050.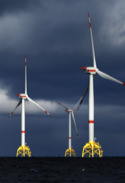 What is offshore wind energy?
Offshore wind energy is a clean, renewable source of energy obtained by harnessing the force of the wind produced on the high seas.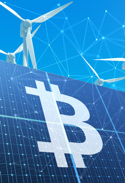 WHAT IS SUSTAINABLE DEVELOPMENT GOAL 7: AFFORDABLE AND CLEAN ENERGY?
SDG 7 seeks to ensure access to affordable, reliable, sustainable and modern energy for all. This means doubling the global rate of energy efficiency improvements, as well as substantially increasing the percentage of renewables in the energy mix.
WHY IS IT SO IMPORTANT TO ACHIEVE SDG 7: AFFORDABLE AND CLEAN ENERGY?
Some 840 million people, over 10 % of the world's population, live without electricity1 and a further billion are connected to unreliable and unstable power networks2. Today, almost 3 billion people in Asia and the Southern Sahara still use polluting fuels for cooking (wood, charcoal, dung or soft coal)3. This represents 40 % of the population of the world.
This lack of access to reliable and sustainable energy creates serious problems both for human beings and for the environment. The UN reckons that four million premature deaths result as a consequence of air pollution derived from the burning of biomass for cooking and heating. The UN also claims that energy use constitutes 60 % of total global emissions of greenhouse gases (GHG), the main factor leading to climate change.
Facing up to this situation has become a vital goal on an international scale, which is why the UN has declared it necessary to ensure access to affordable, reliable, sustainable and modern energy for all as the SDG 7 of its 17 Sustainable Development Goals, approved in September 2015 as part of the 2030 Agenda.
IBERDROLA ALIGNED WITH THE
SDG
KEYS TO UNDERSTANDING
WORLDWIDE ELECTRICITY SHORTAGES
WHO DOES IT AFFECT?


840 million

in the world live

without electricity
3 billion people
cook with

polluting fuels
One billion people
are connected to

unreliable and unstable electricity networks.

HOW IS THIS DISTRIBUTED AROUND THE WORLD?
The
10 countries

with the highest number of people

living in rural areas and without access to electricity

are concentrated in

Sub-Saharan Africa:
MAIN CAUSES
Lack of affordable resources,
above all in underdeveloped countries;

insufficient investment

in the energy sector; and high

production costs.
HOW CAN WE PUT AN END TO IT?
We have to

increase funding

to ensure access to

an affordable, reliable and sustainable energy system; invest

in

renewable energy sources

; promote

transport modes with reduced energy consumption

; and introduce energy systems based on

biomass, geothermal or solar energy.
Source: World Bank (2019)
SEE INFOGRAPHIC: Keys to understanding worldwide electricity shortages [PDF] External link, opens in new window.
1 World Bank.
2 Frontiers 2017, the latest UN report on environmental challenges.
3 Tracking SDG7: The energy progress report, published in 2019 by the World Health Organisation (WHO), together with the World Bank, the International Energy Agency (IEA), the UN and the International Renewable Energy Agency (IRENA).
SDG 7 TARGETS: AFFORDABLE AND CLEAN ENERGY
Despite the number of people in the world without access to electricity having reduced by more than half since 2000, it is vital to keep working to end this situation, otherwise by 2030 there will still be 674 million people living without electricity and 2.3 billion people using polluting cooking methods.
For this reason, the specific targets set for 2030 are:
Ensure

universal access

to affordable, reliable and modern energy services.
Increase

the share of renewable energy

in the global energy mix.
Enhance

international cooperation

to facilitate

access to clean energy research and technology.

Expand infrastructure and upgrade technology for supplying

modern and sustainable energy services for all.

INDIRECT

CONTRIBUTION

TO

ALL

OTHER

SDGs
OUR CONTRIBUTION TO SDG 7: AFFORDABLE AND CLEAN ENERGY
Iberdrola group is committed to leading the energy transition, a task that it began 20 years ago, and in which it has invested €120 bn since then, making it the world leader in renewables. These investments - aimed at electrification of the economy, innovation and technological advances and greater consumer connectivity - will be matched by a historic investment plan of a further 47 billion until 2025, which will bring installed renewable capacity up to 52,000 MW by 2025.
80 % of the group's installed capacity comes from emissions-free sources1. Furthermore, the company generates 100 % of its energy with zero emissions in countries such as the United Kingdom, Germany and Portugal.
The offshore wind farm East Anglia ONE, in British waters in the North Sea, is the biggest wind facility in Iberdrola's history and one of the largest in the world in its class, with 714 MW. It is run by ScottishPower

External link, opens in new window., the group's UK subsidiary, which is currently the only 100% renewable electricity company in the country.
Energy efficiency: 89.7 million tonnes of CO2 emissions avoided over the last three years2. In addition, the company has committed to the goal of becoming carbon neutral by 2030 in areas 1 and 2 and reaching zero in all 3 areas by 2040.

Electricity for all: since the launch of the programme in January 2014, Iberdrola has brought electricity to 9.6 million people who previously had no access to this energy source, through projects based on modern forms of energy and with environmentally sustainable models developed in a number of Latin American and African countries. By 2030, the company has set itself the target of increasing the number of people benefiting to more than 16 million.
Luces de Esperanza (Lights of Hope)

External link, opens in new window.: a project instigated by Iberdrola México

External link, opens in new window., in conjunction with Iluméxico, to bring electricity to 60 rural communities in Mexico, thanks to the installation of solar panels in homes, schools, health centres and community areas. The programme involves an investment of 60 million Mexican pesos and will benefit 12,000 people.
Vulnerable customer protection procedures: 100 % cover for customers in a position of vulnerability in Spain. Warm Home Discount Programme and Price Cap in the UK. Operation Fuel in Connecticut (USA).
A pioneer in Socially Responsible Investment, the group remains the largest private issuer of green bonds in the world.

1 Data at the close of 2022.
2 Data taken from the Sustainability Report 2022.