We make energy accessible to the financially underprivileged
Working in collaboration with public administrations, various companies and NGOs, we have prevented vulnerable customers from being deprived of their electric supply. Our group has also contributed over €15 million towards a series of initiatives to raise living standards for people at risk of social exclusion.
Our contribution to SDG 1: No poverty
Iberdrola signs agreements with public administrations and NGOs to prevent cuts in the energy supply from affecting customers in vulnerable situations. As a result of these agreements, absolutely all vulnerable customers in Spain are now covered. In the United Kingdom, the company has the Warm Home Discount program, and in the United States there is Operation Fuel.
Contribution of 5.8 million euros at the group level by Iberdrola's foundations for initiatives aimed at improving the quality of life of vulnerable groups in the countries in which it operates.
Iberdrola 2022 Social Programme: in 2022, 30 projects aligned with the SDGs were selected, with priority being given to helping to alleviate social exclusion, the inclusion of people with disabilities, support for women who are victims of gender-based violence, and support for young people in vulnerable situations with serious illnesses. Since its creation in 2010, the Social Programme has allocated more than 11 million euros to social initiatives in the country, helping more than 410,000 people.
ScottishPower — the group's UK subsidiary — is working with ReachingWider, an association to provide higher education for vulnerable people in Wales, and with Bendrigg Trust, an open-air education nursing home to care for people with disabilities through the Adventure for All project.
Rainn: A project by Avangrid(*) — the group's USA subsidiary — to protect people in need.
 
What is Sustainable Development Goal 1: No poverty?
SDG 1 aims to end poverty in all its forms everywhere. Its objectives include ensuring that the entire population and especially the poorest and most vulnerable have equal rights to economic resources, access to basic services, property and land control, natural resources and new technologies.
Why is it so important to achieve SDG 1: No poverty?
The rise in poverty is not only unfair and a threat to the integrity of millions of people, but it also heightens inequality which, in turn, weakens social cohesion and severely hampers economic growth.
The main causes of poverty (unemployment, social exclusion and major vulnerability for certain population segments to natural disaster and disease) drive inequality and heighten malnutrition, lack of access to education, discrimination and exclusion. Altogether, this exacerbates crises, increases political and social tension and leads to all kinds of conflict.
There are currently over 700 million people or 10 % of the world's population living in extreme poverty (i.e. on less than US$1.90 per day), which means they barely have enough to cover their most basic day-to-day needs. In recent years, 165 million people have fallen into poverty due to rising inflation resulting from
the COVID-19 pandemic, with 75 million falling into extreme poverty. This is the first time poverty has increased in the last 3 decades.
In Europe, there is also the energy crisis of 2022 due to the war in Ukraine and the corresponding increase in gas prices.
To make matters worse, extreme poverty is a gender issue: for every 100 men aged 25 to 34 who live in extreme poverty worldwide, there are 122 women within that age group in the same situation. Furthermore, there are two regions housing the greatest number of people who live below the poverty threshold: Southern Asia and Sub-Saharan Africa.
There is also a staggering difference in the coverage provided in terms of financial and social assistance for vulnerable segments of the population from one region to another. Around 61 % of these segments (children, adults at working age and senior citizens not covered by contribution plans) receive financial support in Europe and North America. By contrast, monetary aid is only offered to 4 % in Central and Southern Asia.
For all these reasons, ending poverty in all forms everywhere requires the entire global community to get involved. Hence why the United Nations (UN) set this as SDG 1 of its 17 Sustainable Development Goals, approved in September 2015 as part of the 2030 Agenda.
Iberdrola aligned with the Sustainable Development Goals
Keys facts for understanding world poverty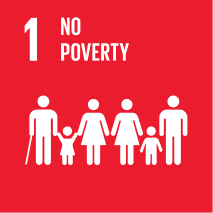 Global impact 719 million people are currently living in extreme poverty.
< 2.15 $/day Specifically, they have to survive on less than 2.15 $ a day.
+50% are children One in four children under the age of five are under the appropriate height for their age.
The 10 countries with the highest percentage of poverty
Equatorial Guinea

76.8%
South Sudan

76.4%
Madagascar

70.7%
Guinea Bissau

69.3%
Eritrea

69%
S. Tome and Príncipe

66.7%
Burundi

64.9%
DR Congo

63.9%
C. African Republic

62%
Guatemala

59.3%
Main causes
Unemployment, social exclusion and increased vulnerability of certain populations to natural disasters and disease.
Is there a solution?
Even though poverty has been halved since the year 2000, we need to focus on increasing the incomes and alleviate the suffering of the most vulnerable.
Sources: UNHCR, United Nations, Intermón Oxfam, UNICEF and World Food Programme
SEE INFOGRAPHIC: Key facts for understanding world poverty [PDF] External link, opens in new window.
SDG 1 targets: No poverty
Although poverty has been reduced by half since 2000, it is still crucial to do so much more towards raising income and easing suffering for those in need. The targets for 2030 are:
To eradicate extreme poverty for all people everywhere.

To implement appropriate social protection systems and measures.

To ensure that all men and women have equal rights to economic resources, as well as access to basic services.

To develop the resilience of the poor and those in vulnerable situations and reduce their exposure and vulnerability to climate-related, economic, social and environmental shocks and disasters.

To ensure significant mobilisation of resources through enhanced development cooperation.

To create sound policy frameworks to support investment in poverty eradication actions.
(*) Avangrid, Inc. is 81,50 % owned by Iberdrola, S.A.