What are the largest humanitarian crises in the planet today?
#human rights #solidarity #integration
The COVID-19 crisis has pushed some of the main humanitarian crises on the planet into the background, despite the fact that the virus has actually made them worse. Crises ranging from armed conflicts to natural disasters proliferate because of climate change. Here is a reminder of some of the worst calamities affecting the world.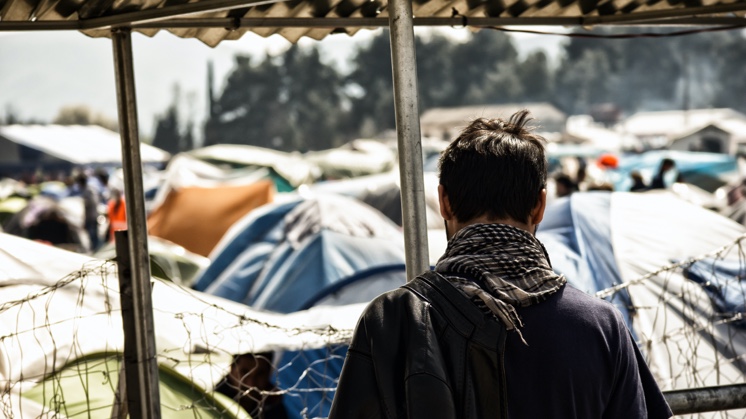 Today's most devastating humanitarian crises are affecting countries like Yemen, Syria and Afghanistan.
The Sustainable Development Goals (SDG) urge the international community to "leave nobody behind". However, humanitarian crises are now condemning millions of people to a life blighted by unsustainable, vulnerable situations. In December 2019, the United Nations Office for the Coordination of Humanitarian Affairs (OCHA) issued a communiqué warning that in 2020 a record number of 168 million people around the world would be in need of humanitarian aid due to prolonged conflict, failing economies and extreme climate events. Back then, nobody knew that these ills would soon be exacerbated by another problem: the COVID-19 pandemic.
The havoc wrought by the coronavirus around the world did not take long to be noticed and soon started aggravating humanitarian crises. The OCHA estimates that around 235 million people around the world will be dependent on humanitarian aid and protection in 2021, an increase of 41 % in one year. That is why, despite joint efforts and the launch of the United Nations' (UN) COVID-19 Global Humanitarian Response Plan, Antonio Guterres, its secretary general, is stressing that other humanitarian emergencies must not be forgotten. "If part of the funds used to respond to humanitarian needs were diverted now, this would create an environment conducive to the spread of cholera, measles and meningitis, the number of malnourished children would further increase, and violent extremist movements would grow stronger".
WHAT IS A HUMANITARIAN CRISIS
A humanitarian crisis is a generalised emergency situation that affects an entire community or a group of people in a region, which involves high levels of mortality or malnutrition, the spread of disease and epidemics and health emergencies. It can also involve a lack of clean water, food security, sanitation and shelter

External link, opens in new window.. Generally speaking, this situation derives from the previous lack of protection in parts of the world already suffering from constant inequality, poverty and a lack of basic services; and a trigger that makes things worse: Political events such as armed conflicts, coups, ethnic and religious persecution, etc. and environmental catastrophes like tsunamis, earthquakes, typhoons, etc.
When the situation deteriorates, and because the country is unable to deal with the consequences, humanitarian aid is essential to meet the needs of vulnerable people. This can take the form of food aid, medical care, rebuilding infrastructures, etc. Reducing the number of victims would end the crisis and start a period of development cooperation activity.
CAUSES AND EFFECTS OF HUMANITARIAN CRISES
There are numerous factors that can cause a humanitarian crisis. Let's take a look at some of them:
Political unrest
As well as causing famine and death, armed conflicts and civil war create refugee crises. According to ACNUR — the United Nations Refugee Agency — at the end of 2019, almost 80 million people around the world had been forced to flee their homes because of conflict and persecution. Yemen, Somalia, South Sudan and the north of Nigeria are examples of crises caused by political conflict.
Environmental causes
These attract less media attention and uproar, but climate change is having a massive impact on humanitarian crises. According to the UN, 90 % of disasters are caused by climate change. In the last 20 years, the number of disasters has doubled: floods, droughts, heat waves and devastating storms are sweeping away human lives and causing shortages that force them to emigrate in search of refuge (climate displacement). The world still remembers the tsunami in the Indian Ocean (2004), the earthquake in Haiti (2010), the worst drought in the last 60 years that hit Somalia in 2017 or cyclones Eta and Iota that hit Honduras consecutively (2020). According to the United Nations Office for Disaster Risk Reduction (UNDRR), 1.23 million people were killed by natural disasters between 2000 and 2019.
Healthcare emergencies
Epidemics can cause massive humanitarian crises Considering that the World Health Organisation (WHO) says that 1.6 billion people in the world have no access to basic medical care, infectious disease is a huge challenge to humanitarian aid. Ebola, with a mortality rate of between 50 % and 90 %, infected almost 30,000 people in West Africa between 2014 and 2016, killing 11,000 of them. Malaria took the lives of 405,000 people in 2018, almost all of them in Sub-Saharan Africa. HIV has already killed 33 million people, and it is still a major global public health problem. Cholera, which is caused by poor sanitation and contaminated water, claims up to 140,000 lives every year.
The effects of humanitarian aid are devastating to the societies they affect. These include:
Population displacement
To escape from armed conflict, famine and climate disasters. According to ACNUR, 80 % of displaced people are in countries suffering from severe food insecurity and malnutrition. Syria heads the list of migrants with 6.6 million.
Hunger and malnutrition
Wars destroy farmland and infrastructures, making it impossible to transport food to where it is needed. Climate change is also damaging crops by changing rainfall patterns and drought, and plagues are ruining farms.
Lack of basic services
Schools, hospitals and their staff are protected by international law. However, they are still targeted on many occasions. The United Nations is urging protection for these basic services in conflict areas to prevent indiscriminate attacks on schools and universities like those occurring in Afghanistan, as well as healthcare facilities trying to deal with the COVID-19 crisis in Libya, which are being bombed.
TODAY'S MAIN HUMANITARIAN CRISES
There are humanitarian crises occurring in numerous countries today, but those of most concern to international observers are the following: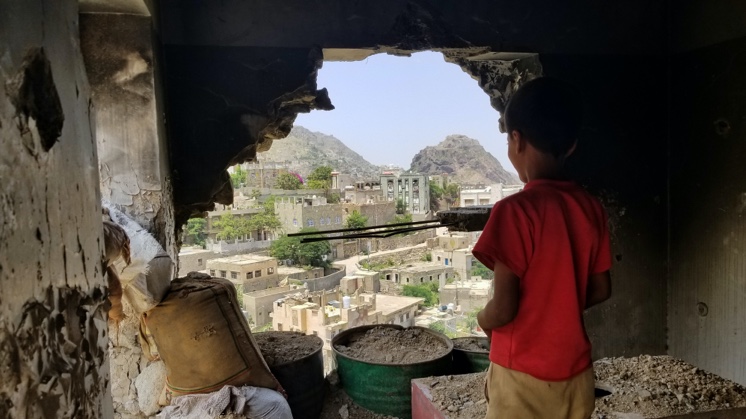 A child looks at a house destroyed by the civil war in Yemen.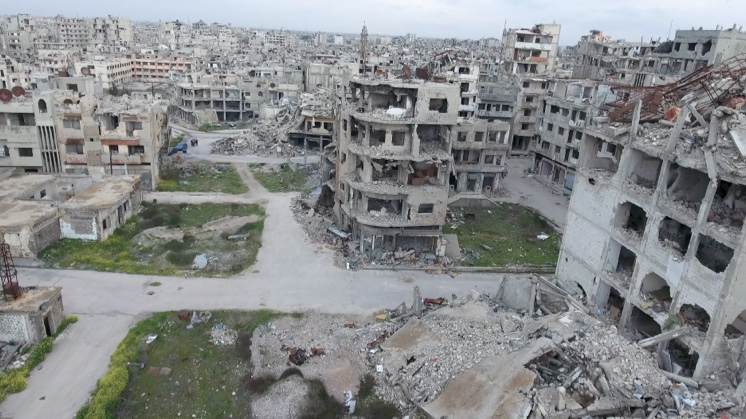 The city of Homs, in Syria, devastated by years of civil war.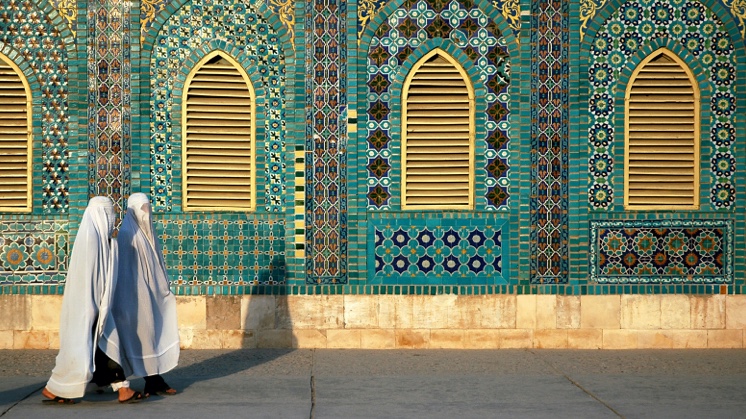 Women dressed in burkas walk along the wall of the Mazar-i-Sharif mosque in Afghanistan.
The National Palace in Port au Prince in Haiti after the earthquake in 2010.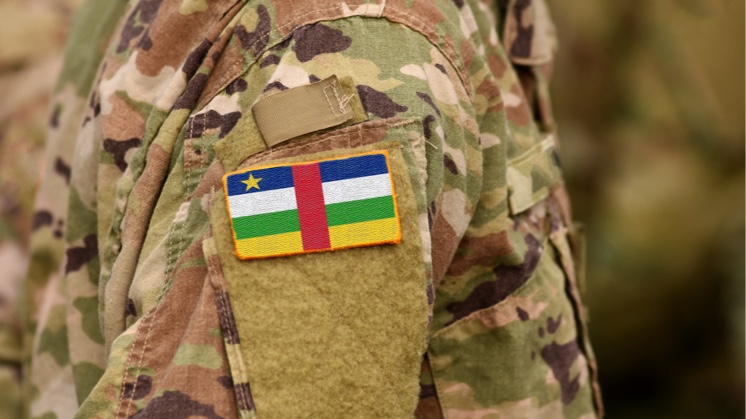 A soldier with the national flag of the Central African Republic.
Yemen. Civil war has already been raging for five years in one of the poorest Arab countries in the world. The conflicts between the Houthi rebels and President Hadi's supporters and the obstruction of humanitarian aid have crushed the civilian population. Hunger and cholera mean that

around 81 % of the population are relying on this aid to stay alive.

This conflict has forced four million people to flee their homes in this country.
Syria. This brutal civil war broke out in 2011, dragging in international powers, and creating

the largest refugee crisis in the world.

The initial conflict between President Bashar al-Assad's supporters and detractors was aggravated by the emergence of the Islamic state, which created a war within the war.
Afghanistan. In a country terrorised by armed bands, from the Taliban to Islamic State. As well as the unsustainable situation caused by violence, a

terrible drought

has caused more than 200,000 displacements.
Haiti. In January 2010, an earthquake of 7.0 Mw shook the country, claiming almost 300,000 lives. International aid was brought in quickly, but the country has been battered by

a decade of relentless emergencies,

such as several cyclones and an enormous cholera epidemic. The situation has been made worse by increasing political instability and violence.
Central African Republic. Since 2013, religious and ethnic conflict and power grabbing efforts have caused

an armed conflict which gets very little attention from the media.

The violence resulting from disputes led by a coalition of armed groups calling themselves "Seleka", mainly from the Muslim minority, and anti-Balaka Christian militias, has been continuous genocide and human rights violations.
SOLUTIONS TO HUMANITARIAN CRISES: HUMANITARIAN AID
According to the OCHA, humanitarian aid is a set of actions taken to help, protect, and defend people affected by a disaster that affects their lives and means of survival. Aid efforts are therefore intended to safeguard human life, relieve suffering, maintain decent conditions and to guarantee access to basic services such as food, medial attention, water and shelter. Humanitarian aid must also protect basic rights by defending human rights, bearing witness, denouncing, exerting political pressure and providing support.
According to the Development Initiatives' 2020 Global Humanitarian Assistance report, in 2019 it was the United States, through private donations, that contributed the most money to humanitarian aid (5.85 billion euro), followed by Germany (2.758 billion) and the United Kingdom (2.59 billion). The European Union came fourth, with 1.922 billion. Most of this aid went to Yemen (4.178 billion euro), followed by Syria (1.922) and Iraq (1.086).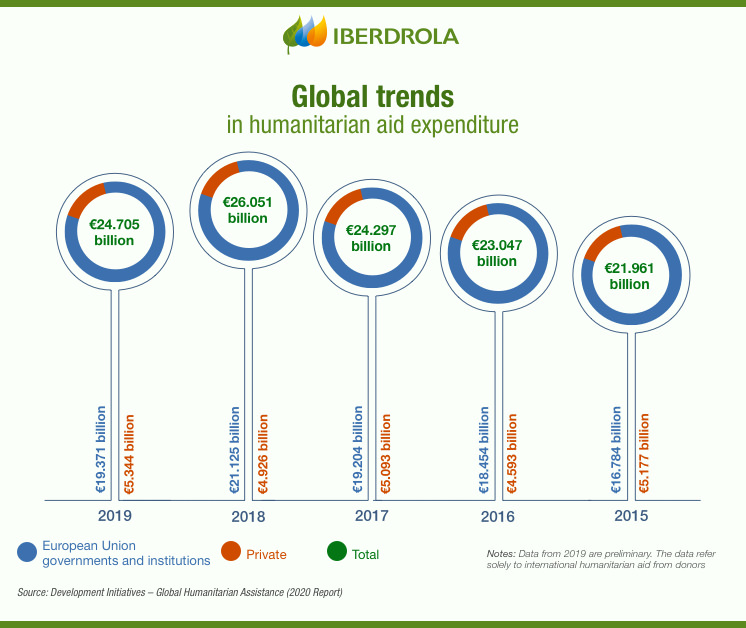 Global trends in humanitarian aid expenditure.
As an institution, the United Nations responds to humanitarian crises through different organisations, such as the Office for the Coordination of Humanitarian Affairs (OCHA) and the Central Emergency Response Fund (CERF). Other important organisations also provide humanitarian aid, such as the United Nations Development Programme (UNDP), the United Nations High Commissioner for Refugees (UNHCR), the United Nations Children's Fund (UNICEF) and the World Food Programme (WFP).