SDG 11: Sustainable cities and communities
We are driving forward energy efficiency in all our products, services and activities
Sustainable mobility Energy efficiency Photovoltaic self-consumption SDG
At the Iberdrola Group, we promote eco-efficiency by reducing the environmental impact of all our activities, facilities, products and services. We are committed to sustainable mobility, efficiency in buildings and the enhancement of cultural heritage through sustainable lighting projects.
SDG 11: Sustainable cities and communities, what is it and why is it so important?
SDG 11 aims to make cities more inclusive, safe, resilient and sustainable. This includes ensuring access for all people to adequate housing and basic services; ensuring accessible and sustainable urbanisation and transport; and safeguarding the world's cultural and natural heritage, among other targets.
More than half of the world's population - 55%, or more than 4 billion people - now live in cities and towns, according to the United Nations (UN) 2023 Sustainable Development Goals Report

Enlace externo, se abre en ventana nueva. . This figure is expected to rise to 70 % by 2050, presenting a huge set of challenges in addressing coexistence, sustainability and equality.
While the growth of cities provides opportunities, well-being and prosperity for many people, it also generates economic, social and environmental inequalities. The UN estimates that approximately 1.1 billion people live in urban slums, a number that continues to grow. These areas are densely populated, have poor sanitation and are exposed to violence and social exclusion. Inequality is intensifying in the most vulnerable countries. Eighty-five percent of slum dwellers are concentrated in three regions: Central and South Asia (359 million), East and Southeast Asia (306 million) and Sub-Saharan Africa (230 million), according to the UN.

In addition to the unequal distribution of living conditions in the city, there are also the consequences of pollution. The World Bank points out that cities are responsible for about 70 % of global greenhouse gas emissions and are at the heart of the climate challenge. The institution further stresses that lower-income cities are already experiencing higher exposure to floods, heat and water stress, tropical cyclones, sea level rise and wildfires, and the projected exposure in the 2030s is much higher than that projected for cities in higher-income countries.
In this regard, accessible public transport is presented as a relevant solution to reduce air pollution and traffic, as well as a tool to promote productivity and inclusion. However, only 51.6% of the world's urban population has access to public transport, with considerable differences between regions.
The inclusion of sustainability in cities means building hubs that support their economic growth and the well-being of citizens, boosting sectors such as innovation and research, and promoting more inclusive and environmentally friendly industry. But the benefits go beyond this: UN-Habitat argues that well-governed and well-planned cities can help combat global challenges such as poverty (SDG 1) and climate change (SDG 13). Making cities more inclusive, safe, resilient and sustainable is therefore SDG 11 of the 17 UN Sustainable Development Goals, adopted in September 2015 as part of the 2030 Agenda.
Iberdrola with the Sustainable Development Goals
Keys to understanding urban sustainability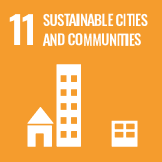 Urban population More than half (55 %) of the world's population live in urban areas, equivalent to more than 4 billion people.
Marginalised communities 1.1 billion people currently live in slums or similar conditions in cities.
Atmospheric pollution 9 out of 10 people living in urban areas around the world breathe air that does not meet the World Health Organisation's air quality guidelines.
World's least sustainable cities
The 10 least sustainable cities in the world among the 100 analysed by the consultancy Arcadis are concentrated in Asia (60 %) and Africa (40 %).
Lagos (Nigeria)
Karachi (Pakistan)
Lahore (Pakistan)
New Delhi (India)
Calcutta (India)
Manila (Philippines)
Mumbai (India)
Nairobi (Kenya)
Johannesburg (South Africa)
Kinshasa (R. D. Congo)
Data from 2022.
Main causes
Rapid urban growth in less developed countries; increased rural-urban migration; increased competition for natural resources such as land and water; lack of funds to provide basic services; and deteriorating infrastructure.
How can we develop sustainable cities?
We need to ensure access to safe and affordable housing; we need to upgrade slums; we need to invest in public transport; we need to create green public areas; and we need to put in place measures to make urban planning and management participatory and inclusive.
Fuentes: ONU (2023) y Arcadis (2022).
Our contribution to SDG 11: Sustainable cities and communities
As a global leader in the fight against climate change, we have major climate action targets: our objective is to achieve carbon neutrality for carbon equivalent emissions in Scope 1 and 2 (direct and indirect emissions from grid losses and own consumption) by 2030 and net zero CO2 equivalent emissions by 2040 for all scopes, including Scope 3 (other indirect emissions over which the Group has no control).

Committed to energy efficiency in buildings: the Torre Iberdrola, the Iberdrola Campus and Ochil House, the headquarters of ScottishPower — the group's UK subsidiary — are a symbol of the company's commitment to sustainability and energy efficiency. We are working on enhancing the performance of the climate control (heating and cooling), thermal insulation and lighting in the buildings, and the automation of their associated facilities.

We are leading the transition towards sustainable mobility and the electrification of transport with our Sustainable Mobility Plan. We aim to reduce emissions, promote energy efficiency, improve people's quality of life and raise awareness among our employees. The group has set a target of installing 110,000 charging points for electric vehicles by 2025.

Through our International Start-ups Programme PERSEO we promote smart solutions for residential, commercial and industrial customers, as well as electric mobility solutions, among others. Since its creation, we have invested more than €125 million in supporting open innovation and creating synergies with start-ups that develop innovative technologies and business models.

We are working on the development of new products and services that promote efficiency, energy saving and environmental protection. These include: Smart Mobility, Smart Home, Smart Solar and Energy Wallet.

We give light to cultural heritage with different lighting projects in artistic monuments and unique buildings. Our aim is to contribute to the enhancement of heritage, promote energy efficiency and reduce environmental pollution.