Iberdrola is committed to achieving zero net loss of biodiversity by 2030
Iberdrola group protects, restores and promotes sustainable use of terrestrial ecosystems in all the countries in which it operates, directly contributing to achieving the United Nations Sustainable Development Goal 15: life on land. In this context, the company takes biodiversity conservation into account when planning and developing all its actions.
SDG 15: Life on land, what is it and why is it so important?
SDG 15 seeks to protect, restore and promote the sustainable use of terrestrial ecosystems, sustainably manage forests, halt and reverse land degradation, combat desertification and halt biodiversity loss.
Some 31% of the world's land area is covered by forests, which are home to more than 80% of all terrestrial species of animals, plants and insects. Terrestrial ecosystems are also vital for sustaining human life, contribute to more than half of the world's GDP and influence diverse cultural, spiritual and economic values. However, according to UN figures, almost 100 million hectares of net forest area have been lost in the last two decades.
Moreover, human activity, itself aggravated by the scourge of climate change, is the main cause of land degradation, which directly affects 1.3 billion people. If land continues to be impoverished at the same rate, there will be an additional 1.5 billion hectares of degraded land by 2030. If the 2030 target of a land degradation-neutral world is to be achieved, not only must further deterioration be prevented, but at least 1 billion hectares of already degraded land must be restored.
As for species extinction, it should not be forgotten that this is an irreversible effect. Globally, the Red List Index - a critical indicator of the health of the world's biodiversity - deteriorated by 4% between 2015 and 2023. This rises to 11% in the three decades since 1993, with each decade deteriorating faster than the previous one. Today, 21% of reptile species are at risk of extinction and of the 8 million species that currently exist on the planet, one million are at risk.
Despite efforts to meet the targets of this goal, the UN's 2023 SDG Progress Report does not offer good prospects and notes that, despite some progress in sustainable forest management, protected areas and the uptake of national biodiversity values and responsibility for natural capital, most improvements have been modest.
Reversing this reality has become an overriding goal at the international level. For this reason, protecting, restoring and promoting the sustainable use of terrestrial ecosystems, sustainably managing forests, combating desertification and halting and reversing land degradation and biodiversity loss is SDG 15 of the 17 UN Sustainable Development Goals, adopted in September 2015 as part of the 2030 Agenda.
 
Iberdrola aligned with the Objectives of Sustainable Development
Keys to understanding deforestation in the world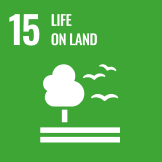 Disappearance of forests In the last two decades, almost 100 million hectares of forest area have been lost.
High risk of extinction Of the 8 million species that currently exist on the planet, one million are at risk.
Need for forests to subsist Around 1.6 billion people need forests for their livelihoods.
Countries with the most hectares of forest lost
Brazil
Colombia
Bolivia
Paraguay
Dem. Rep. del Congo
Sri Lanka
Malaysia
Indonesia
Madagascar
Ivory Coast
Main causes
The main causes of deforestation are: increasing agricultural and urban expansion; the proliferation of industries that want to use wood as fuel; natural disasters, such as fires and tropical storms; and the absence of laws protecting green areas in some countries.
How can we put an end to it?
We need to recycle and reduce paper and plastic consumption; reforest burned land and plant fast-reproducing trees; forestry education programmes must be established to raise public awareness; and global policies must be put in place to ensure the protection and development of forests.
Sources: Global Forest Watch and World Resources Institute, UN, FAO and World Bank.
SEE INFOGRAPHIC: Keys to understanding world deforestation [PDF] External link, opens in new window.
SDG 15 Targets: Life on land
The specific targets set for 2030 are:
Conserve, restore and use terrestrial ecosystems and inland freshwater ecosystems (forests, wetlands, mountains and arid areas) in a sustainable manner.

Fight against desertification and rehabilitate degraded lands and soils.

Ensure the conservation of mountain ecosystems, including their biological diversity, to achieve essential benefits for their sustainable development.

Take urgent measures to end poaching and trafficking of protected fauna and flora species.
Our contribution to SDG 15: Life of Terrestrial Ecosystems
At Iberdrola, we are committed to SDG 15: Life of terrestrial ecosystems, and we have therefore made a commitment to achieve zero net loss of biodiversity by 2030. To this end, we develop biodiversity protection programmes in all of the countries in which we operate and incorporate this matter into our environmental management systems (EMS).
We have created the 2030 Biodiversity Plan as a roadmap adopted by the company to strengthen our commitment to biodiversity and nature.
We are committed to our business generating no net deforestation by 2025. This commitment applies to both direct actions and the supply chain.
By 2025, 100% of our priority installations will be assessed and have revised biodiversity action plans, and by 2030, 100% of installations will have revised biodiversity action plans.
We promote the planting of 20 million trees by 2030, through the Trees Programme, which will occupy an area equivalent to 25,000 football pitches and capture approximately 6 million tonnes of CO2 over 30 years.
We have signed up to the Business for Nature platform's Call to Action initiative, dedicated to reversing biodiversity loss.
We have obtained the first AENOR Corporate Environmental Footprint certificate.
Iberdrola Mexico has been awarded the Environmental Excellence Award by PROFEPA, thanks to the efforts made with the Estero Garrapatas (Altamira III and IV Combined Cycle Power Plant) and Apoyo a Felinos (Altamira III and IV and Altamira V) projects.