Interaction with biodiversity
Avoiding and minimising our impact on natural capital
Climate action Nature Biodiversity
Iberdrola actively seeks to identify the impact and dependency we have on biodiversity and natural capital so as to avoid, minimise, remedy and offset it where necessary.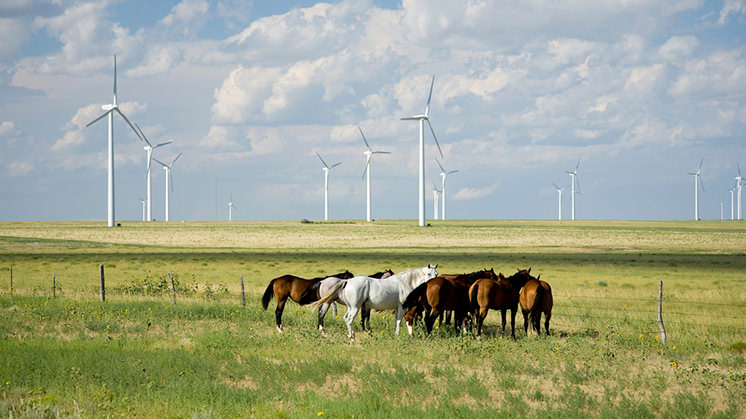 Twin Buttes Wind Farm (Colorado, United States).
Iberdrola's business of generating, moving, distributing and supplying energy involves interacting with a variety of ecosystems, landscapes and species across a very broad geographical area. This means we need the appropriate infrastructure to be built, operated, maintained and eventually dismantled.
This infrastructure includes thermal power stations, reservoirs, hydrodroelectric plants, wind farms, substations and underground and overhead power lines. These facilities and structures are located in places ranging from remote hills, forests and coasts to the very heart of cities.
The Iberdrola group works to avoid, minimise, restore and offset the impact that these essential elements of our infrastructure can have on natural capital and biodiversity.
Iberdrola applies the mitigation hierarchy approach (avoid, minimise, remedy and, as a last resort, compensate) in processes of environmental impact assessment (EIA) that it undertakes for new projects. These analyse alternatives, prioritising avoidance of placing new infrastructure in protected areas or areas with a high biodiversity value although not protected, and, moreover, introduces good environmental practices using a systematic approach and methodology:
Prior to initiating the administrative process, Iberdrola consults the various Stakeholders about new projects.
It incorporates good building practices that go beyond the applicable legal requirements in each case during the planning and the execution of works.
After the administrative process and during construction Iberdrola continues to work in conjunction with Stakeholders so that environmental effects can be as small as possible, as well as in restoring affected areas.
Through the EIA procedures, Iberdrola identifies and assesses the potential impact of new projects. If the initial analysis reveals significant repercussions, the project will be altered to the extent possible, applying the finest techniques available and taking the measures deemed necessary to correct and minimise them. Where full mitigation is not feasible, compensatory action will be taken.
Our task of keeping environmental impact in check does not end once the facility has been built — it continues whilst in operation and until the facility is dismantled. Throughout that time, plans are defined and implemented to monitor and control environmental aspects and management systems are applied, most of which are compliant with standards ISO 14001 or EMAS, to prevent and control environmental risks.
In the sections below are some examples of the good practices and the approach taken in the regions where Iberdrola operates.
How we manage biodiversity in different regions
Identifying the most significant impacts on biodiversity
Actions taken at each stage of a facility's life cycle that are likely to cause the most significant impact

In order to suitably prevent, minimise and correct any possible impacts that may be caused by the Group's activities, products and services at the various stages of a facility's life cycle, it is important to identify the most significant general effects they have on biodiversity. These effects derive from the work carried out during the different stages of a facility's life cycle.

With regard to these actions, we can list a number of significant potential effects on biodiversity arising from the activities, products and services of the group. Their relevance depends on the technology involved and the stage of the project.

POTENTIAL IMPACTS

Construction stage

Changes in the use of soil
Alteration of the landscape
Fracturing of ecosystems
Alteration of habitats
Displacement of species

Operation and maintenance stage

General impacts

Loss of habitat and species
Increase in greenhouse gas emissions and climate change
Pollution of air, ground and/or aquatic environment

Impact on avifauna

Electrocutions
Collisions

Impact on terrestrial fauna

Electrocution, trapping, etc.

Impact on ichthyofauna

Changes in water quality
Discharges/spills into hydrological environment

Impact on flora

Production and spreading of fires
Deterioration in the edaphic environment
Identifying dependencies
In order to operate and maintain a facility, as well as raw materials, we need a series of services which are provided by nature. The identification of these dependencies helps us to appreciate those services and plan actions to prevent their modification, protect them and preserve them. Having analysed the Group's activities, we found that we depend on the following natural services:
Maintaining watercourses using the water cycle. This cycle keeps up the level of water in rivers which we need to produce energy at hydropower plants and to perform cooling functions at our thermal power plants.
Regulating the climate, which nature does through the carbon dioxide stored in the ground, vegetable biomass and oceans. This service is important at all generation facilities.
Stabilising the land and controlling erosion. Vegetation on slopes prevents avalanches and landslides. This service is important at hydropower plants and all along transport and distribution networks.
Protecting us from floods and storms through the role that vegetation plays in mitigating these weather events. This service is important at hydropower plants and all along transport and distribution networks.
We have also identified a dependency on abiotic provisioning resources, the main ones being:
Water. This resource is the source of production at hydropower plants and is needed to perform cooling functions at thermal power plants.
Mineral and non-mineral resources (gas and uranium) as fuel to generate electricity at thermal power plants.
Energy transition
Iberdrola and sustainable mobility