Power Purchase Agreements
What is a PPA, and what are the main benefits?
A PPA (Power Purchase Agreement) is a long-term agreement between a renewable developer and a consumer for the purchase of energy. The Iberdrola group has extensive experience in this sector and has entered into contracts of this type in countries including the United States, United Kingdom, Spain, Mexico and Australia, and it now has agreements with companies such as Amazon, Apple, Facebook and Nike, among others.
What is a PPA?
A PPA is a long-term agreement to purchase clean energy from a specific asset at a predetermined price between a renewable developer and a consumer — generally a company requiring large amounts of electricity — or between a developer and a supplier who then resells the energy. The signing of a PPA can be understood as the sale of a project and its environmental attributes (Guarantees of Origin): it is a commitment that allows a renewable developer to make an investment decision using the criteria of profitability versus risk and/or achieve the funding necessary to execute the project.
According to the latest Corporate Energy Market Outlook

External link, opens in new window. by BloombergNEF, companies around the world purchased a record amount of clean energy through PPAs in 2020. In total, 23.7 gigawatts (GW) of renewable energy contracts were signed by more than 130 companies in sectors ranging from oil and gas to major technologies, despite the COVID-19 pandemic. Underpinning the market is surging stakeholder interest in corporate sustainability and expanding access to clean energy globally.
Of this amount, 11.9 GW were signed in the United States, 1.5 GW in Latin America and 7.2 GW were signed in Europe, the Middle East and Africa (EMEA), almost tripling the number of PPAs in the latter area since 2019. According to BNEF, in Spain, companies announced agreements to purchase no less than 4.2 GW of clean energy — as opposed to 300 MW in 2019 —, which is possible due to the country's natural resources and a group of experienced developers who are generating power at some of Europe's most competitive prices for solar and wind projects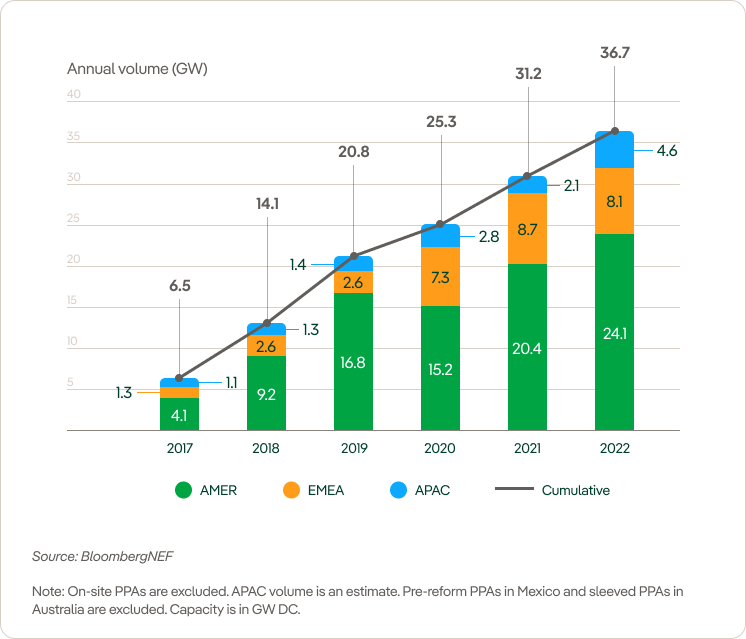 Global volumes of corporate PPAs (BloombergNEF, 2020).
IBERDROLA, SPEARHEADING PPA
Iberdrola is already extremely experienced in the PPA area, having started to operate in this sector more than a decade ago in the United States where it has entered into agreements with major companies including Apple, Amazon, Nike and Facebook, for which it produces green energy at plants such as Montague Wind and Gala Solar, both in Oregon.
In Spain, the group has pioneered this type of agreement with projects with companies in different sectors: banking, telecommunications (Vodafone and Orange), breweries (Heineken), sports distribution and brands, and, among the most recent, an agreement with pharmaceutical company Bayer, which Iberdrola will supply with 100 % renewable energy starting in 2022 and for ten years with the energy it will generate at the Francisco Pizarro photovoltaic plant, the largest currently planned for Europe.
Iberdrola also manages these types of agreements in markets including the United Kingdom, Mexico, Brazil and Australia from onshore and photovoltaic wind farms.
TYPES OF PPA
There are several types of PPA depending on where the energy is generated:
An On-site PPA is a contract for the supply of electricity from an ad hoc photovoltaic plant located on the customer's property and connected to its internal network. The renewable developer makes the investment and designs, installs, operates and maintains the plant. The energy generated by the solar panels is energy that the customer is no longer demanding from the grid, so the developer offers the customer this energy at a more competitive price.

An Off-site PPA is a contract associated with a utility-scale wind farm or photovoltaic plant connected to the transmission or distribution network of the country's electricity system to take energy from its point of origin to the consumption point.
Main benefits of PPA
The biggest benefits for the consumer are:
A clean supply of energy which can be traced

from a specific asset.
They generate additionality: Signing a PPA makes it feasible to

invest in renewable assets,

thereby reducing the amount of power generated from polluting sources.

Possibility of branding the renewable asset.

Competitively priced energy

(significant discounts on current and future energy prices).

Electricity at a stable and predictable price.

Each product is

adapted to the client's needs.
As for the benefits of PPAs for developers, we can mention:
They allow them to invest in new assets because of the

long-term revenue certainty

they provide.
They allow

investment decisions

to be made based on the criteria of profitability versus risk.
They make the project bankable.
They establish

long-term relationships

with end clients.
They are an

alternative means of investment

in renewable assets, in addition to participate in auctions or to invest merchant.
Pioneering the energy transition

Committed to climate action