INSTALLATION OF WIND TURBINES
What is the most efficient place to install a wind turbine?
The uncertainty surrounding how wind behaves is the main handicap when building a wind farm, especially in places with a complex orography. Where and how can wind turbines be installed to maximise the production of wind power? Supercomputing has the answer.
Iberdrola is working with the Barcelona Supercomputing Centre (BSC) in the Sedar project (High-Resolution Wind Power Simulation) to reduce these levels of uncertainty, using this simulation software to estimate the production capacity of an offshore or onshore wind farm throughout its useful life before it is built.
Thanks to advanced supercomputing techniques, the system calculates the perfect locations for the installation of wind turbines, optimising the design of the wind farm to maximise the production of energy. Therefore, the efficiency of the wind farm can be increased, reducing construction costs and minimising the risks when investing in a specific project.
Such a large-scale computer model requires a machine with a high capacity and high performance features. Spain's most advanced and important supercomputer has been used during the development of the project, one of the most powerful in the world thanks to its 50,000 processors: the MareNostrum supercomputer.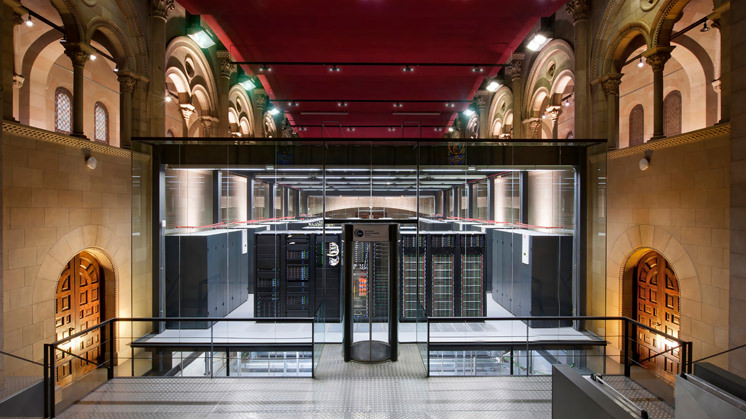 MareNostrum, the crown jewel of the BSC.
The Sedar project started in 2013 and Iberdrola opened the first wind farm designed with this system two years later: Pier II (Mexico). Located at an altitude of 2,500 metre in the south of the country, Pier II wind farm has a 66 megawatt (MW) of capacity and it supplies renewable energy to 25,000 homes.
Iberdrola expanded the development of this project with the BSC through the HPC4E initiative, jointly financed by the European Union and the Brazilian government, and it is using this software to design 15 onshore wind farms in Brazil, Mexico and the United States.
Innovation