News Back
17/11/2020
This is the first PPA signed with a pharmaceutical company in Spain. Europe's largest photovoltaic plant, Francisco Pizarro, will supply clean electricity to the 9 Bayer sites in Spain
Iberdrola and Bayer make progress on their environmental commitment and seal 10-year agreement for 100 % renewable electricity supply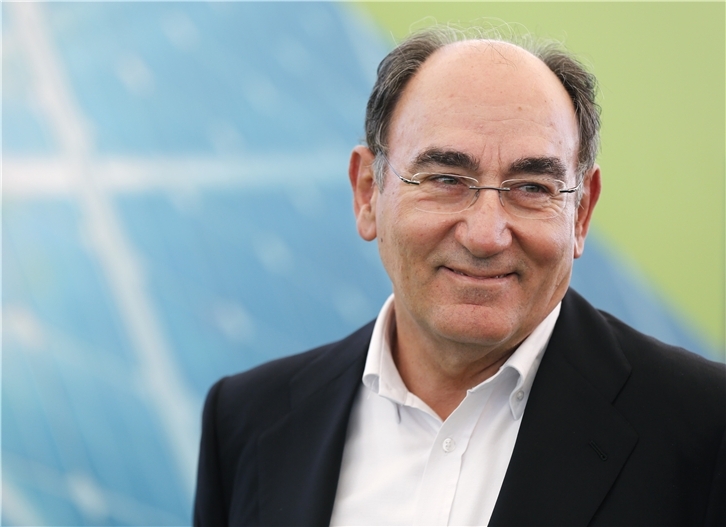 Agreements such as the one announced today by both companies are expected to make a substantial contribution to achieving net zero objectives for 2050 with a 100 % renewable electricity system in Spain
The agreement reinforces Iberdrola's renewables strategy through bilateral energy supply contracts at competitive and stable prices with large customers committed to sustainable consumption
With this long-term agreement, Bayer strengthens its commitment to sustainability by securing green electricity for all its sites in Spain, including three manufacturing plants, five research and development centres and central facilities servicing the whole Iberian Peninsula
Iberdrola and Bayer in Spain are joining forces in the transition to a green economy with the signing of the first long-term power purchase agreement (PPA) between an electricity utility and a pharmaceutical company in Spain, generated by clean generation sources.
Iberdrola will supply 100 % renewable electricity to cover the entire electricity procurement of the nine Bayer sites in Spain, including three factories, five research and development (R&D) centres and the company's headquarters for Iberia.
This initiative will be effective in 100 % of these centres from 2022 and for a ten-year period, with the electricity generated by the Francisco Pizarro photovoltaic plant – Europe's largest planned photovoltaic plant – which Iberdrola will build in Extremadura and which has already received environmental impact approval (EIS). Until that time, the agreement includes a 'bridge contract' under which Bayer will now consume all the electricity it needs without emissions, with guarantee of origin (GO) labels.
With the agreement, Iberdrola and Bayer continue to contribute together to the transition towards a green economy, following the PPA agreed by both companies in Mexico whereby the pharmaceutical company buys green energy generated by the Santiago onshore wind farm (105 MW), located in the state of Guanajuato.
The alliance reinforces Iberdrola's renewable strategy, which includes the signing of bilateral energy supply contracts at competitive and stable prices with large customers committed to sustainable consumption.
"PPAs open up many opportunities for the development of renewable projects which are transforming the present and future of energy in our country while contributing to the transition to a green economy. These long-term energy purchase contracts bring stability to the company's investments. They have also become an optimal tool for managing the electricity needs of large consumers, committed to clean and sustainable supply. PPAs demonstrate the competitiveness of renewables and their ability to supply energy at affordable and stable prices in the long term," explains Eduardo Insunza, Iberdrola's Global Director for Large Customers.
Bayer, which at the end of last year announced its commitment to achieving an emission-neutral footprint worldwide by 2030, is making progress with this agreement, which represents a major step forward in its contribution to net zero. In addition, the company is analyzing and adapting its facilities to make them more efficient with better use of resources, as another priority on which Bayer is focusing its investment.
"Measures such as these help us to further Bayer's commitment to sustainability by taking concrete steps to reduce our environmental impact," said Laura Dieguez, Director of Communications, Corporate Public Affairs and Sustainability. "Working with experts such as Iberdrola makes this commitment effective almost immediately, while we contribute to develop the infrastructure Europe needs to build a greener and more environmentally friendly future."



Competitive technology to mitigate global warming
The 100 % renewable energy that Iberdrola will supply to Bayer facilities in Spain will come from the Francisco Pizarro project, the largest photovoltaic (PV) plant currently under planning consent in Europe, with 590 MW installed capacity.
Located between the Extremaduran municipalities of Torrecillas de la Tiesa and Aldeacentenera (Cáceres), the project has already received environmental impact assessment (EIA) approval and will generate enough clean energy to supply 375,000 people annually, a figure higher than the populations of the cities of Cáceres and Badajoz. Once operational in 2022, the plant will prevent the emission of 245,000 tonnes of CO2 into the atmosphere each year, reinforcing the competitiveness of this technology for the protection of the environment and the mitigation of global warming.
Beyond its environmental contribution, the new investment in this PV project – which will amount to €300 million – will help to reactivate the supply chain and job creation in the community, involving up to more than 1,000 professionals.
Francisco Pizarro is part of Iberdrola's renewable energy investment plan in Extremadura which envisages the installation of some 2,000 green MW by 2022, making the region one of the central platforms of its renewable energy strategy in Spain.



Renewables for a green recovery
Iberdrola has extensive global PPA experience, managing long-term power purchase agreements in markets such as Spain, the United Kingdom, the United States, Mexico and Australia – following its recent entry into this market – for more than 3,000 MW wind and photovoltaic capacity. In Spain, the company has pioneered this type of contract with companies from different industries: banking, telecommunications, breweries, distribution, sports and now pharmaceuticals.
For more information: What is a PPA, and what are the main benefits?
Iberdrola is convinced that electrification with renewable energy sources will play an essential role in economic recovery, industrialisation and job creation in the post-COVID world. Iberdrola has recently presented an investment plan of €75 billion by 2025, the largest ever made by a Spanish company, with which it will double its renewable capacity. The company anticipates that its activity, procurement and investments will boost the business of its 22,000 suppliers - sustaining 500,000 jobs worldwide - as well as new recruits in the group, which could reach 20,000 by 2025.
Iberdrola is a global renewable energy leader and a benchmark in the fight against climate change. The group currently operates 32.7 GW of clean energy globally and has a green project pipeline of more than 70 GW.