News Back
08/01/2021
First alliance of this type in Spain
Iberdrola and Mapfre join forces: the insurance group's sales network will offer energy products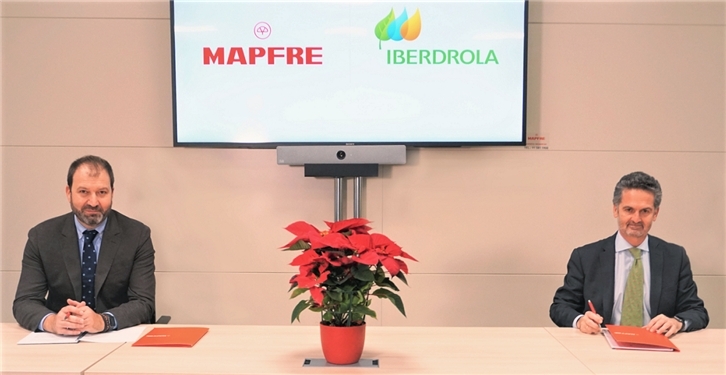 Iberdrola is thus diversifying its sales channels for customised, 100 % renewable energy products in nearly 3,000 sales offices in Spain, while Mapfre is expanding its product portfolio
Iberdrola and Mapfre have reached an agreement whereby the insurance company's sales network in Spain, which consists of nearly 3,000 offices, will offer customised products that are 100 % renewable from the energy company. This is the first alliance of this type between an insurance company and an energy company in the country.
The products initially included in the agreement are electricity and gas plans for private individuals and SMEs (Tailor Made Plans), and value-added services such as Home Electrical Protection and the Gas Maintenance Pack, although this could be extended in the future to other solutions.
The agreement, which was signed by Raúl Costilla, General Sales and Business Director of MAPFRE IBERIA, and Alfonso Calderón, Iberdrola's Retail Director for Spain, also provides for Iberdrola to make support channels and preferential attention available to MAPFRE, both for the insurance company's customers and for its commercial agents, in order to resolve doubts or incidents during the contracting process or afterwards. MAPFRE's network will also be able to prescribe Iberdrola's self-consumption and sustainable mobility solutions, such as Smart Solar and Smart Mobility, respectively.
With the signing of this agreement, the collaboration between the two companies extends beyond the ties that linked them until now: Iberdrola as MAPFRE's energy supplier in Spain and customer of its corporate insurance programme. In addition, MULTIMAP, a company of the MAPFRE Group, provides the boiler repair and maintenance services that Iberdrola offers its customers. The agreement, with an initial duration of three years, is in principle subscribed to at national level, but neither company rules out extending it to other markets where both groups operate.
For Iberdrola, the agreement reinforces the company's retail strategy through a market-leading partner, and diversifies its marketing channels for high value-added products, such as the Tailor Made Plans, with which customers personalise their services based on their consumption habits and are supplied with 100 % renewable energy, helping to prevent CO2 emissions into the atmosphere; and maintenance services on a preferential basis. As well as prescribing new solutions aligned with responsible consumption, related to self-consumption and sustainable mobility with green energy.
"At MAPFRE we have found the optimum partner with whom we can explore new opportunities for the development of the energies that are marking the present and future of energy, such as customised and 100 % renewable solutions for our customers. The capillarity of its network and its position in the insurance sector reinforce our strengths in the energy market for companies and individuals," explained Alfonso Calderón.
With this initiative, MAPFRE is improving its range of services to its customers, who will be able to access Iberdrola's products easily and conveniently through the insurance company's extensive network of branches, the largest in Spain.
"The aim of the agreement with Iberdrola, a company with which we share many values and a business philosophy, is to expand the solutions we offer to our customers and to allow our offices to diversify their product portfolio for companies and individuals, generating new development opportunities in this complex environment," says Raúl Costilla.