News Back
13/03/2017
For all its activities around the world
Iberdrola receives the first AENOR certificate for Corporate Environmental Footprint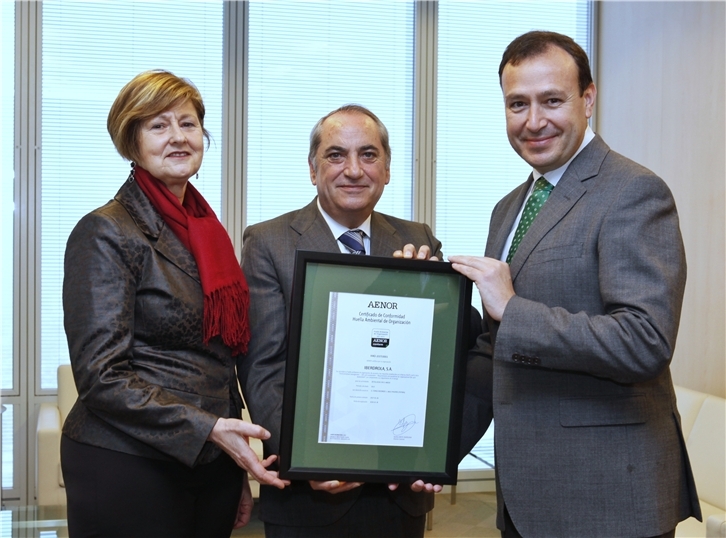 Based on the international technical specification ISO/TS 14072, it certifies that the organisation has identified all its life cycle environmental impacts, with the aim of improving and reducing them.
AENOR has checked 18 environmental impacts resulting from Iberdrola's corporate activity: from climate change to depletion of fossil fuels and by-products of water consumption, amongst others.
Iberdrola has become the first organisation to obtain AENOR's Corporate Environmental Footprint certificate, in compliance with the international technical specification ISO/TS 14072 on Environmental management - Life cycle assessment - Requirements and guidelines for organisational life cycle assessment.
Iberdrola's director of Innovation, Sustainability and Quality, Agustín Delgado, received the award from AENOR's director in the Basque Country, Luz Emparanza, in the presence of the Basque Government's Environmental, Regional Planning and Housing minister, Iñaki Arriola, at an event organised by IHOBE.
This inspection certifies that Iberdrola has calculated and identified all the environmental impacts of all its activities in Spain, its affiliated companies and those in which it has holdings around the world, with the aim of improving and reducing them. Obtaining this certificate also comes under the group's commitment to the UN's Sustainable Development Goals (SDGs), particularly number 7 –affordable and clean energy – and number 13 –climate action.
The aim of this verification by a renowned, independent third party is to objectively ensure the accuracy and integrity of the information. To award this certificate, AENOR has observed 18 environmental impacts during the course of the period analysed, such as behaviour with respect to climate change, depletion of fossil fuels and by-products of water consumption, amongst others.
The calculation of the Corporate Environmental Footprint was done from a life cycle perspective, i.e., not just taking into account direct actions, but also indirect actions over which the company has influence, such as with suppliers.
The certificate of conformity of its Corporate Environmental Footprint allows Iberdrola to know and compare objectively the effects of its activities on the different environmental impact categories, tracing their causes and identifying the environmental aspects and the facilities, technologies and regions responsible so that additional data can be added to the company management system.
This certificate strengthens Iberdrola's commitment to the environment and systematic quality policies, in conjunction with other certificates for Environmental Management (UNE-EN ISO 14001), Energy Management (UNE-EN ISO 50001), Carbon Footprint (UNE-EN ISO 14064), Event Sustainability Management (UNE-ISO 20121), Occupational Health and Safety (OHSAS 18001), Information Security and R+D+i, among others.
About IBERDROLA
Iberdrola is a global private sector company that has been, since its creation over 150 years ago, working to serve energy advancement, security of supply, quality and innovation. Thanks to the strong growth and internationalisation process that primarily began in 2001 the company has become a world leader in clean energy and is now one of the world's top five electricity utilities by market capitalisation, with over 28,000 employees and 30 million customers.
The Group's international expansion has focused mostly on the Atlantic area: Europe, the United States, Mexico and Brazil - markets in which the company intends to continue strengthening its activities in the coming years.
Iberdrola has consolidated its position as the top Spanish energy company; it is one of the principal operators in the UK, following its integration with Scottish Power; its affiliate AVANGRID is quoted on the New York stock exchange and is the number two wind power operator in the US; it is the largest electricity distributor in terms of customer numbers in Brazil after the acquisition of Elektro; and it is the top private electricity generator in Mexico, with over 5,800 megawatts (MW) capacity.
About AENOR
AENOR, through this certification and the conformity assessment, is contributing to improving the quality and competitiveness of companies, products and services.
AENOR is the leading certifying body in Spain, its certifications being the most highly valued, and it is among the 10 top world certifiers. Currently, almost 70,000 work centres have one or other of their certificates, which support organisations in fields such as Quality, Environmental Management, Innovation, Occupational Safety and Social Responsibility.
AENOR is a global organisation, operating in 70 countries in activities of certification, training, inspections, analysis, validation and verification of emissions reduction projects, accompanying companies in their expansion. AENOR has 20 offices in Spain.
For further information:
IBERDROLA
Adela Varela
Corporate Communications
Telephone: (+34) 696/586/109
AENOR
Gustavo Granero
Communications
Tel.: (+34) 914 325 969 - (+34) 699 995 872