News Back
06/07/2018
The company's bid for this new facility has been successful in the latest renewables auction held in Greece
Iberdrola renews its commitment to Greece with the award of the Pyrgari wind farm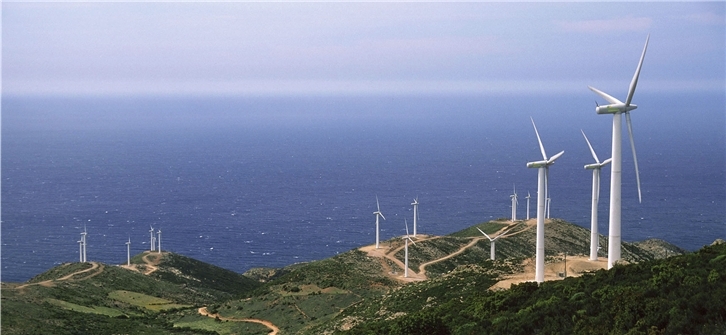 This renewable facility is going to be located in the centre of Greece about 110 kilometres from Athens. It will have a capacity of 16 megawatts (MW) and will have Vestas technology
After Spain and the United Kingdom, Greece is the European country where Iberdrola has most onshore wind and photovoltaic electricity capacity, with 261.47 MW from 21 facilities in operation
In Greece, Iberdrola has been awarded the construction of the Pyrgari wind farm, with an installed capacity of 16 megawatts (MW).
This project renews Iberdrola's interest in Greece, a country where Rokas, an Iberdrola subsidiary since 2004, is already one of the leading companies in the renewables sector, having a total installed capacity of 261.47 MW.
The Pyrgari wind farm was awarded to Iberdrola in the latest renewables auction held in Greece and is going to be located in the centre of the country, about 110 kilometres from Athens.
The facility will have the latest technology from the Danish company Vestas, with a capacity of 4 MW per unit. It is scheduled to be operational by between 2020 and 2021.
At present, in Greece, Iberdrola has 17 wind farms and four photovoltaic power plants.
The company has received recognition for the quality of its projects, for example, the Environment Award 2014, in the category 'Development of Sustainable Infrastructure', for the burial of the medium-voltage overhead power network at six of its wind farms on the island of Evia.
Iberdrola is the world leader in wind energy production and currently has more than 16,000 MW of installed capacity. The company has focused its presence on renewables in mature markets which enjoy stable regulation.
As a result of its commitment to the environment and to the decarbonisation of the economy, it has managed to reduce its emissions in Europe by 75% since 2000, reaching levels that are 70% below the average of the European companies in the sector.
About Iberdrola
Iberdrola is a global energy leader, the number one producer of wind power and one of the world's biggest electric utilities by market capitalisation. The group is present in numerous countries and supplies power to around 100 million people, mainly in Spain, the UK (ScottishPower), the US (Avangrid), Brazil (Neoenergia) and Mexico. With a workforce of 34,000 and assets in excess of €110 billion, it posted revenues of €31.26 billion and net profit of €2.80 billion in 2017.
Iberdrola is leading the energy transition towards a sustainable model through its investments in energy from renewable sources, smart grids, large-scale energy storage and digital transformation in order to offer its customers the most advanced products and services. Thanks to its commitment to clean energy, Iberdrola is one of the companies with the lowest emissions and an international benchmark for its contribution to the fight against climate change and for the sustainability of the planet. Iberdrola forms part of numerous international sustainability indices, among the the Dow Jones Sustainability Index and the FTSE 4Good, and is considered one of the most sustainable electric utilities in the world.